TIFF Deleted Recovery
TIFF is a type of image file format. You might lose TIFF images in many situations. For example, you may mistakenly delete a TIFF photo from a flash drive when you attempt to move it to another media. Or you might format hard disk drive by accident and erase all TIFF files stored on this disk drive. Or even worse, you are not able to view some TIFF files on your computer because system reports some error message like RAW drive error and disk drive not formatted error. Do you have any good idea for deleted TIFF image recovery in different data loss situations? If you have no idea, this article will tell how to recover lost TIFF files when you run into the data loss problem due to various reasons.
TIFF Deleted Recovery with Software
Data recovery software is the best solution for TIFF deleted recovery if you do not have any backup. iCare Data Recovery Pro is a data recovery program which is able to help resolve many data loss problems, so you can free download this data recovery software to restore lost TIFF files after deleting, formatting or when storage media shows error message and disables you to access any data. This data recovery software is able to recover TIFF images from any storage media as long as the lost data was not overwritten by new data. iCare Data Recovery is a Windows-based data recovery tool which supports all Windows operating systems, so you need to install the software on a Windows PC in order to retrieve lost TIFF files.
Steps to Recover Deleted TIFF Images

Preparation: Free download and install iCare Data Recovery on your computer. Connect the storage media where data got lost and run the undelete free software. Finally, follow the steps below to recover TIFF files:
Step1. Select a proper scan mode after running the software.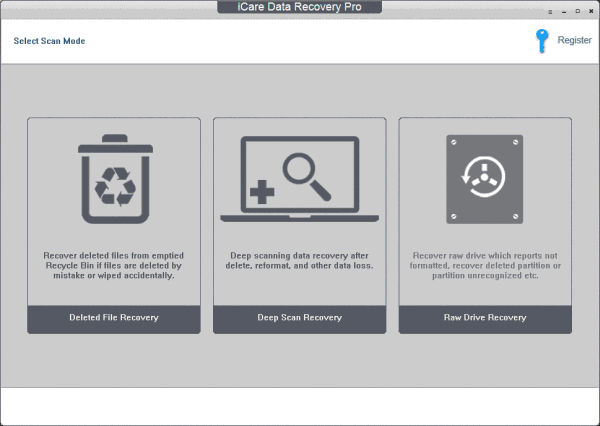 Step2. You should select the drive where TIFF images got lost and then you just need to wait patiently when the software is scanning to search lost files.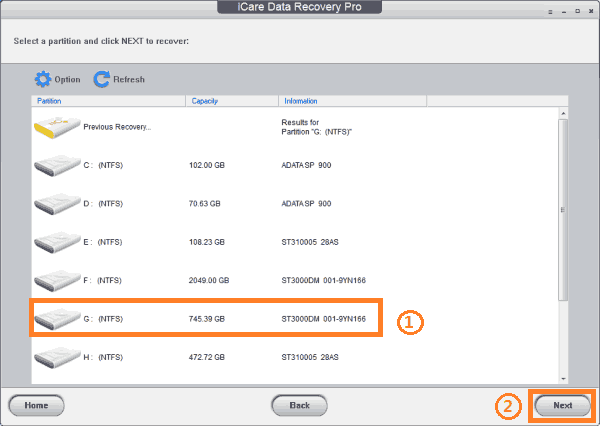 Step3. You can preview TIFF images when the software shows all lost data after scanning. Then, you can select all lost TIFF images and save them to another drive.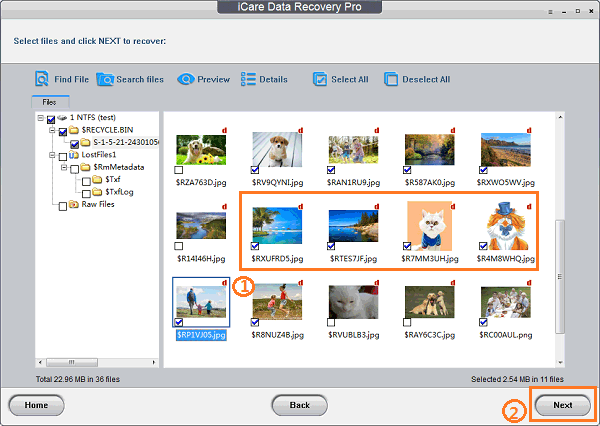 Pay attention:
You can use iCare Data Recovery for deleted data recovery from pen drive, external HDD, memory card, etc, but please pay attention to following points:
Do not add new files to overwrite the lost TIFF images
Do not perform any further operation to fix the problem when you are unable to view TIFF files
Do not save the recovered TIFF images to the original storage media
Causes for TIFF Files Loss
TIFF format makes it easy to transfer data among different applications or computers. However, you may encounter data loss problem when you edit or transfer TIFF files on an application or computer. Here are some possible reasons that might lead TIFF file loss:
1. Formatting is a common reason for data loss. You might accidentally format hard disk drive on which you save many precious TIFF files. Probably, you quick format the disk drive which only erases everything on the drive. Or you might full format the disk drive which not only erases all data but also checks and marks possible bad sectors on the drive. Whether you perform a quick format or full format, system will mark the formatted disk drive as empty device for new data storage.
2. Deletion is another common cause that leads to data loss. When you delete TIFF files from computer internal hard disk drive, the deleted data will not be erased permanently but it will be moved to recycle bin. However, if you mistakenly deleted TIFF images from a removable disk, the deleted data does not go to recycle bin. If you emptied recycle bin or deleted data was not moved to recycle bin, the deleted TIFF images might be lost forever unless you can use data recovery software.
3. Another possible reason might be that the storage media like USB drive, hard disk drive, etc used for storing TIFF images is corrupted due to virus infection or other reasons. System usually pops up some error message when you attempt to open a corrupted drive to view data. For instance, you might get message like disk drive is not formatted do you want to format it now, the file or directory is corrupted, the disk drive has read / write error and more.
When you lose TIFF images due to the similar reasons, you should remember not to write new data to prevent overwriting to the lost data. Then, you can use iCare Data Recovery to get back lost TIFF files. This data recovery software provides read-only solution for TIFF deleted recovery, so it does not modifying any original information or cause any hurt to the storage media.
Adobe TIFF Image Recovery
TIFF format is supported by many applications like Adobe Photoshop, GIMP, Ulead PhotoImpact and Paint Shop Pro and Adobe InDesign, etc. In most cases, people use Adobe Photoshop to edit or create TIFF images because it is a widely-used application to edit different types of images. You should save the images to safe place after viewing or editing in order to avoid unexpected data loss. If you lose TIFF files due to reasons like deletion, formatting or other reasons, you had better stop writing new data to the drive where data got lost. iCare Data Recovery provides solution for deleted or lost TIFF file recovery before it gets overwritten by new data.
How to Retrieve Deleted TIF Files from Pen Drive?
The filename extension of TIFF images is TIFF or TIF, so sometimes we also call a TIFF image TIF file. Usually, we often install an application like Adobe Photoshop on a computer to edit a TIFF images. If you need to move TIFF images from one computer to another, you can share them via Internet. Or you can save the TIF images to a removable disk like pen drive and then move them to another computer. It is easy to move TIF images from one computer to another by using a pen drive, but data is also easy to be lost in the process. iCare Data Recovery allows you to recover data from pen drive in all data loss situations.
In addition to pen drive, you might also use other removable disk like external hard drive, USB stick, etc to transfer TIF images. iCare Data Recovery supports all storage media for data recovery after formatting, deleting and more other reasons. This data recovery software supports Windows XP, Vista, 7, 8, 10 and Windows Server 2003, 2008, 2012, etc to recover lost TIF images.
About TIFF File
TIFF refers to Tag Image File Format. TIFF is a bitmap format, which is mainly used to store images. The TIFF format was crated by Aldus Corruption and Microsoft for PostScript. Today, TIFF format is under Adobe systems, which is widely supported by many applications like desktop publishing, page layout applications, scanning, faxing, word processing, optical character recognition and other similar programs. TIFF and TIF are the filename extensions of TIFF images. TIFF is a flexible and adaptable image format, which is able to handle multiple images and data by using header tags. A TIFF file can hold JPEG and PackBits compressed images. Different from JPEG files, a TIFF file can be edited and resaved without losing image quality.

---
Last updated on Aug 30, 2021
Related Articles