"This Memory Card Cannot Be Used Card May Be Damaged Insert another Card Error" on SD
Last updated on 06/02/2018
"Today, I met a terrible problem on my SD card. I connected my 2GB SD memory card to my computer and attempted to transfer some pictures. Everything went smoothly at the beginning, but all of a sudden I received a message that file does not contain image data. Then, I disconnected the SD card to my PC and reconnect it again. When I tried to open the SD card, I received another message that memory card cannot be used, card may be damaged, insert another card. What is wrong with my SD card? What does it mean by showing such kind of error message? Can I recover files stored on the SD card?"
SD Card Data Recovery with Data Recovery Software
A damaged or corrupted memory card will prevent you from accessing any data. If an SD card becomes unreadable, files stored on the card might be lost. If this is the case, you can use iCare Data Recovery Pro software to recover files off a damaged SD card. This read-only data recovery software enables you to deep scan a corrupted SD memory card and extract all kinds of files off the card. Generally, you are able to recover photos, videos, music and other types of data from an inaccessible memory SD card when it is damaged. Follow the steps below for deleted file recovery from SD card:
Steps to Recover Files from SD Card
Free download SD card recovery software and follow the steps below to restore files from damaged SD card:

Step1. Connect the SD card to your computer via a card reader. Download and install iCare Data Recovery software to your computer. Launch the software and choose a recovery module.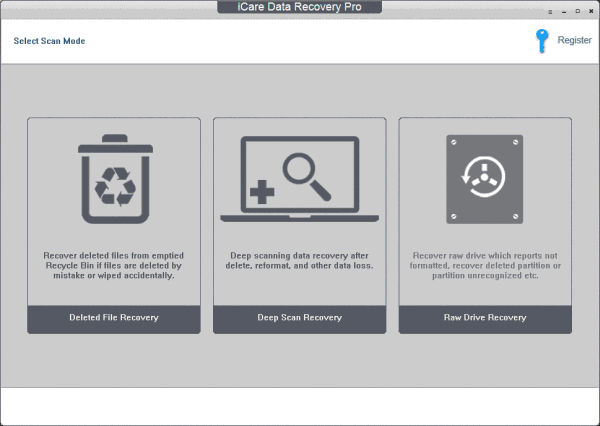 Step2.  Choose the SD card as scanning device so that the software can scan it for lost files. You only need to wait before scanning is finished.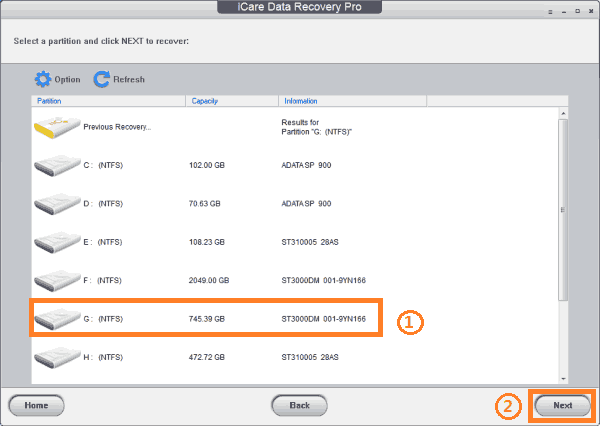 Step3. You are allowed to preview found images after scanning. Then, you can choose the files you need and recover them.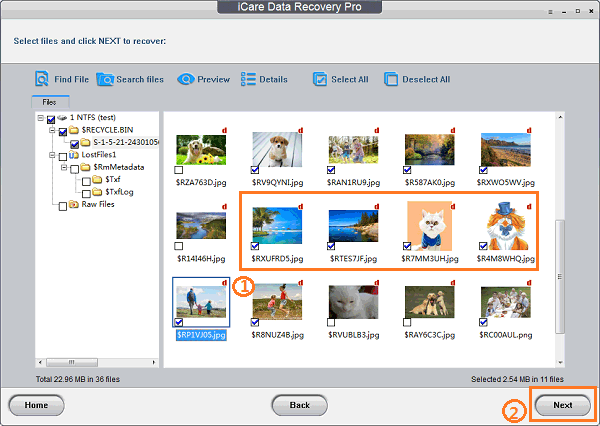 SD Card Is Damaged on Android
One of common situation is that SD card might be damaged and become unreadable on Android device. If you receive message to say that SD card is damaged or SD card needs to be formatted error on any Android device, you should stop using the card and connect it to your computer. Then, you can download iCare Data Recovery software to perform lost file recovery off the damaged SD card. As you know, SD card can not only be used on Android device, but also it can be used in digital camera, PDA, media player and other electronic devices. The iCare Data Recovery software is also available when SD card got damaged on any of those devices.
SD Card Cannot Be Read on Computer
When Android device or digital camera shows that SD card is damaged and cannot be used, you need to connect it to your computer to perform data recovery and fix the error. If the SD card can still be recognized by PC, you can try to format it and perform error-checking on the card. If SD card cannot be read on computer, you can open Disk Management and try to format it there. Before formatting the card, you should always remember to get back lost files first of all.
SD Memory Card Unable to Be Formatted by Windows
You need to connect the SD card proper to your computer in order to format it successfully.
==>> For SD memory card cannot be formatted error fix, please go to this page - Windows cannot format SD memory card>>
Similar Error on Other Types of SD Card
There are different types of SD card such as micro SD card, mini SD card, SDHC, SDXC, MMC, etc. If you encounter the similar error on those types of SD memory card, iCare Data Recovery software is compatible with all those memory cards to help recover lost data. This data recovery software supports all brands of SD card like SanDisk, Samsung, Toshiba, Sony, Maxell, Kingston, Team, Panasonic, Kingmax, Lexar, PNY, Transcend, etc from 1GB to 2TB.
If you want to look for a picture recovery tool to recover photos from memory card for mobile phone, you can also use iCare Data Recovery software. Using this software, you can restore SD card deleted photos, recover data after formatting CF card and XD card data and more.

---
Related Articles
Hot Articles