Sony Pen Drive Shortcut Virus Remover
Sony Pen Drive Is Filled with Unworkable Shortcut
"Hey, guys! I really need your help here! After using my 32GB Sony pen drive on a computer of a coffee bar, this USB drive becomes really strange on my Samsung laptop. What I can see on this flash drive after plugging it to this Windows 7 computer are all unworkable shortcuts. Is this pen drive virus-infected really? What can I do now to remove all USB drive shortcut viruses completely? Is it possible to recover Sony pen drive files now? Any advice here will be highly appreciated here! Thanks a lot!"

Quick fix -> read video that shows how to remove shortcut virus from usb
Hello, friends! Is your usb flash drive not showing up? No matter whether your Sony pen drive data has turned into shortcuts due to virus infection or not, the top thing that you are supposed to do now is to use antivirus software to scan and remove all possible viruses and threats completely. And then, go see whether the related pen drive data recovery tool takes lost drive contents back.
How to Remove Shortcut Virus from usb without losing data
No matter how complicated or urgent your flash drive problems are now, you are always suggested to scan and remove the drive shortcut virus problems at first once you do suspect whether it is virus attacked. Hence, do not rush to do anything else to this Sony USB drive with shortcut virus problems and run your computer antivirus programs to deeply scan this pen drive. Generally, once it is really virus attacked, a reliable antivirus app always helps detect and remove all dangerous viruses and threats clearly. But, if you are not sure whether your installed software is able to find and clean up everything vicious, after performing an antivirus scan there, merely format this pen drive to remove all shortcut viruses.
Please Note: If you do have left much important data inside this virus infected flash drive, you'd better think twice to see whether it is necessary to do a format there in case of data loss troubles.
How to Recover USB Drive Files after Fixing Drive Shortcut Virus Problems?
No matter which way you have choose to remove the pen drive shortcut virus problems, you are able to select USB drive file recovery programs to scan this virus attacked pen drive to see whether some of your lost drive files are still recoverable or not. Since some files are deleted or erased due to virus infection, you may not be able to retrieve every single original file back. Just go take the good ones back as possible as you can.

Recover Data from Device has shortcut Virus
Download iCare Recovery Pro Free to recover files from virus infected pendrive or virus damaged usb stick.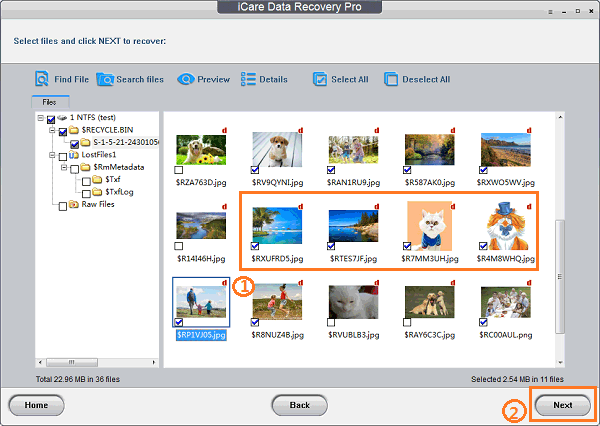 How to Keep Your Pen Drive away from Virus Infection Issues?
Generally, the virus infection issues are also able to be avoided easily as long as you take the right precautions.This can help you to recover data even when pen drive not showing in device manager. Also want to know the actual methods to prevent shortcut virus problems from coming back? OK! It is our pleasure.
Firstly, download and install compatible and effective antivirus software on your computer.This can help you to recover data even when pen drive not showing in device manager.
And open the real time protection function on the background while you are surfing the internet, especially while you are downloading or transferring something new to your computer. This away helps you find and detect the possible suspicious threats timely.
And then, scan your computer hard drives and storage devices weekly or regularly. This always help timely find the potential viruses or malwares.
And then, do antivirus scan before you try to read or use a external storage device on your computer.
And this way helps clean some viruses coming from external devices. And then, learn and find your own ways to protect your computer and data away from possible virus attack.
---
Related Articles