Sony Laptop Data Recovery
Many times you run into situations that data stored on your Sony laptop got lost? Do you want to find a way to get back lost files when the data loss goes beyond what you can afford? Generally speaking, you might run into data loss situations on Sony laptop when you delete files or format a disk drive on the computer. Besides, you might fail to access data stored on Sony laptop because it cannot recognize disk drive normally or shows some error message like disk drive not formatted, RAW drive error, I / O device error, etc. Apart form data loss on Sony laptop internal hard disk drive, you may also encounter similar data loss problem on removable disk like pen drive, external hard drive, digital camera memory card, flash drive, etc when you connect it to Sony:
How to Recover Data on Sony Laptop?
iCare Data Recovery Pro is available for data recovery from any storage media on Sony laptop, so you can use this software to restore lost files by following steps below:

Step1. Free download and install iCare Data Recovery on Sony laptop. Launch the data recovery software and select a proper scan mode.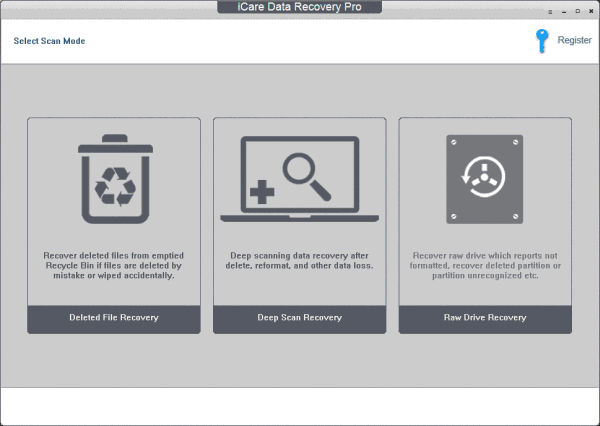 Step2. Choose the disk drive where data got lost and then wait the software to scan it to search lost files.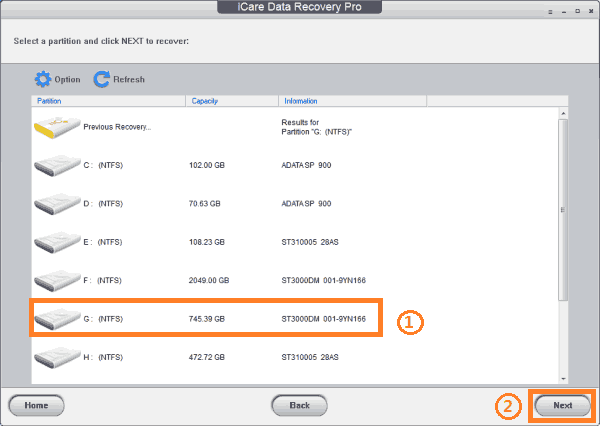 Step3. Preview files after scanning and then save the lost files to another drive.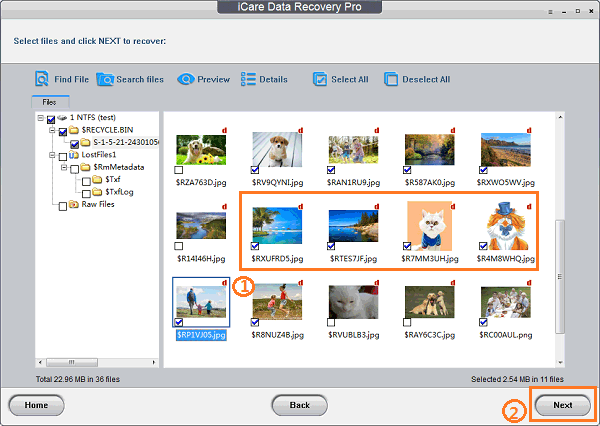 Sony Laptop Hard Drive Format Recovery
When referring to formatting a hard drive, you probably format a hard drive partition on your computer. If you format a hard drive partition on Sony laptop, all data will be erased at once. However, you are able to unformat the disk drive by using iCare Data Recovery so as to get back all lost files. Since system will mark the disk space as empty after formatting, you should avoid writing new data which might occupy the disk space for storing lost files.
Delete Files on Sony Laptop by Accident
Did you delete files on Sony laptop hard disk drive by accident? Probably, you have a good chance to restore deleted files from recycle bin after deleting them on hard drive in Sony laptop. What if files were not moved to recycle bin or recycle bin has become emptied? What if you mistakenly delete photos videos from memory card on digital camera, mobile phone or Sony laptop? What if you delete data from external HDD on Sony notebook? In all these situations when deleted data is unable to be restored from recycle bin, a data recovery program like iCare Data Recovery is helpful to undelete files on Sony notebook.
Sony Notebook Reports RAW Asking to Format Disk Drive
RAW drive is an error that usually occurs on all kinds of storage media, so your Sony notebook might report RAW error on a memory card, USB hard drive, USB stick, pen stick, etc and ask you to format the media before you can use it. If Sony notebook shows RAW not formatted error message on any of those devices, you can use iCare Data Recovery to extract all inaccessible data.
Sony Laptop Shuts down due to Power Surges and Outages
Your Sony laptop shuts down all of a sudden due to power surges and outages when you are sending an important email or finalizing a vital document on it? Sudden shutdown of computer can not only lead to data loss problem, but also cause unexpected harm to your Sony laptop. It seems like that there is no better way to protect your Sony laptop from power surges and outages, so it is even more important to save important data to more than one place. If you face data loss on Sony laptop due to surges and outages, you can also use iCare Data Recovery to perform data recovery as long as you can still boot the Sony laptop normally.
Sony Notebook Does not Detect Removable Disk
All external devices like portable hard drive, memory card, pen drive, USB thumb drive, memory stick, etc show as a removable disk when you connect any of them to your Sony notebook. People usually connect a removable disk to Sony laptop in order to transfer, read or write some data. However, you might meet a problem when you plug a removable disk to your Sony notebook because it no longer recognizes the removable disk. In this situation, you are unable to read or write any data. You probably think that the removable disk is damaged. In addition to removable disk corruption, you may meet the problem when Sony notebook has failures:
There is something wrong with the USB port of Sony notebook
Sony laptop Windows system is corrupted due to virus infection
BIOS setting changed in Sony notebook
Sony Laptop Windows System Was Unable to Format Disk Drive
Have you ever encountered the following situations when you attempt to format a RAW not formatted disk drive on Sony laptop?
It is a normal situation that Windows failed to format a disk drive on Sony laptop, which does not have any influence on data recovery from the disk drive.
Sony Vaio Laptop Recovery Software
Sony Corporation is one of the leading manufacturers that develops and manufactures electronic products like digital camera, smart phone and notebook. When referring to Sony notebook, many people know Sony Vaio laptop which has fashionable design and outstanding performance. However, data loss is still s headachy problem for Sony Vaio users. iCare Data Recovery works on Sony Vaio laptops for data recovery when you meet the similar data loss problem as above.

---
Related Articles