Sony Handycam Camcorder Video Recovery
Sony handycam camcorder allows its users to shoot videos and pictures and store them to a memory card or hard drive for the camcorder. In such a way, data is prone to be lost from your Sony handycam when you perform improper operation due to mistake or on purpose. For example,
You might accidentally delete videos on Sony handycam without making a copy
You may format the memory card for Sony handycam camcorder by accident
Hard drive or flash memory for Sony handycam is inaccessible or unreadable since it shows some error message
It upsets everybody when losing important videos or photos on Sony handycam, but the good thing is that you can get back lost data for free.
.

About Sony Handycam
Handycam is a brand of Sony camcorder / video camera, with which you can record videos and capture pictures. Like other types of digital devices, Sony Handycam camcorder stores its files to an external storage media. Sony handycam camcorder usually uses hard drive, memory card and memory stick, etc as storage media to store data. As its name shows, Sony handycam is a handy tool that is convenient and easy to use. The first Sony handycam, namely Handycam M8, was launched in 1985. So far it has more than 30 years history. Today, Sony handycam camcorder occupies a market in video camera field and you can find some popular Sony handycam such as HDR-SR12E, HDR-SR10E, HDR-CX12E, HDR-TG1E, HDR-HC9E, HDR-FX1E, DCR-SR220E, DCR-SR46E/SR45E, DCR-DVD710E, DCR-HC54E/HC52E, etc.
How to Restore Videos on Sony Handycam Video Camera?
Today, almost everybody likes to share their pictures and videos online so that more people can see those files. Therefore, data loss is no longer a problem worthy of worrying because you can easily get it from your FaceBook, Twitter, blog, etc. However, it is still a problem if you delete videos from Sony handycam before you share the data to any place, in which situation you need to use data recovery software in order to restore what you need.
iCare Data Recovery is a Windows data recovery tool that is able to restore different types of videos, images and other files not only from Sony handycam but also other media, so follow the guide below to get back lost data on Sony handycam:
Step1. Free download and install this recovery software on your PC. Start the software and select a scan mode.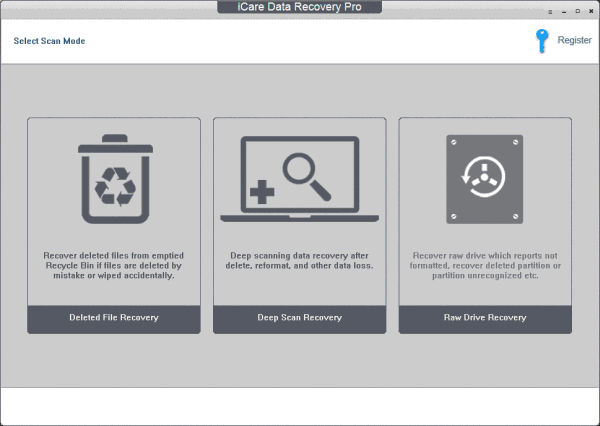 Step2. Choose the drive and wait the software to search lost files.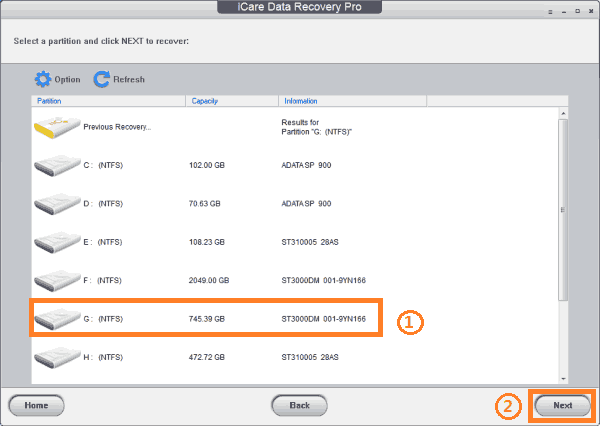 Step3. Preview images but not videos and then save the needed files to another drive.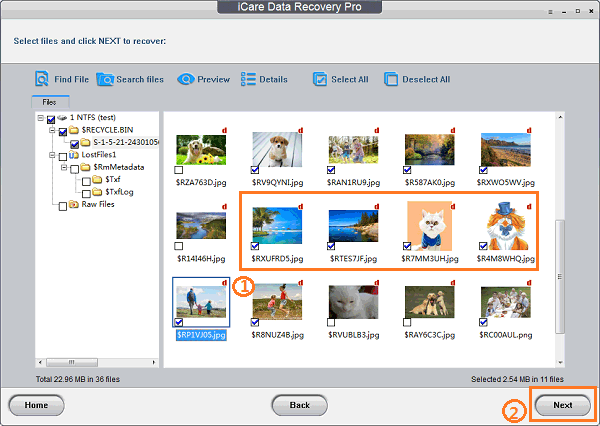 What Should You Know When Using Sony Handycam?
You will get warning message when Sony Handycam is running out of the power. But if some users ignore this and continue to shoot videos, which might damage memory card in which the videos are saved and can lead to its deletion
Sony handycam camcorder is a handy tool for video shooting, but you should know something important when using your Sony handycam.
1. A battery is needed in order to make your Sony handycam work normally. If you get alert message showing the battery for your Sony handycam is running out, you had better not use it to shoot videos before recharging. If you do not stop shooting videos even your Sony handycam frequently says low battery, it might corrupt the hard drive or memory card inserted in the camcorder.
2. Sony handycam camcorder is not waterproof or dustproof, so you should remove the memory stick / card and put away the camcorder when you do not use it. When you need to use it again, you should check if the battery is fully charged.
---
Last updated on Aug 30, 2021
Related Articles