Sony Camera Requires Formatting Memory Card
"Hi! I meet a problem to access all photos because my Sony camera requires formatting memory card when I double clicked the card to open it. I did not perform any improper operation on this memory card, but why does it ask to be formatted on my Sony digital camera? Do I have any chance to restore all inaccessible photos from this memory card which requires formatting on Sony camera?"
"I cannot even use my Sony digital camera to take pictures because it said memory card needs to be formatted. When I confirmed to format the memory card, my camera says that all data will be deleted after formatting. I want to know if it is possible to fix the memory card not formatted error without deleting files from memory card."
Do you know what to do to resolve the problem when Sony digital camera requires formatting memory card and does not allow you to read or write any data? Many people feel it difficult to solve such kind of problem because they have never encountered the same problem before. If you are disturbed by memory card not formatted error, this article will give you some help by telling how to recover files from a memory card which asks to be formatted on Sony digital camera.
Photo Recovery When Sony Camera Requires Formatting Memory Card
iCare Data Recovery is a Windows-based data recovery program that is able to recover data in various data loss situations. Therefore, you can free download this data recovery software when you need to restore all inaccessible files from a memory card that says not formatted error message on Sony digital camera. You can use this data recovery software to retrieve lost files including picture, videos, music, documents, etc when memory card is not accessible due to not formatted error. This software supports various kinds of memory card including SD card, CF card and memory stick and so on.
Steps for Sony Camera Memory Card Recovery That Needs to Format

Preparation: Free download and install iCare Data Recovery on computer. Connect the Sony camera memory card to this computer and run the data recovery software.
Step1. Select a proper scan mode after starting the software.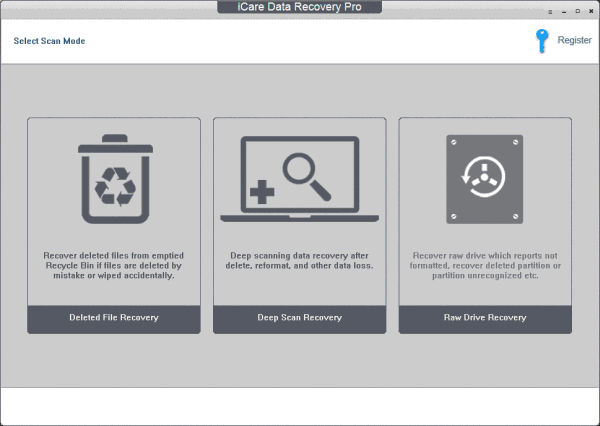 Step2. Choose the memory card which requires formatting and then you only need to wait patiently when the software is searching lost files.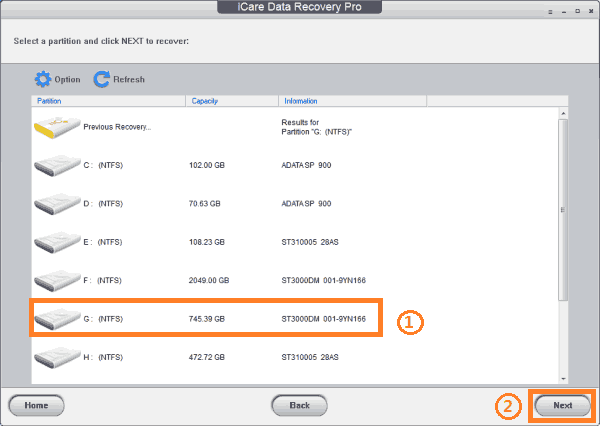 Step3. You can preview some found files when scanning is completed. Then, you can save all lost files to another drive.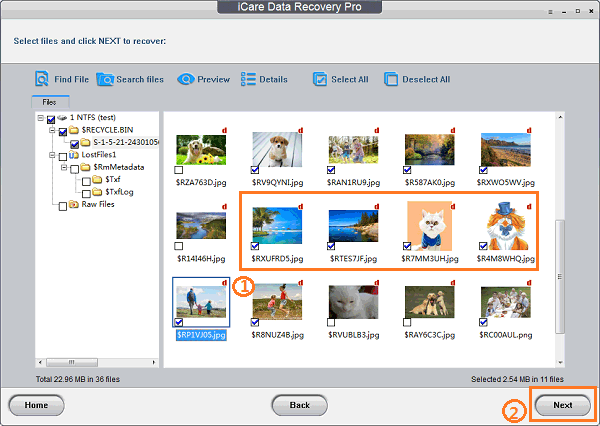 Key Points for File Recovery When Sony Camera Asks to Format Memory Card
1. You must be clear that it does not mean that all data has been deleted when Sony camera asks to format memory card. Accordingly, it does not mean that you are able to get all data as long as you can open the memory card when it needs to format. One of the most key point for memory card data recovery when it requires formatting is whether the previous inaccessible is overwritten. Well, overwriting means that the memory card space which was used to save the lost data is now occupied by new data. Therefore, it is possible to recover all inaccessible data before the memory card space is overwritten by new added files
2. In addition, you should also be clear that any data recovery software is only able to recover files from a memory card that is not physically damaged. In other words, if the memory card gets physically damaged, you are unable to get back lost data whether you have formatted memory card or not. Simply say, you can perform data recovery after accidentally format memory card.
Sony Camera Says Memory Card Not Formatted Has RAW Error
Memory card becomes RAW file system when Sony digital camera says not formatted error on it? RAW file system, also known as RAW drive, is a type of file system that is unable to be recognized by digital camera. Therefore, you usually receive not formatted error when the file system of the memory card has become RAW format. In this case, memory card will show 0 byte space since its file system is unable to be recognized.
==>> To get methods for RAW error fix when Sony memory card cannot be formatted, please go to this article - Windows cannot format memory card>>
How to Protect Sony Camera Memory Card from Asking to Format?
It is a terrible experience when a memory card wants to be formatted on Sony digital camera. If you want to avoid such kind of error, you should pay attention to following points:
Remove memory card out of Sony camera properly by switching off the camera
You should disconnect a memory card to computer safely rather than unplug it to computer during data transferring
It is important to protect memory card from being attacked by any virus or spyware, so you should not open unsafe link or save unsafe data to the memory card
There is no 100% guarantee that data will not get lost from a memory card, so it is necessary to save important data to more than one storage media.

---
Related Articles