Seagate SSD Data Recovery
Do you have any experience to recover data after mistakenly delete a folder from Seagate SSD drive on your computer and all kinds of data stored in this folder get lost forever? Do you have any idea for data recovery after format Seagate SSD drive by mistake without backup any data? Do you know any good way to repair an unformatted Seagate SSD drive without losing any data when it shows RAW file system? Do you know why Seagate SSD drive is not recognized by Windows operating system in which situation everything on the SSD becomes inaccessible? If you do not have any solution when facing the similar data loss problem on Seagate SSD drive, this article will introduce a data recovery program which is able to recover files from SSD drive Seagate for all kinds of data loss problems.
How to Recover Files from Seagate SSD Drive?
You may lose data from Seagate SSD drive due to different reasons. In all data loss situations, you can rely on iCare Data Recovery to get back everything you need:

Step1. Free download and install iCare Data Recovery on your computer. Launch the software and select a proper scan mode.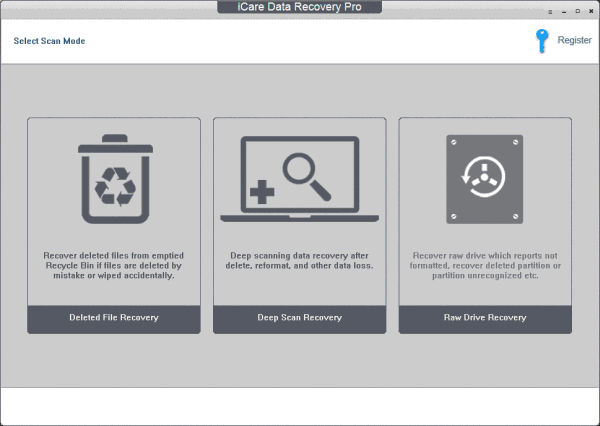 Step2. Choose the Seagate SSD drive as aim disk and then wait the software to scan it to search lost files.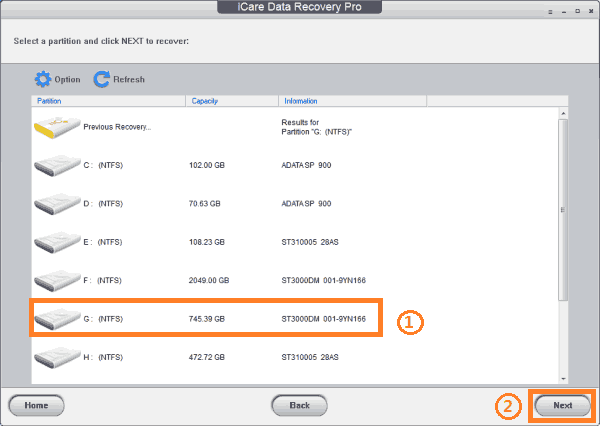 Step3. Preview files when scanning is completed and then save the lost files to another drive.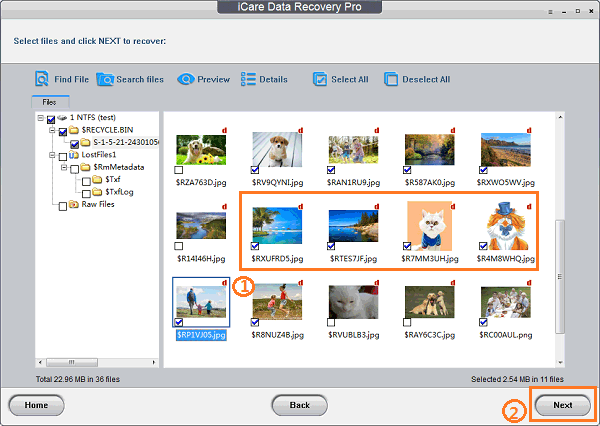 Format Recovery Software for Seagate SSD Drive
Formatting will erase your Seagate SSD drive whether the formatting is completed or you stop before the formatting is completed. It is too late to backup the SSD drive when you realize that you mistakenly format your Seagate SSD, in which situation you can use iCare Data Recovery to recover data after format.
Deleted File Recovery from Seagate SSD
Whether you install a basic hard drive or SSD drive on Windows computer, data deleted from internal disk drive will be moved to recycle bin at first. If you lose the last chance to recover deleted files from recycle bin since you emptied recycle bin by mistake, iCare Data Recovery provides one more chance to undelete files as long as the previous data is not overwritten by new data.
Seagate SSD Is Unreadable by Windows OS
Did you meet the problem that Seagate SSD drive or external SSD drive is not readable when you boot your Windows computer? Do you think that the Seagate SSD is corrupted? Probably, Seagate SSD corruption might be one of reason that leads the SSD to be unreadable by Windows OS. In this situation, you had better check if the Seagate SSD drive is readable under Disk Management. Then, you can use iCare Data Recovery to deep scan the device to search all inaccessible data from the unreadable Seagate SSD drive in any Windows OS including Windows XP, Vista, Windows 7, 8, 10 and Windows 2000, 2003, 2008, 2012, etc.
Seagate SSD Unformatted Solution
You still stored some files to the Seagate SSD drive yesterday, but it shows unformatted error right now when you attempt to copy files on the SSD? You should not format the Seagate SSD drive when Windows system reports unformatted error because it will erase the SSD drive after formatting. If you want to convert RAW to NTFS so as to access the Seagate SSD drive normally, you can format it after running iCare Data Recovery to get back the lost files you need.
Windows Blue Screen When Running Seagate SSD
Your computer reports blue screen of death and reboot automatically once you open your Seagate SSD drive? If you meet the same problem every time you open your Seagate SSD drive, probably the SSD drive is not compatible with the Windows system. You may need to uninstall the Seagate SSD or upgrade the Windows system so that the Seagate SSD drive is able to compatible with it. Besides, if the Seagate SSD drive contains any virus, you may also encounter the same problem on your computer. If your Seagate SSD drive is infected with virus, you had better move all important data to another drive and run antivirus software to remove all viruses.
What Will Happen due to Seagate SSD Corruption?
When a Seagate SSD drive is corrupted, it will cause huge data loss because you may be unable to access the SSD drive. As a matter of fact, Seagate SSD corruption might also cause some other troubles in addition to data loss:
1. You may be unable to enter Windows operating system when booting your computer. If the Windows operating system is installed on the Seagate SSD drive which is corrupted, you might meet this problem.
2. You computer reboots suddenly due to Seagate SSD drive failure, which result in data loss.
Seagate SSHD Data Recovery
SSHD is short for Solid State Hybrid Drive. An SSHD combines basic hard drive and flash solid state drive technology, so it has the advantages of both basic hard disk drive and SSD drive. You can install a Seagate SSHD drive on your computer to offer a better solution for data storage and reading. If you lose any data from Seagate SSHD drive, iCare Data Recovery is able to work on SSHD to recover lost files. This data recovery software enables you to unformat Seagate SSHD, undelete files from Seagate SSHD or even recover inaccessible data when Seagate SSHD drive is corrupted.
Seagate SSD Shows I/O Device Error
You may receive I/O device error message on Seagate SSD drive in following situations:
Seagate SSD says I/O device error in data transferring process
Seagate SSD reports I/O device error when you attempt to format a RAW SSD drive
I/O device error on Seagate SSD drive when you want to copy files from it
Possible reasons & solutions for Seagate SSD I/O device error
1. You should make sure that it has enough power supply. Power failure might cause I/O device error on your Seagate SSD drive.
2. If you do not know why your Seagate SSD drive reports I/O device error, you can format it on your computer to try to fix the problem. Before formatting the Seagate SSD drive, you had better make sure that you have moved all important data to another safe place. Since you are unable to copy any file from the Seagate SSD due to I/O device error, you can use iCare Data Recovery to extract all files to another place.
3. Virus infection is a possible reason for I/O device error, so you can run anti-virus software to check if the Seagate SSD drive is attacked by any virus. You can deep scan the Seagate SSD and perform a complete virus removing.
For all reasons that cause Seagate SSD drive error, you can run iCare Data Recovery for Seagate data recovery.
About Seagate SSD Drive
When referring to hard disk drive or external hard drive, almost everybody knows Seagate and Western Digital. However, when referring to SSD drive, it seems like that Samsung SSD drive is well-known by more people. Well, Seagate Corporation is famous for its hard disk drive and external hard drive, etc. At the beginning, Seagate Corporation does not manufacture SSD drives. However, among with the development of SSD drive, Seagate Corporation also begin to develop and manufacture SSD drives.

---
Related Articles