Seagate Hard Drive - Backup/Possible Problems/Data Recovery

Definition
Hard drive is an important part on a computer, while Seagate hard drive is one of the most popular hard drives. Seagate hard drive is released by Seagate Technology Corporation, which was founded in 1979 in the USA. It is the first corporation who specially designed 5.25 inch hard drives for desktop. Today, Seagate Technology Corporation has become the world's first largest hard drive manufacturers, whose head office is located in California of USA. Seagate Technology Corporation is the world's leading manufacturer which provides hard drives for enterprises, desktop and removable devices, etc.
Seagate Hard Drive Common Errors Problems Fixings
RAW Filesystem Error
Seagate hard drive RAW error means that the file system of the hard drive has changed to RAW. Usually, this kind of error can be caused by various reasons. If your Seagate hard drive shows RAW file system, you should stop using it at once; especially you cannot write any new data to it. The reason why you should stop using the RAW drive is to protect the data stored on the disk from being overwritten or corrupted so that you can use data recovery software to get back lost files off a RAW drive. When all needed data is recovered, you can format the RAW drive to change its file system from RAW to FAT32 or NTFS.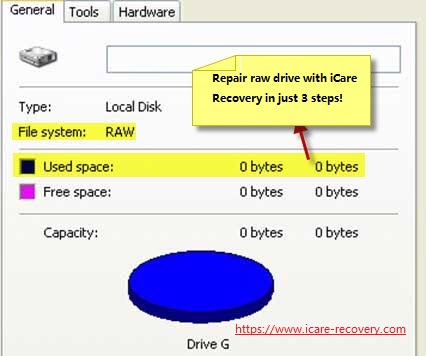 DISK file sytem raw 0 bytes
Video - usb disk raw file system recovery without data loss

Also read: how to repair raw disk
Hard Drive Bad Sectors
If hard drive contains bad sectors, it may become inaccessible. When you want to access the hard disk drive, Windows may pop up error message like disk drive is not formatted or other error messages. It is a common problem for hard drive users to meet bad sectors problem. You can run Windows built-on error-checking tool to check and repair bad sectors. You can also try to full format the hard drive to fix the bad sectors. If you want to format a hard drive to repair bad sectors, you had better extract files off the hard drive first of all.
Video - how to repair seagate hd bad sectors using error checking
Seagate Hard Drive Is Attacked by Virus
If your Seagate hard drive is infected with virus, you can run anti-virus software to scan and erase virus. As you know, virus can corrupt the file system of hard drive and even cause data loss, so it is necessary to install anti-virus software on your computer to protect it from being infected with virus.
I/O Device Error on Seagate Hard Drive
Hard drive plays an important role in your computer because it contains data related to your Windows operating system. Every time you boot your computer or work on your computer, Windows operating system will read data from your hard disk or save some temporary files to the hard drive. However, sometimes, you may receive I/O device error on your hard drive. In this situation, you may be unable to read or write any data. If this is the first time you encounter such kind of a problem, you can reboot your computer which may help fix the problem. If the problem still exists, you should make it clear the reasons why there is I/O device error on your hard drive. Usually, such kind of error might be caused by failed disk drive or corrupted Windows driver or registry entry, etc.
Also read: how to fix io device error
Hard Drive Is Not Accessible
As what mentioned above, RAW file system and bad sectors may lead your hard drive to be inaccessible. In addition, hard drive might be inaccessible in many other situations:
1. Hard drive is not accessible. The file or directory is corrupted and unreadable
Have you ever received the error message like "Hard drive is not accessible. The file or directory is corrupted and unreadable"? Such kind of error message might be result of various kinds of reasons. If you receive such kind of error message, you can try to format the disk drive to fix the problem. However, you had better get back important files first of all before formatting it.
2. Windows was unable to format disk drive
Windows system asks you to format disk drive but you receive message like "Windows was unable to complete the format" when you attempt to format it? If so, you can follow the guide below to fix the problem: Right click the disk drive in My Computer =>> select "Properties" =>> select "Tools" =>> choose "Check now =>> mark "Automatically fix file system errors" and "Scan for and attempt recovery of bad sectors " to fix the possible bad sectors on the disk drive.
Also read: how to fix hard drive cannot be formatted
Seagate Hard Drive Capacities
A hard drive is usually used in a computer to store different kinds of data, so it usually has a large capacity. Nowadays, hard drive has larger capacities than before which include 500GB, 1TB, 1.5TB, 2TB, 3TB and more.
Seagate Desktop / Laptop Hard Drive
Seagate Desktop Hard Drive
Seagate desktop hard drive provides optimal performance for every desktop computer. Seagate desktop hard drives include:
1. Seagate Barracuda & reg hard drive
2. Seagate Barracuda XT hard drive
Seagate Barracuda XT hard drive is the first 2TB 7200 RPM desktop hard drive.
3. Seagate Barracuda 7200.12 hard drive
It can be used in workstation, desktop RAID, game PC, high-end PC and more.
4. Seagate Barracuda LP hard drive
Seagate Barracuda LP hard drive has low power consumption.
5. Seagate Barracuda 7200.11 hard drive
Seagate Laptop Hard Drive
Seagate laptop hard drive provides high performance, reliability and value, which include:
1. Seagate Momentus 7200.4 hard drive
2. Seagate Momentus 5400.6 hard drive
Seagate Hard Drive vs. External Hard Drive
Seagate Technology Corporation can not only manufacture hard drives but also it manufacturer external hard drives. As you know, both hard drive and external hard drive can be used in a computer. Then, is there any difference between them?
1. A hard drive is essential in a computer, but an external hard drive is not so important. You need to install one hard disk at least in a computer to make it work normally, but an external hard drive is not a must in a computer.
2. You can take an external hard drive to anywhere you like and connect it to different computers for data transferring, but a hard drive is not so convenient.
Other Manufacturers of Hard Drive
In addition to Seagate hard drive, there are some other popular hard drive manufacturers which include Western Digital, Maxtor, Hitachi, Samsung, Toshiba, BUSlink, iThink, Transcend, Kingston and more.
Hard Disk Partition File System
A hard disk can be divided into several partitions on a computer. On a Windows PC, disk partition usually has FAT32 file system or NTFS file system.
About FAT32 file system
FAT32 is a type of disk partition format that can be recognized by Windows system. FAT32 file system increased its ability of disk management compared with the previous FAT12 and FAT16 file system. FAT32 supports drives up to 2TB in sizes.
About NTFS file system
NTFS refers to New Technology File System, which is another type of disk partition format in Windows system. NTFS file system was developed by Microsoft Corporation in order to replace FAT file system because it has more advantages and technical improvements.
---
Related Articles
More Articles That You May Be Interested
External Resource