SDHC Card Recovery Not Formatted Error
"My 64GB SDHC card reports not formatted error in my digital camera and it disables me to access the memory card. Windows system says the same error message and it detects the SDHC card as a RAW drive when I inserted the card to my computer. Can you tell me why my SDHC card shows such kind of error message? How can I fix the corrupted sd card and recover data?"
"SDHC card shows to RAW drive format in my computer. System asks me to format memory card before I can use it. What should happen if I format the SDHC card? Will I lose everything after formatting? How to recover deleted videos from SDHC card free after formatting?"
"I received a warning message disk drive is not formatted do you want to format it now when I double clicked my 32GB SDHC card on my computer. I tried to reconnect the memory card to another computer, but I still received the same error message. Is there any way to resolve the problem without formatting? I have many precious files on this card, so I need to recover files off SDHC card without formatting."
2 don'ts for SDHC card recovery when it shows not formatted error
Do not format SDHC card before data recovery

Do not write new data to SDHC card
Program for SDHC Card Data Recovery That Requires Formatting
SDHC card is not readable due to not formatted error? Not formatting error is a common reason for data loss from SDHC card or other storage media, but the good news is that data is recoverable by using a data recovery program – iCare Data Recovery Pro. It is a professional and read-only data recovery tool which enables you to extract files off SDHC card when you cannot access the card normally. By using this software, you can recover all kinds of files from any brand of SDHC card. Now, please follow the steps below to recover files from SDHC card when it needs to be formatted:

Step1. Run the software and choose a recovery module.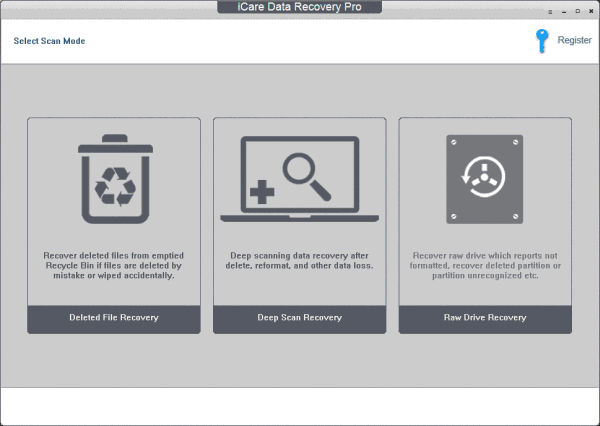 Step2. Choose the SDHC card as aim disk and let the software scan it for lost files.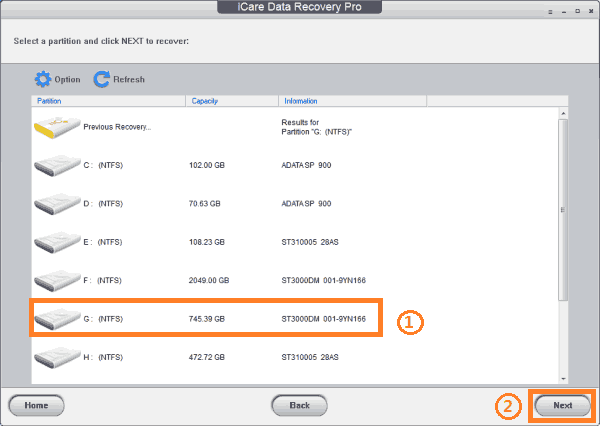 Step3. Preview the found files and recover the data you need.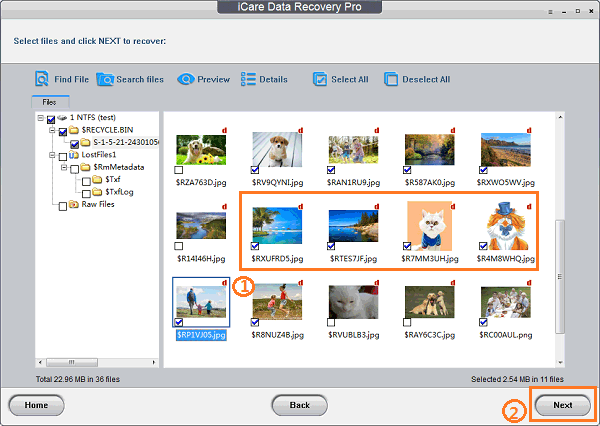 How to Repair SDHC Not Formatted Problem?
Considering the situation that you are still cannot open the SDHC card which says needs to be formatted, you can execute format option on the SDHC for error fix. An SDHC is a type of SD card that has capacity larger than 2GB but less than 32GB, which is compatible with different digital cameras, mobile phones and some other devices. When it shows not formatted alerting and prevents you from accessing any data, the best way is to format it in the device you often insert the SDHC in. Doing this is to format the RAW SDHC to proper file system so as to ensure that it can work normally after reformatting. In most case, an SDHC should be formatted to FAT32 file system, so you should pay attention to select a proper file system for formatting if you format it on your computer since Windows sometimes supports to format a memory card to FAT32 or NTFS.
Windows Cannot Format SDHC Card That Has Not Formatted Error
You can perform format on an SD card by connecting it to a Windows computer via a card reader or USB cable. However, the formatting sometimes failed due to this or that kind of reason.
Can You Repair SDHC Format Error without Reformatting?
The answer is no! If SDHC is unable to be formatted, you may use CHKDSK to repair the card and then format it again. Or you can run diskpart to format RAW SDHC from CMD.
==>> If you are not aware of the reasons and want to look for a useful way to fix the problem, this page may give you some help - Windows failed to format SD memory card>>

---
Related Articles
Hot Articles