SD Card Is Infected with Virus and Inaccessible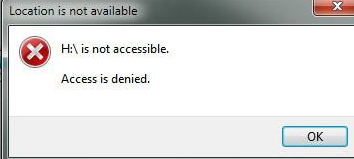 "I had my SD card infected with virus after connecting it to my brother's computer. I cannot access the SD card because it always says that SD card is corrupted whenever I try to open it. Run antivirus software to scan the SD card, it scanned virus on the card. I tired to remove the virus, but SD card is still inaccessible. Is there any way to recover data from the virus infected SD card?"
"Hello! Can you tell me how to recover deleted photos from SD card when it is attacked by virus and becomes not accessible? Can I format the SD card to erase virus because antivirus software failed to remove the virus? But will data be eased after formatting the memory card?"
"My SDHC cared is infected with Trojan. Now, I cannot copy or delete any data from my 32GB SDHC card because it says the card is write-protected. Is there any way to SDHC card deleted files recovery after virus erasing?"
Video - how to fix sd card inaccessible access denied
Also read: sd card is inaccessible access denied fix
What will you do when SD card is attacked by virus and becomes not accessible? Formatting it or is there any other way to fix a virus-infected SD card without formatting? Here, you must make it clear what the main concern is in your mind – keep all data on the SD card safe or just remove all viruses without concerning about any data on the card? If your answer is the latter, please just format the SD card and run antivirus software to scan it. If your answer is the former, please keep reading!
How to Fix an Inaccessible SD Card without Losing Data?
Although virus infection would case many trouble and big loss to SD card, you can fix the SD card without losing any file with two steps:
Step1. Recover data form inaccessible SD card
Truthfully, the most urgent thing is not to remove virus but get back all data from the SD card at first because any further operation on an inaccessible SD card might cause data to be seriously corrupted and lost permanently. iCare Data Recovery Pro offers Deep Scan Recovery module that is able to search a corrupted / inaccessible SD card to find out the lost files. Please follow the below tutorial:
Free Memory Card Recovery

Download iCare Data Recovery Pro Free to recover files from mobile phone camera memory card including photos, videos, music...
Step1. Run the software and choose a recovery module.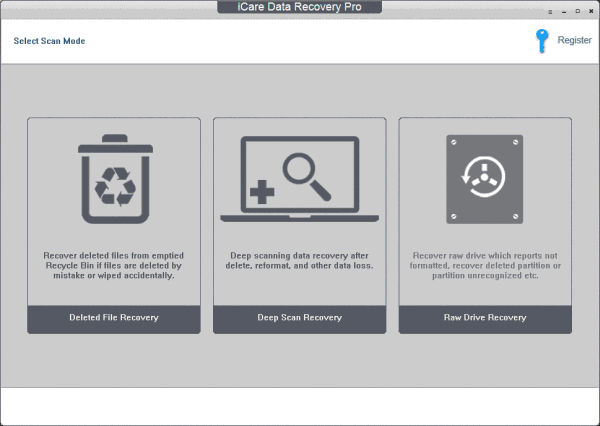 Step2. Choose the SD card and let the software scan it for lost files.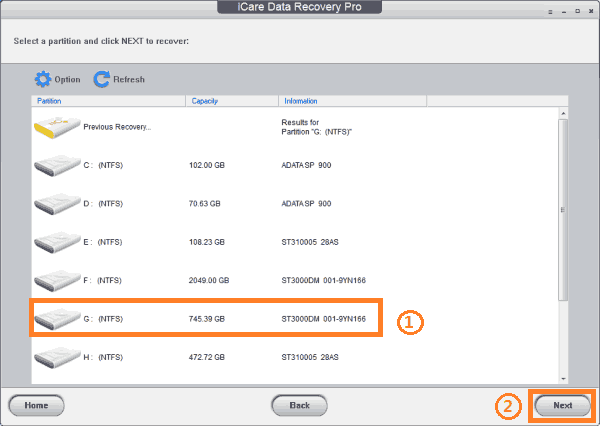 Step3.  Preview the found files and recover the files you need.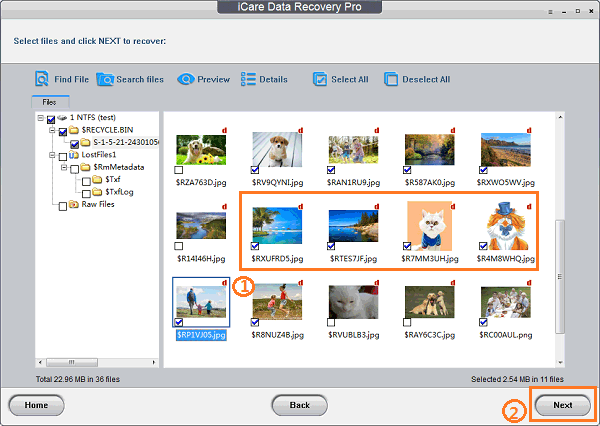 Step2. Erase virus and repair damaged sd card
Also read: 7 free memory card repair tool
To erase virus from an SD card, you can run antivirus software to scan it. When an SD card is not accessible due to virus, antivirus software cannot make it accessible. To enable an inaccessible SD card to work again, you still need to format it.
How to Protect SD Card from Being Attacked by Malware / Virus?
The most important point to prevent virus damage to SD card is to avoid connecting it to virus infected computer, save unsafe data to the SD card or open emails or links from unknown people.
What Will Happen When SD Card Is Attacked by Virus?
Your SD card could be attacked by different virus in various situations. Here, we do not list reasons why your SD memory card is infected with virus. What we would like to introduce is what will happen when virus infects your SD card.
1. Hide the files on the SD card
Some virus will hide the files on your SD card, after which you cannot view those hidden data. When you open a virus infected SD card and find some data got lost, you may have no idea why they got lost because you have never deleted any file from the card. In fact, those files just become hidden because of virus infection.
2. Remove files from SD card
Even worse, some files might be removed or erased from SD card by virus. The virus hides in your SD card and randomly deletes files on the card without any warning.
3. Private information on the SD card gets stolen by others
Virus attack would also lead private information to be stolen by others. This is the worst thing because it probably brings big loss to you. Therefore, it is recommended you not to store private information like phone number, passport, etc on an SD card.
4. Lead SD card to be inaccessible
When any data gets corrupted by virus, it would become invisible or inaccessible. If virus only corrupted some data on the SD card, you had better move other files to a safe place as soon as possible. Virus infection might corrupt the file system of SD card, in which case the SD card turns to RAW or unknown file system and the SD card becomes not accessible.
5. Virus spreads to other devices
If an SD card inserting in your mobile phone is infected with virus, it might spread to the internal storage of your phone to infect the phone storage. If you connect the virus-attacked SD card to computer, the virus might spread to PC and infect the hard disk or other devices being attached to the computer.
---
Related Articles
Hot Articles