SD Card Data Photo Video Recovery Software Free Download
Last updated on 23/03/2018
SD card data recovery software iCare Data Recovery Pro free download to recover deleted / lost files from SD memory card for smartphone or digital camera in all data loss situations.
Free Download SD Card Data Recovery Software
Most of SD card users run into data loss problems due to different reasons, in which situation an SD card data recovery tool is able to help recover lost files from SD memory card. Now, you can free download SD card recovery software iCare Data Recovery Pro to recover photos, music, videos, audios, PPT/Word/Excel/PDF/Text documents, games, apps, music and more other types of files from SD in following data loss cases:
Recover data from SD memory card after formatting or reformatting by mistake
SD card accidentally deleted file recovery
SD card restore when it has RAW error or reports not formatted
Unreadable / unrecognized / unreadable SD memory card files retrieval
Card recovery when SD is blank or has unsupported file system
Corrupted or damaged SD storage card photo recovery after accidental dropping or removing
SD card file recovery after mistaken phone security wipe or factory reset
Inaccessible data recovery from SD memory card
Virus infected SD card files recovery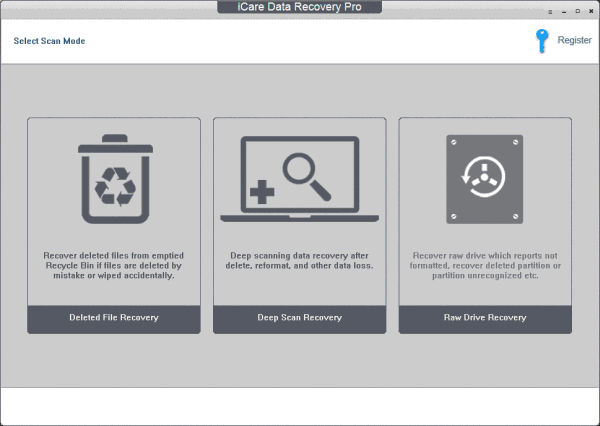 Free download iCare Data Recovery Pro
SD Card Data Recovery for Windows PC
iCare Recovery Pro helps reclaim data off SD card on Windows PC including desktop and laptop. This data recovery software for SD memory card is able to work on Windows 10, 8.1, 8, 7, Vista and XP operating systems for SD memory card deleted or lost file recovery.
Android Mobile SD Card Recovery Software
Deleted photo/video off SD in your mobile? Or SD won't work with your android cellphone?
iCare Recovery Pro is the best choice for micro SD card recovery for android when you delete files or format the SD card on your phone. It works for smartphone SD card recovery even when cellphone cannot recognize SD memory card and reports message saying "SD card removed. Insert a new one." or SD card won't mount. And it also help cope with SD card data recovery problems caused by mistaken dropping, removing, phone factory reset or security wipe or mute virus attack, etc.
Moreover, except Android phone memory card data recovery, it also supports Windows phone SD memory card file recovery. For instance, it is often able to take deleted or lost messages, pictures and files back from SD flash memory cards used on a Windows mobile, like Nokia (now often called Microsoft Lumia), Motorola and more. Just plunge the phone SD card to your Windows PC to go on. SD card, especially the micro SD card, is a tiny flash card used for different android mobile phone such as HTC, Blackberry, LG, Samsung, Huawei, OPPO, Sony, etc.
Digital Camera SD Card Photo Video Recovery
A standard SD or SDHC, SDXC which has larger size than a micro SD card is usually used in various digital cameras for photo video storage. SD card data recovery tool, iCare Recovery Pro, supports various kinds of files from SD, SDHC and SDXC for digital camera like Canon, Nikon, Sony, Olympus, Kodak, Samsung, etc.
If PC cannot recognize the SD card when connect the digital camera to Windows via a USB cable, you can remove the SD card out of the camera and plug it to computer through a card reader or adaptor.
Micro SD / SDHC / SDXC Recovery
Micro SD, micro SDHC and micro SDXC have smaller size than SD card, which is used for mobile phone. You can connect a micro SD/SDHC/SDXC card to Windows via a card reader or USB cable for data recovery in all data loss situations. iCare Recovery Pro supports all types of micro SD memory card recovery.
SD Card File Recovery Utility for SanDisk, Samsung, Toshiba…
Even though SD card is available in different brands, among which there are some leading brands, including SanDisk, Samsung, PNY, Lexar, Kingston, Transcend, Toshiba, Patriot and more from 1GB to 128GB & up, with SD card file recovery utility like iCare Data Recovery Pro, you are also able to restore all possible lost files from SD memory card with any brand and any capacity. Of course, the time it takes to recover files from SD card varies from several minutes to several hours, for it depends on the data stored inside the card. Overall, this data recovery software also supports diversified SD memory cards with different brands and capacities.
Feedback from Users who successfully restored data off SD with iCare
Here are some feedback from users who applied iCare Recovery Pro for their SD memory recovery.
Jodun used iCare Recovery Pro for formatted SD card data recovery:

Patrick recovered deleted videos from SD card using iCare Data Recovery Pro:
Faranani successfully said that iCare Recovery Pro has helped him recover files from a corrupted SD card which asks to be formatted in his android mobile phone.
If you run into the same data loss on your memory card, run iCare Recovery Pro and then wait it restore data for you.

Free download iCare Data Recovery Pro
---
Hot Articles
Related Articles
Hot Tags