Restore Data off Unformatted USB Thumb Drive
"What is the way to restore data off an unformatted USB thumb drive? I inserted my USB thumb drive to computer in order to copy some data, but I got an unformatted error when I attempted to access the USB thumb drive. Windows PC says USB thumb drive needs formatting and does not allow me to open the USB thumb drive. Would you like to tell me why PC reports unformatted error on my USB thumb drive? Is there any solution for file recovery from an unformatted USB thumb drive?"
"I have some question here because my USB thumb drive turns to RAW file system asking to reformat on my computer. I want to know what I should do to fix the unformatted error on this RAW USB without losing any data. I do not want to format this USB thumb drive to fix the error because formatting will erase all files. Is it possible to recover lost files from unformatted USB thumb drive without formatting?"
If your USB thumb drive reports unformatted error, you should remember that there is a good chance to restore data off unformatted USB thumb drive before you format the USB thumb drive or write new data to it. Unformatted error is a type of error occurs on storage media, which only disables you to open the media or read any data, but it does not erase any data from the storage media. Therefore, when a USB thumb drive reports unformatted error, the files still remain intact on its original place but become inaccessible.
Recovering Data off Unformatted USB Thumb Drive
iCare Data Recovery Pro provides users with easy solution for data recovery from unformatted USB thumb drive. You have no need to open the USB, but iCare Data Recovery can deep scan the unformatted drive so as to search all inaccessible files. The software will show all found files in a list after scanning and you can save those files to another drive. With help of this tool, you can restore any file including images, videos, music, etc off unformatted USB thumb drive such as SanDisk, Toshiba, Kingston, Samsung, and more.
Steps for Unformatted USB Thumb Drive Data Recovery

Preparation: Free download iCare Data Recovery. Plug the USB thumb drive to the computer.
Step1. Select a proper scan mode after running the software.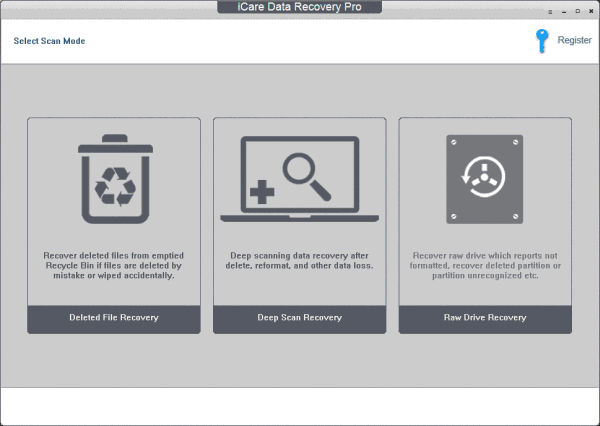 Step2. Choose the unformatted USB thumb drive and then you just wait before the searching is completed.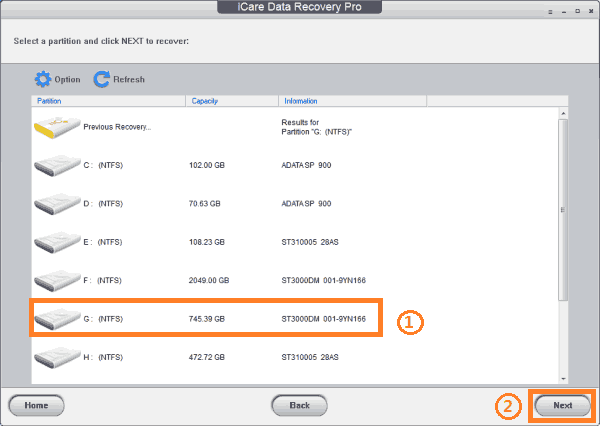 Step3. Preview files and save them to another drive.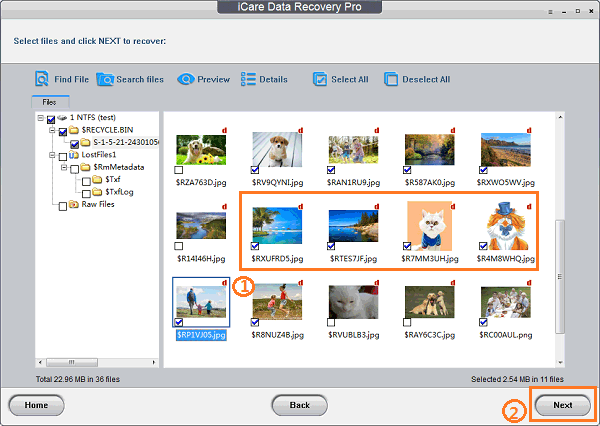 Unformatted USB Drive Has RAW Error?
When you receive unformatted error on USB thumb drive, you can check if the file system of USB thumb drive turns to RAW format. It is a normal situation that USB becomes RAW file system when it has unformatted error. Meanwhile, the USB thumb drive will show 0 byte space no matter how much you have stored on it. When you receive all those similar messages, please do not panic! iCare Data Recovery supports to restore files from RAW unformatted USB thumb drive without touching any information on the drive or causing any damage to it. If you want to convert RAW drive to FAT32 file system, formatting helps resolve the problem. However, you should remember to format it after data recovery.
Is It Possible to Unformat USB Thumb Drive after Formatting?
When USB thumb drive says unformatted error, you might format it because you have no other solution. It is too late when you feel regretful after formatting USB thumb drive and seeing all data was erased due to formatting. Then, you may doubt if it is possible to unformat USB thumb drive. Usually, when you format a USB thumb drive which reports unformatted error, it only erases all data from table address. If you did not put new data on the USB thumb drive, you still have chance to recover deleted files from USB thumb drive even after formatting it for unformatted error fixing.
How to Avoid Unformatted Error on USB?
You can pay attention to following points in order to avoid unformatted error on USB thumb drive:
You should not save data which might contains virus to your USB thumb drive. Virus infection might lead a USB thumb drive to be corrupted and has unformatted error.
When you need to unplug USB thumb drive to computer, you should click safely remove hardware so as to safely remove USB thumb drive from computer.
You should not unplug a USB thumb drive when you are writing data to the drive or transferring files from this USB thumb drive.
All mentioned above are some possible reasons for USB thumb drive unformatted error. If you can use USB thumb drive properly, you will not run into the unformatted problem. By the way, if possible, you can backup important data to another drive in order to avoid data loss when USB thumb drive has unformatted error.

---
Related Articles