Table of Contents:
IO device error on usb/hard drive/sd card
"I inserted my usb pen drive into the computer yesterday, but the system popped out message saying that "The request could not be performed because of an io device error" when I try to open the pen drive. I need the files on the device, how can I fix the pen drive without any data loss?"
Io device error is a common error often troubles the Windows users when they try to read or open their hard drive or external media drive on the computer. Windows will pops out message saying that "The request could not be performed because of an io device error", if so, your hard drive may get corrupted or turn to raw file system. But don't worry, there is still some solutions for you to fix the error and recover the drive. We will show you how.
How to fix io device error on external storage device?
If you encounter the io device error on your external storage device, first, you can run CHKDSK to check the disk.
1. Run Command prompt by pressing "Win+R".
2. Type "CMD" and enter, then type ""chkdsk k:/f" in the window(k is the usb name) in the command window, and enter.
If it says "CHKDSK is not available for raw file system", which means your drive is raw file system now. Then you need to convert the raw file system into NTFS or FAT32, which can be recognized by Windows system.
Attention:
When you run CMD command prompt to fix the raw drive, you need to be very careful to avoid mistake, which can make your another hard drive get formatted.
This process will formatted all your data on the drive, you need to recover the data first if you need them.
Step1: Run CMD.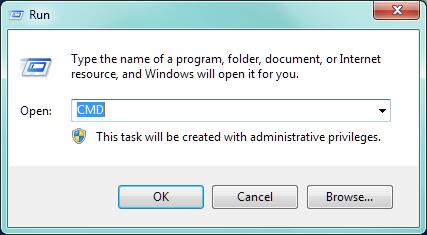 Fix io device error on external storage device with CMD
Step2: Type"format W: /fs:fat32"(W is the drive letter of your RAW drive)
After these steps, you can convert your device file system into FAT32, you can also change the fat32 into ntfs if you want a NTFS file system.
Recover data on the io device error
To recover the data from the io device error drive, you need a data recovery software, iCare Data Recovery is a good choice, you can use it to recover all kinds of data even the data on the corrupted hard drive. It is a 100% safe data recovery tool, which will save you a lot of time and best protect your data. We will show you the steps here to recover data with it.
Step1: Download iCare Data Recovery at iCare Recovery website, install it on your computer.
Step2: Run it, and enter "Deep Scan Recovery".
Recover io device error drive data with iCare Data Recovery Pro
Step3: After Scanning, preview the found data, select your needed to recover, save it to another drive.
Recover io device error drive data with iCare Data Recovery Pro
Related Articles
Free Download Raw to FAT32 Converter Online
Windows 10 External Hard Drive Turns Raw
format recovery cmd command prompt
repair corrupted sd card using cmd command prompt diskpart