Table of Contents:
Windows 10 Hard Drive Becomes Raw--What's the problem?
"I don't know why when I just tried to open my external hard drive on the computer, but it pops out message telling me the disk in drive is not formatted, and ask me to format it. But I have important data on it. How can I repair the hard drive without any data loss?"
This is a common problem often occurs to people who use external storage devices like USB pen drive, SD memory card, external hard drive, etc. When the device becomes raw drive, it will be inaccessible and ask you to format it. If you check the file system of the drive at properties and Disk Management, you will find its file system is raw.
This problem often happens when you interrupt a data transferring or formatting, some virus attack can also cause this error, and it is sometimes because of the poor product quality.
Raw is a file system type which cannot be recognized by Windows system, if you want to repair it, you do need to format the drive. You can try to quick format it by right click your drive to format it. But when the raw drive error happens, Windows usually fails to format the disk. So you will need another solution to fix it.
How to Repair Raw Drive with CMD Diskpart
To repair the raw drive error, you need to convert the raw file system into the file system which can be recognized by Windows, including NTFS, FAT32, exFAT, etc. CMD command prompt can help you make it.
Attention:
1. You need to be very careful when you use CMD command prompt, a mistake can make your another hard drive get formatted.
2. This process will formatted all your data on the drive, if you have important data on it, you need to recover them first.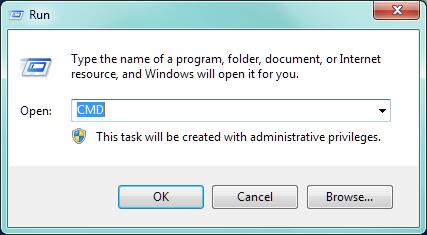 Repair raw drive in Windows 10 with CMD
Step2: Type"format F: /fs:fat32"(F is the drive letter of your RAW drive)
After these steps, you can convert your device file system into FAT32, you can also change the fat32 into ntfs.
This operation will format your disk, if you have important data on it, recover them first.
Raw Drive Recovery without Data Loss
If you have important data at the raw drive, you need to recover the data first. You need to be informed one thing, DO choose a reliable data recovery tool, because raw drive data recovery can be much harder than normal deleted or formatted data recovery. Some data recovery cannot recover all your data back, and may even do harm to your computer.
Here I will recommend iCare Data Recovery Pro, which is an effective data recovery program, it will do no harm to your computer, and recover your data even when the drive is corrupted.
If you are Windows users, you can free download it here:
Then follow these simple steps to recover your data.
Step1: Download the program at iCare Recovery website, install it on your computer.
Step2: Run the program on your computer, enter "Deep Scan Recovery".
Recover raw drive data with iCare Data Recovery Pro
Step3: After Scanning, you can preview the found data, select your needed data to recover, save it to another drive.
Recover data from formatted SD memory card with iCare Data Recovery pro
Related Articles
How to Fix RAW Micro sd card shows/reports blank not formatted with free software
How to Recover Deleted Data from Android Mobile Phone through Memory Card SD Micro SD Free
Free Software for SD Micro SD Card Says/Reports Blank asking formatting