How to Repair My USB Pen Drive Corrupted/Unreadable/Unresponsive
Last updated on 20/04/2018
This article would guide you to fix corrupted or unreadable USB pen drive in Windows XP, Vista, 7, 8, 8.1, and 10 without touching any data on the corrupted pen drive.
How Do I Repair My Pen Drive?
How to fix pen drive not detected in windows 7? To resolve this problem, you have to make it clear what kind of problem your pen drive has. In brief, you may want to repair a pen drive in following situations:
1. Repair corrupted USB when pen drive not detected in Windows 7/8/10
2. Fix pen drive that is physically damaged
Pen Drive Repair Software Free Download
You want to get USB Pen stick repair software to fix the problem? This site probably gives you some help:
https://en.softonic.com/s/pen-drive-repair-software
In fact, when referring to pen drive repair tool, it is available in two different types – one of them is data recovery software for pen drive that is able to extract all files from the corrupted pen drive and the other one is format tool that is able to format a corrupted pen drive.
If you are wondering how to recover files after USB drive corrupt or unresponsive, iCare Data Recovery Pro is a good recovery utility for any pen stick. Therefore, you can free download this data recovery program and use it for corrupted pen drive data recovery.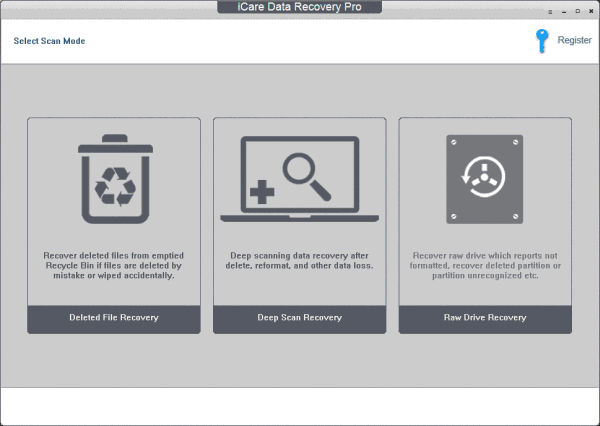 Free download iCare Data Recovery Pro
How to Fix Corrupted USB Using CMD
How to repair pen drive? Without using any repair software, you can fix a corrupted USB pen drive with CMD. As long as the pen drive is not physically damaged, command prompt is able to resolve most of problem when any pen drive is corrupted or unreadable. You just need to run command line on any Windows and type chkdsk pen drive driver letter: /f (e.g. chkdsk h: /f) for fix the corrupted pen drive.
Repair Pen Drive without Formatting
In most case, formatting is able to repair corrupted pen drive. However, is it possible to fix pen stick drive without formatting? You can run error-checking tool in Windows to check and scan bad sectors on the unreadable pen drive.
This page shares details to repair bad sectors: How to fix bad sectors>>
How to Repair My USB Pen Stick Physically Damaged?
It is the most difficult thing to fix a physically damaged USB pen stick. You have to replace the damaged component. Therefore, you had better take it to pen drive repair company. If your pen drive is still under guarantee, you can send it to its manufacture to repair it for free. Otherwise, you probably need to spend dozens of dollars or even hundreds of dollars based on severity of damage to your pen drive.
---
Hot Articles
Related Articles