Reformatted WD Portable External USB Data Recovery
Today, we will discuss about an important issue on how to recover reformatted WD portable external USB data. It is not a hard task. All you need to follow the instruction written in this article that's it!!!
You see we use numerous types of gadgets everyday such as, smartphone, portable hard disk, pen drive, camera, etc. In those gadgets we preserve beautiful memories of our friends and family members' photos, videos, office important files or documents and many valuable things. It is important to use these gadgets safely. But sometimes we lost these data by mistake of our own. Sometimes our gadgets are affected by virus and we format it to erase virus of fix RAW file system. Then we realize what we have done. But don't worry. We have a solution for you. A software that will bring your lost data from reformatted WD portable external USB. The name of the amazing software is iCare Data Recovery Pro!!! 
Reformatted WD Portable Hard Drive Data Recovery

iCare Data Recovery Pro is one of the best data recovery software that helps to restore important data from the reformatted wd portable external USB. Yes, there is a data restore point in every WD portable external USB. iCare Data Recovery Pro can easily restore your valuable data and sweet memories in a minute. The necessary instructions are given below how you can recover data from your reformatted WD portable external USB:
At first download the iCare Data Recovery Software and set up in your desktop computer or laptop. After that, connect the portable external USB to the computer. Start the software and select the possible recovery option to recover the lost data.
The process:
At first connect the reformatted WD portable external USB to your computer.
Now, download iCare Data Recovery Software and store it on the same computer.
Launch the software. Select the recovery panel and scan the disk. 
After scanning you will see the retrievable data. Choose the data you want to recover.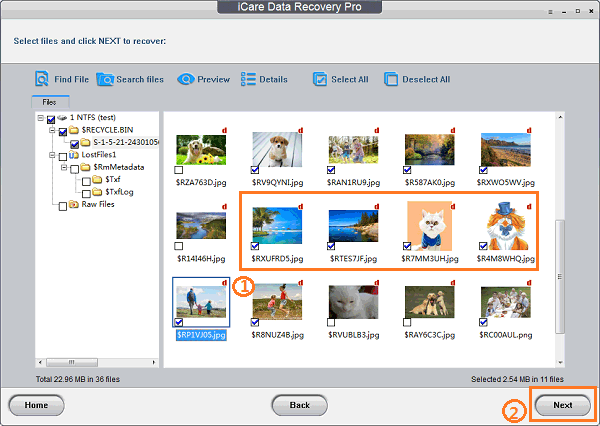 iCare Data Recovery is free quick format recovery software / complete format recovery software for data recovery after quick formatting or full formatting WD external hard drive.

Possible Situation to Reformat WD Portable HDD
People generally format their WD portable external USB intentionally, by mistake or other reasons. Most of the time, they format external USB by mistake. The external USB can also be formatted by others by accidentally. The most common situation is whenever we want to go to another option or click the camera, we press the format button.
Sometimes we format our external USB intentionally. This reason differs people to people. Some people try to delete all the files in one moment. They mark all the object, but forget to unmark the necessary files. This way they formatted the external USB and lost all the data.
The software iCare Data Recovery Pro is really great to recover the data from reformatted WD portable external USB. You can recover all kinds of data, such as, images, videos, word documents, audio files, excel documents, movies, music and many other important things. So if you mistakenly delete your important data, use iCare Data Recovery Pro to recover it.  
The Bottom Line for Data Recovery after Reformat WD External Hard Drive
Data will be erased immediately after reformat WD portable external USB drive by mistake or on purpose, but all data is not erased permanently. Therefore, you can use iCare Data Recovery to perform reformatted WD external hard drive data recovery. Free download the software!

---
Related Articles