Reformatted Toshiba Portable Hard Drive Data Recovery
"Hello, I need to recover documents from reformatted Toshiba external hard disk. Honestly, this 500GB Toshiba external hard drive was fallen to the hard ground of my bedroom and needed to be reformatted after reconnecting to my PC. But, I still want to re-use this hard disk and access my business files inside. How can I do now to recover data from reformatted external drive?"
"Hey! 320GB Toshiba USB portable hard drive started to make noisy sounds two days ago. And it just could not be properly recognized on any computer without being formatted before any use. Hence, I just reformatted this external drive on purpose and found it was functionally read on my PC. However, I was also looking for possible solutions to recover data from reformatted Toshiba portable hard drive. Do you get any idea?"
Hello, friends! Whether you can perform a successful reformatted Toshiba portable hard disk data recovery process often depends on what you have you done to this reformatted external drive except the formatting and reformatting processes. Have you placed new information on this Toshiba USB hard disk to rewrite the original files after reformat? If you do have done such stuffs there, you may finally lose something important permanently. But, if not, also download Toshiba external drive file recovery software to take chances.
File Recovery from Reformatted Toshiba Portable Hard Drive
Under these circumstances, in order to recover files from Toshiba portable hard disk reformatted by mistake, you are supposed to download and run the iCare Data Recovery Pro to scan your USB hard disk thoroughly. And then, open this software on your PC and pick a desired data recovery mode to start the drive scanning process. And then, when the drive scanning process is over, go check every found photos and files listed on the software interface to decide on whether it is worth paying money for farther data recovery services. And, at last, assign a different USB flash drive, external storage device to save the restored original files, videos, photos, songs and the like in case of data recovery failures.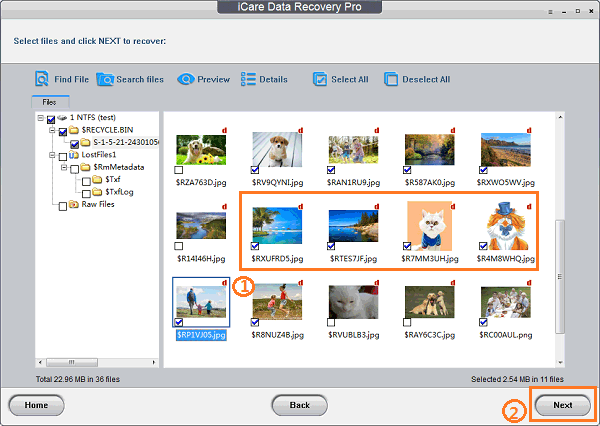 Please Note: In case of wasting money in some fake data recovery software, always pay much attention to preview the recoverable information before paying any data recovery tool.
In case of losing important drive data permanently, always pay much attention to create drive data backups on several drives or storage devices.
Restore Toshiba USB Hard Disk Common Use after Reformat & File Recovery
Reformatted Toshiba portable hard disk also is not able to be used properly after file recovery process? Your external drive may be damaged somehow. In order to restore its functional use, you'd better apply some drive diagnosing software to fix some potential drive issues. Of course, without any confidence in such technical software, you also can straightly take it to drive repairing shops or agencies.
Overall, hope you can extract practical data recovery clues to successfully recover lost data from Reformatted Toshiba Portable Hard Drive.
Somebody consider iCare Data Recovery as free quick format recovery software that is only able to recover data after formatting, in fact the software also helps recover data after complete format as long as t he Toshiba USB HDD is not overwritten.

---
Related Articles