Reformatted LaCie External Hard Drive Recovery
Case1: Hello, everyone there! I recently reformatted my LaCie external hard disk when trying to install a copy of Windows 8 instead of the old Windows 7. How to recover lost LaCie drive data? I know I should have extracted that external drive out from my PC before installing that Windows operating system. But, I just was distracted by else urgent things. Do you have any recommendation to help me recover data from this LaCie USB hard disk after reformat? Thank you very much!
Case2: Hey, last week, one of my roommates accidentally reformatted his LaCie portable hard disk while trying to eject it out from his Samsung laptop. Though he extracted that drive as soon as possible when he realized that formatting process was started, his external drive is displayed as not initialized now and also cannot be accessed without farther format. What can he you do to get the drive files back at first?
Case3: Hi! My LaCie removable hard disk was mistakenly reformatted by my brother and now all previous drive data does not show up. Is it still possible for me to recover original data from reformatted drive?
Hey, guys! I am sorry to hear that all your guys do encounter reformatted LaCie USB hard disk data loss troubles. But, also do not worry too much! There is still an easy method for you guys to take lost data from mistakenly reformatted external drive. Just write no more data on this original LaCie portable drive since that reformatting process and go scan it with external hard disk reformat recovery software.
Stop Using LaCie External Hard Disk after Mistaken Reformat
When you randomly save or move fresh computer information, like newly download games, installed programs, edited documents or photos, etc, to the same Lacie external drive after that mistake reformat, the original hard disk contents will be rewritten and gone permanently. Therefore, in case that all your needed original drive stuffs are damaged and become irrecoverable, immediately stop using this LaCie USB hard disk to hold anything new there. Of course, you can also re-use this drive to store or transfer data freely when you do have recovered everything desired back.
You can use iCare Data Recovery to recover data after quick format / full format LaCie external hard drive.

How to Perform Reformatted LaCie Portable Hard Disk File Recovery?
No matter whether this original external hard disk is overwritten or not yet, as with your previous drive information, you can easily perform a data recovery process on this reformatted USB hard disk and see how many previous files can be restored with success. What you need is only some external hard disk data recovery software. Therefore, stop worrying and go free download some free external hard disk reformat recovery software to take chances as below:
Step1: See several data recovery modes listed on the main screen of the installed drive data recovery software? Go select one to go on.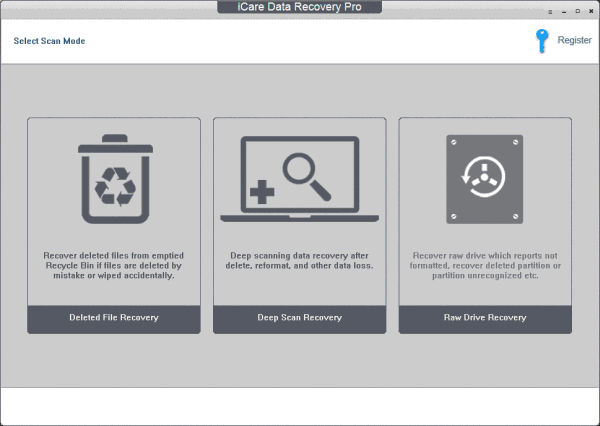 Step2. See your connected LaCie external drive listed on the next media screen? Go highlight it and start to scan it deeply.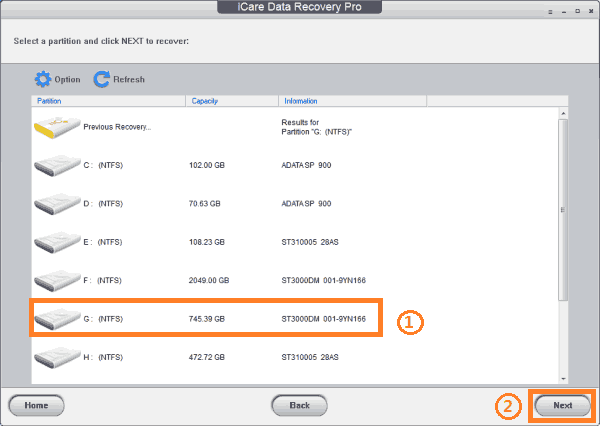 Step3. You can preview and recover all wanted external drive data and select a different storage device to store it all well.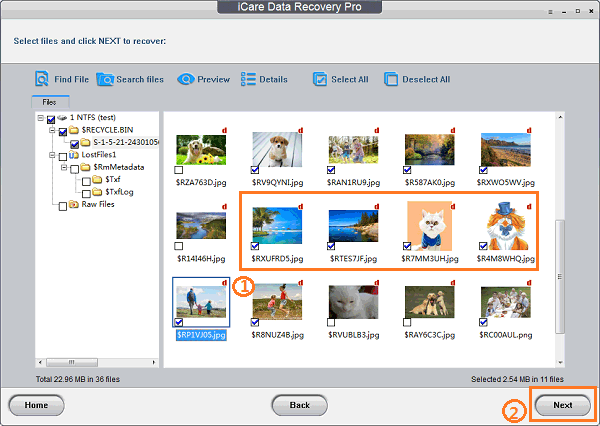 Tips:
Choose a proper data recovery program after you use it to scan your hard disk thoroughly and check how many original pictures and files are recoverable still.

Choose a different storage device or location to hold recovered data in case of data recovery failures.

Choose several drives or devices to make drive data backups well in the future.
Never Randomly Reformat USB Removable Hard Disk without Data Backups
Even though the reformatting process will only change the entries of the reserved drive files in theory, there is also possible to cause some permanent original data loss troubles. Therefore, unless you have to reformat your external drive for some urgent reasons, never format it without data backups in the future. But, if you've formatted or reformatted this removable hard disk without data backups, also do not rush to give up! As with external drive contents after format or reformat, there are still many USB hard disk data recovery software to help you recover previous data from this reformatted Lacie USB hard disk.

---
Related Articles