Reformatted HP USB Flash Memory Drive Data Recovery
The major issue which may give a tough time to HP USB drive users is reformatted HP USB flash memory drive by mistake and lost something very essential. At times, this act is not unintentional but still you might end up formatting your devices and different drives by way of virus infections.
The problem with this formatting is losing some essential files, folders and data and the hassle arises when you are unable to recover it. In this regard, the best thing one may do is to download iCare Date Recovery Pro. This software works ideally in helping you recover any kind of formatted hard drive or removable disk be it intentional, unintentional or by way of viruses.
Recovering Data after Reformatting HP USB Memory Drive
The goose bumps you get to have after unintentionally reformatting the HP USB flash memory drive due to a mistake is something which may make you go crazy. Well, losing data is definitely the scariest thing to go through but with the help of iCare Date Recovery Pro having it back is also a matter of few clicks only. All you need to do is to have this software in your computer and within a span of a few minutes your reformatted HP USB flash memory drive may get recovered in the same way as it was before being reformatted.

Steps to Get Data Back from Reformatted HP USB Flash Drive
These simple steps have no technicality associated with them and allow you to have yourself the entire data back without taking it to a professional since this software itself works as a professional.
• Once you have downloaded and installed the iCare Data Recovery program you just need to look for the tab of format recovery and click it.
• As soon as a new window appears in front of your numerous portions will be featured which might have been reformatted, you must select the one you need to recover and after selecting you should click the recover option.
• As soon as you click the recover option you will see a new window showing the different files you must be wishing to recover and all you need to do is to click those files which you wish to recover.
• This entire process will then help you recover almost all the files you have reformatted with your flash memory drive without taking much of your time and effort.
Having this software for USB drive file recovery at your end is a peace of mind because it not only helps with an instant recovery but also the hassle of visiting professionals every now and then eliminates by a simple process and simple software.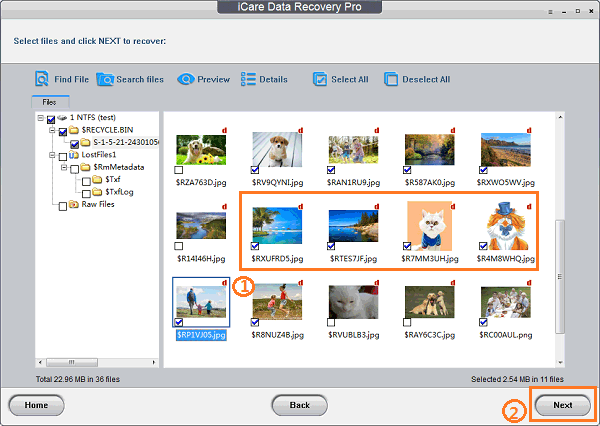 The Bottom Line for Reformatted HP USB Drive Data Recovery
With help of iCare Data Recovery, it is every easy to recover reformatted HP USB flash drive data. This software supports HP USB drive recovery after reformat by mistake or due to other reasons like virus infection, bad sectors, RAW file system, etc. It enables you to recover data after complete / quick format USB.

---
Related Articles