Recovering Photos from Unformatted SD Card
Last updated on 17/01/2018
"Can anybody give me some advice on recovering photos from unformatted SD card? When I inserted my SD card to computer, Windows system reports SD memory card is not formatted. It disabled me to open the SD card due to unformatted error, so I am wondering if I need to format the SD card in order to fix the error. However, I am afraid that all data will be deleted due to formatting. Is there a way to recover photos from the unformatted SD card before formatting?"
"Hi! I am getting an unformatted error an SD card for my mobile phone. Whether I inserted this SD card in my mobile phone or connecting it to a computer, I got an error message saying SD card has unformatted error once I attempted to open the card. What can I do to recover all data from an corrupted SD card?"
Do you want to recover photos from unformatted SD card? Usually, an SD card is used in mobile phone, digital camera, PDA and some other devices. When an SD card has unformatted error, you are not able to open the SD card in any device. If you want to recover pictures free off an SD memory card which reports unformatted error, you need to rely on professional data recovery software which works on unformatted SD card recovery.
Unformatted SD Card Photo Recovery
It seems difficult if you want to access an unformatted SD card without losing any data, but it is quite easy to open an unformatted SD card with all data back by using a data recovery tool. iCare Data Recovery Pro is a data recovery program, which has the function of searching files on unformatted device, so you can make use of this software to deep scan an unformatted SD card and get back all inaccessible files including photos and other types of data. This data recovery software supports different types of SD card like micro SD, mini SD, SDHC, SDXC from SanDisk, Kingston, Samsung, Toshiba, Lexar, PNY, etc. With help of this free SD card recovery software, you are able to recover all kinds of files including images, videos, music and more.
Steps for Getting Pictures off Unformatted SD Card

Preparation: Free download and install best format recovery software - iCare Data Recovery on Windows computer. Connect the unformatted SD card to this computer and launch the data recovery software.
Step1. Select a proper scan mode after running the data recovery software.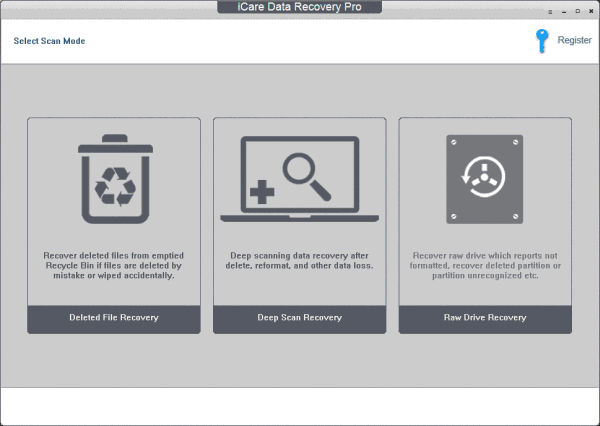 Step2. Choose the unformatted SD card and then you only need to wait patiently when the software is scanning to search lost files.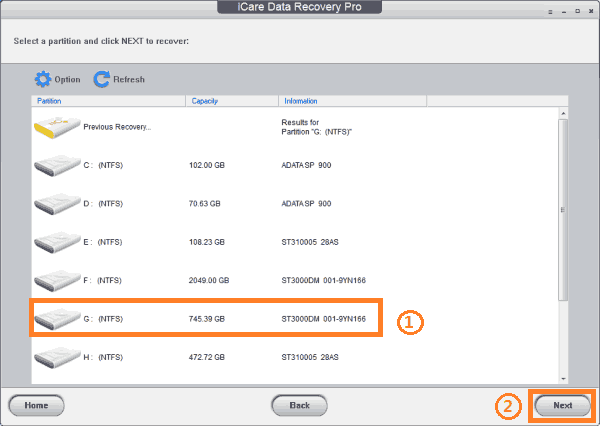 Step3. When scanning is completed, the software will show all found files. You are allowed to preview some files like images and documents. Then, you can save the lost files to another drive.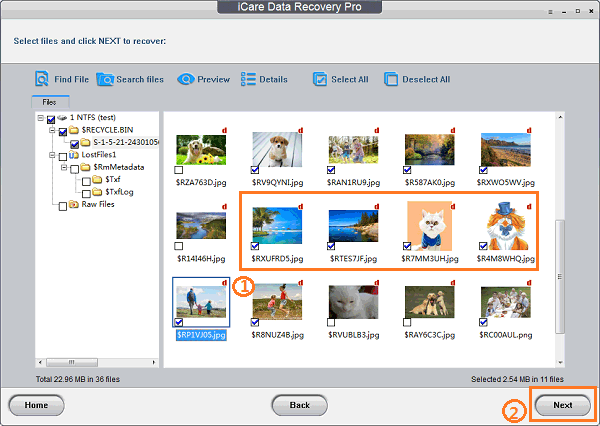 Unformatted SD Card Solution - Format Unformatted SD Memory Card
When you get an unformatted error on an SD card whether on digital camera, mobile phone or other devices, you need to format the SD card to fix the error. Formatting helps convert the unformatted SD card from RAW format to FAT32 file system. You can insert the SD memory card to the camera or mobile phone to get it format. Or you can also format the SD memory card by connecting it to your computer. After format the SD card from RAW file system to FAT32, you will not get unformatted error on the card.
If format is not available for unformatted SD card repairing, you can use command line to format it or run CHKDSK tool to fix errors in advance.

Recommend: Solution for unformatted SD card error>>
Unformatted Error on SD Card for Digital Camera
A memory card is needed in digital camera in order to save photos. SD card is a type of memory card that is able to work on digital cameras. Sometimes, you might get unformatted error on an SD card in digital camera when you use it to take photos. In most case, SD memory card turns to RAW file system when it has unformatted error. iCare Data Recovery Pro is able to extract files form a RAW SD memory card without asking you to reformat the card. Therefore, you can use this software to get back all inaccessible files when you receive unformatted error on an SD memory card for varioius of digital camera.
Canon digital camera reports unformatted error on SD card

Nikon camera says SD card is unformatted

Olympus digital camera reports SD card unformatted
Restore Files off Unformatted SD Card for Android Smartphone
Today's smartphone usually has internal memory, but many smartphone still allows users to insert a memory card as extra storage media. An SD card is also able to work on different types of smartphone. A smartphone will recognize an SD card normally when it has FAT32 file system, but it will report unformatted error on an SD card when it changes to RAW file system. What should you do when a mobile phone says SD memory card has RAW file system requiems formatting? iCare Data Recovery is also available for mobile phone SD card file recovery when it has unformatted error.
Xiaomi asks to reformat SD memory card
Blackberry phone SD card has unformatted error

---
Related Articles
Hot Articles