Recover WhatsApp Messages from iPhone 6
WhatsApp is an instant messaging App that can be used on iPhone 6. You can chat with others by sending text messages, voice and images through WhatsApp. Sometimes, you may receive or send an important text messages, voice message or images on WhatsApp on your iPhone 6, but finally you mistakenly delete the important messages since you click the wrong option. What can you do to recover WhatsApp deleted messages from iPhone 6 after deleting by mistake or all messages are erased due to other reasons? You probably use data recovery for iPhone to recover deleted messages from iPhone without backup.

About WhatsApp
WhatsApp is a smartphone messaging App which is available for iPhone, Android phone, Windows phone, WhatsApp Messenger, Symbian phone and Blackberry phone. With WhatsApp, you can free to send and receive messages including text message, images, audio files and video files.
Common Reasons for WhatsApp Message Loss on iPhone 6
WhatsApp provides an easy and convenient solution for sending and receiving messages, but it usually frustrates you when important messages get lost from WhatsApp due to any reason. Here are some possible reasons that might result in message loss on WhatsApp on iPhone 6:
1. One of the most common reason is that you delete some or all messages from WhatsApp on iPhone 6 due to mistake or on purpose.
2. Your iPhone 6 is infected with virus after jailbreak, in which situation all messages on WhatsApp is erased or becomes invisible due to virus attack.
3. The WhatsApp is crashed after failing to update it to the newest version, in which situation you have to reinstall the WhatsApp and all previous messages or chat history get lost.
Probably, you may lose messages from WhatsApp on your iPhone 6 due to more other reasons. The good news is that you have chance to restore all lost WhatsApp messages on iPhone 6.
Recover Deleted WhatsApp Messages on iPhone 6 from iCloud
When any data gets lost on iPhone device, you have a good chance to restore lost data from iCloud backup. Therefore, you can try to recover deleted WhatsApp messages on your iPhone 6 device with iCloud by following steps below:
Step1. Uninstall the existing WhatsApp on iPhone 6. Then, download the WhatsApp from Apple App Store again. Finally, install the WhatsApp on your iPhone 6.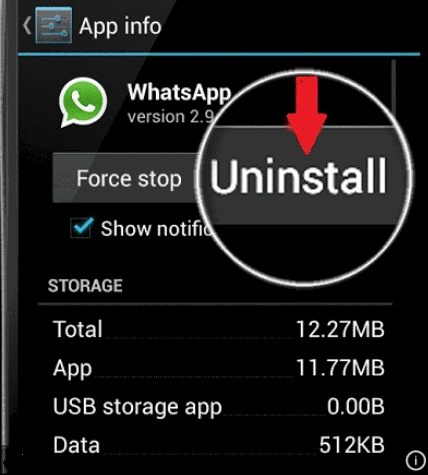 Step2. Launch the WhatsApp on your iPhone and enter your phone number and click "Done" button.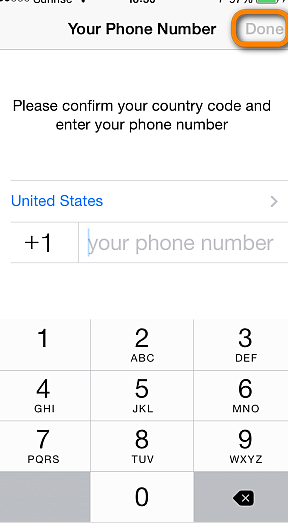 Step3. You will receive notification to tell you to restore your chat history from iCloud. You just need to click "Restore Chat History" and then wait patiently before the process is completed.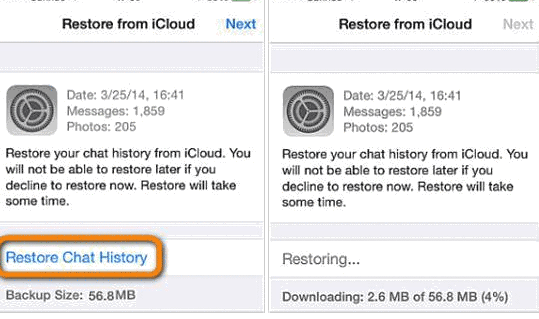 Pay Attention:
1. You can recover deleted WhatsApp chat history from iCloud on condition that you have backed up the WhatsApp with iCloud. Otherwise, you cannot restore WhatsApp messages from iCloud.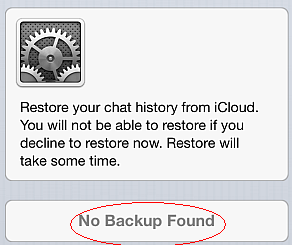 2. You just enter the same phone number which was used for backup previously. Otherwise, you will fail to restore lost messages if you enter another phone number.
Restore WhatsApp Messages from iTunes on iPhone 6
You can also recover deleted WhatsApp chat history from iTunes on iPhone 6 if you have backed up WhatsApp via iTunes before data loss. You only need to connect your iPhone 6 to the computer on which the iTunes for iPhone 6 backup has been installed and then click the iPhone 6 in iTunes and finally you can restore your lost files by clicking "Restore from Backup".
Retrieve Messages from WhatsApp in iPhone 6 with Freeware
Data recovery for iPhone is a program that is available for all iPhone devices including iPhone 6, with which you can restore lost WhatsApp messages directly from iPhone 6 or restore files from iCloud backup, iTunes backup.

Download data recovery for iPhone
---
Last updated on Aug 30, 2021
Related Articles