Don't Let an Accidental Delete Keep You Behind!  Recover Removed Files with iCare Data Recovery Pro
iCare Data Recovery Pro - fast, easy data recovery software.
Files removed can be restored by iCare Data Recovery Pro, which is easy to use and works prefessional with its special file finding and searching technology to unremove files for you.
You can download a trial to find lost files for free!

Steps to Recover Removed Files

Step1. Download and install the data recovery software on your computer. Run the software and choose a recovery module.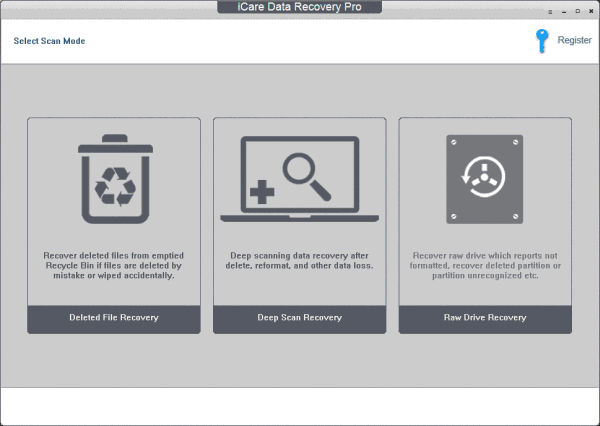 Step2. You need to select the device for scanning. Then, you just need to wait before the scanning is finished.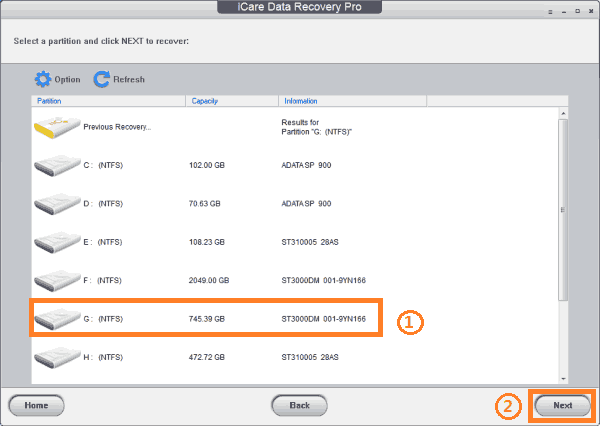 Step3. You can select all kinds of files you need to recover and save them.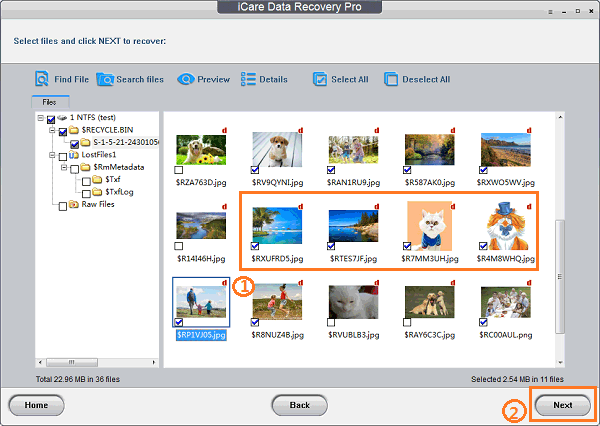 Freedom from worry about losing critical data has never been so profound as it is with iCare Data Recovery Pro. Computer technology has helped us all to become more efficient, and losing data is as detrimental to a hobby as it is to a major corporation.  Whether you experienced a computer crash, simply deleted the wrong file, or have experienced a much more technically advanced issue that led to missing files, iCare Data Recovery Pro can make sure all of your files are safe.
Here are some of the qualities of iCare Data Recovery Pro that makes it a must have to consumers who have data too important to risk losing.
File Recovery
There are many reasons for a file to have been deleted by accident.  Perhaps you just clicked the mouse too quickly, or you misread the name of the file.  Whatever your reason for having lost the file you can't afford to lose, you will rest easy knowing that this type of mistake is completely reversible.  With a few quick clicks, you can easily restore the file that otherwise would have been lost forever.
File Format / Disk Format Recovery
A very common mistake made among beginners (and even sometimes those with experience) is the reformatting of a disk or hard drive before a back up of files has been created.  In years past, this type of mistake meant hundreds of bytes of wasted efforts.  With iCare Data Recovery Pro, accessing files from an already formatted disk or hard drive is easy!
Believe it or not, it gets even better!  You are even able to recover the format itself!  Yes!  You read that correctly!  Reverting to your previous format can be done as effortlessly as any other recovery.  In addition to format recovery; partition recovery,  advanced file recovery, and deep scan recovery are all features that make iCare Data Recovery Pro indispensable to consumers.
In addition to supporting all levels of RAID hardware, iCare Data Recovery Pro is also compatible with Windows: 7, 2000, 2000 pro, 2003, 2008, Vista, and XP.  Multiple files including PDF, MP3, MP4, XLSX, and many more.
As long as computers are available to help us succeed in every day life, we – as human beings – will continue to make mistakes.  As long as there is software like iCare Data Recovery, you can rest assured that no file is ever lost.
Is the data removed when a memory card turns to RAW file system? Can you format an SD card when it reports not formatted error? How can you recover data from RAW memory card? You can also use iCare Data Recovery software.

---
Related Articles