Recover RAW Disk Drive Removable HDD Not Recognize File System
Can you recover RAW disk drive for removable HDD since system cannot recognize RAW file system? What will you do if you face the same problem like below:
"Hello! Can anybody spend a little time to read my post to see if you know any solution for this problem? My external hard drive turns to RAW file system which show removable NTFS HDD previously when I plugged it to my computer. The external HDD has unrecognized file system, so I cannot open the disk to read any data. Can anybody tell me how to fix the problem and get back all inaccessible data from this RAW external HDD?"
"I connected my removable HDD to my Windows PC, but it said the removable HDD has an unrecognized file system. Checking the Properties of the removable HDD, the file system has changed to RAW format. What can I do to format RAW to NTFS without data loss?"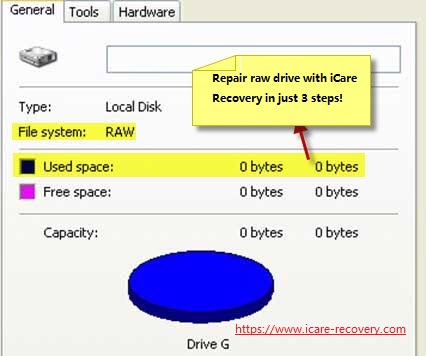 DISK file sytem raw 0 bytes
"I want to recover data from RAW disk drive since my 1.5TB portable HDD is not recognized by computer, but I am not aware of what I can do to resolve this problem without hurting or deleting any data. Can somebody recommend a useful way?"
"My removable hard disk drive cannot be recognized because Windows system reports removable hard drive has RAW needs to reformat before I can use it. Will all data be deleted permanently if I reformat the removable hard drive from RAW to NTFS? Is there any other method to fix the RAW drive error without reformat?"
Video - usb disk raw file system recovery without data loss

Also read: how to repair raw disk
Recover RAW Disk Drive Data When Removable HDD Is Not Recognized
For RAW drive removable HDD data recovery when it has unrecognized file system, you need to rely on specialized data recovery software. iCare Data Recovery supports all brands of removable hard disk data recovery when it turns to RAW file system and cannot be recognized by computer. You can follow the steps below to restore any type of data from a RAW disk drive removable HDD that has not recognized file system:

Step1. Download and install iCare Data Recovery on your computer. Launch the software and choose a proper scan mode.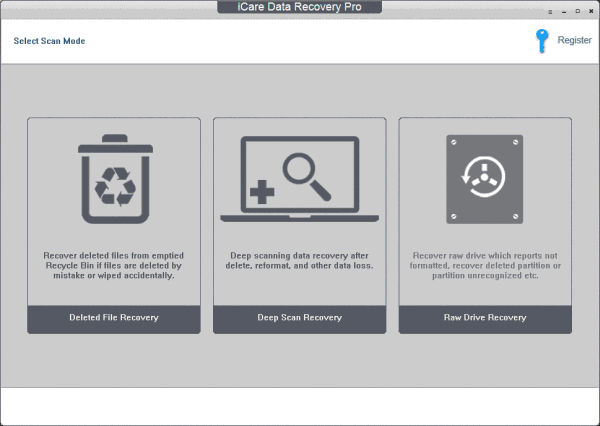 Step2. Select the RAW disk drive as aim disk and then wait the software to scan it for lost data.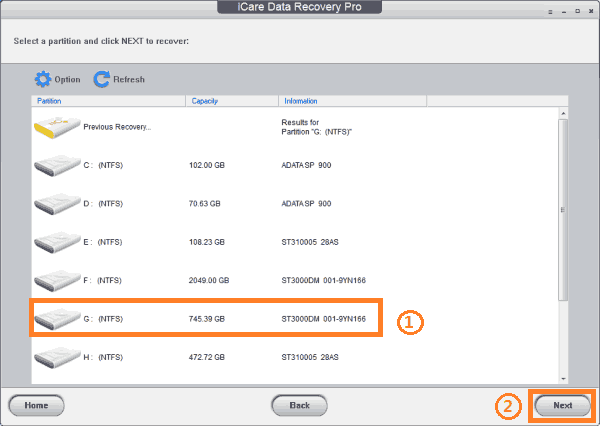 Step3. When scanning is completed, you can preview files and then save the lost files to another drive.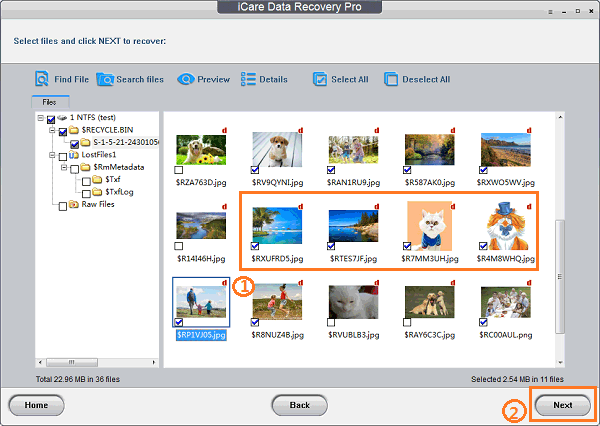 iCare Data Recovery is available for RAW disk drive recovery for any removable HDD that has unrecognized file system. As long as the removable HDD is not physically damaged, you can free download this software for RAW disk drive data recovery.
CHKDSK Is Not Available for External Hard Drive That Has Unrecognized File System
When an external hard drive has unrecognized file system like RAW, you had better check if it contains any bad sector. You had better not write data to the external HDD if it contains too many bad sectors. In order to check bad sector, you can run CHKDSK tool on your computer.

=>> If CHKDSK fails to scan and check errors on your external hard drive, please go to this page - CHKDSK is not available for RAW external hard drive>>
---
Hot Articles
Related Articles