Recovering photos off external drives easy
Recover Photos Off External Drive with iCare Data Recovery Pro
Using iCare Data Recovery Pro to recover photos off external drive makes it easy to transfer data from an old hard drive to its replacement.  Many users have many more files to worry about losing than just pictures.  Even if pictures were the only thing you stood to lose...how precious are they?  We are in a digital age where we believe all of our most treasured folders are protected by a virtual safety net.  Sadly, there are files and folders lost every day by consumers who did not find the necessity to invest in iCare Data Recovery.
Steps to Recover pictures off external hard drive
Free download the photo recovery tool for Windows and follow the steps below for external HDD photo recovery:
Step1. Plug the external hard drive to your computer. Download and install the data recovery software on your computer. Run the software and choose a recovery module.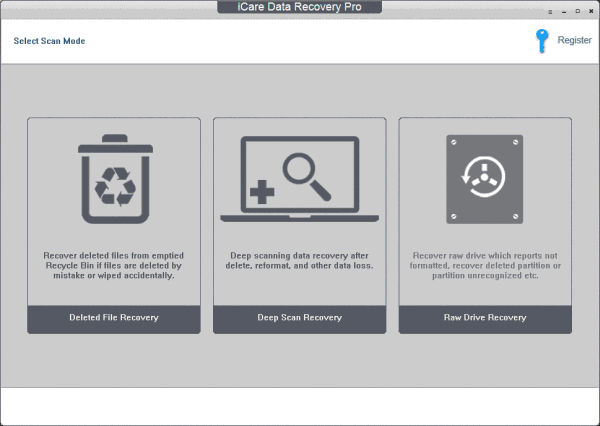 Step2. Choose the external hard drive as scanning device. Then, you only need to wait when the software is scanning.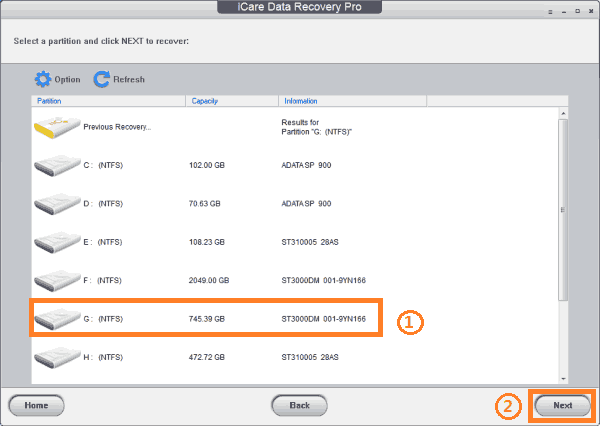 Step3. You can preview the found files after scanning. Then, you can choose the files you need and save them.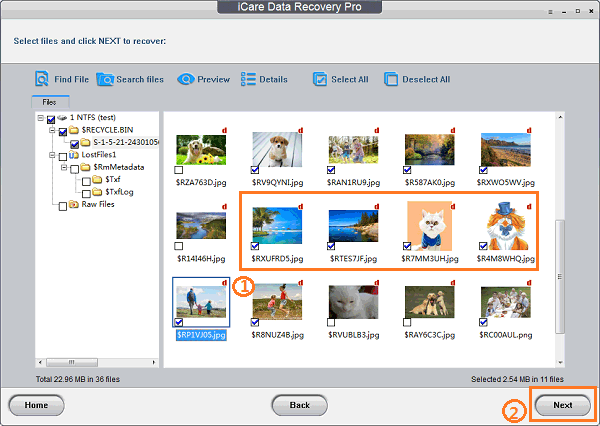 Photos lost and want to restore from external drive
Recover Pictures off Formatted External Hard Drive
Accidental formatting happens more than you think.  The reality is:  Even users who know not to reformat an external disk containing data make the fatal mistake.  When it happens, it happens so quickly, and there is nothing you can do to stop it.  But if you have iCare Data Recovery Pro, you are able to reverse the otherwise catastrophic damage.
Deleted Photo Recovery from Portable Hard Drive
Deleted picture is recoverable from portable hard drive by connecting it to a Windows computer and use photo recovery software.
Restore Pictures off External USB Hard Drive RAW File System Requires Formatting
You stand to lose important work documents, family photos, memorable vacations, charts, previous years' taxes, important financial spreadsheets, bank information, etc...The list goes on ad infinitum. The list of the things iCare Data Recovery Pro is able to accomplish is rather extensive as well.  Repairing RAW data files, reversing data corruption, external hard drive photo recovery, virus damage reversal, file and folder retrieval, and technical support on multiple types of hardware – including all RAID supported hardware – is all possible with iCare.
It's hard to anticipate what may go wrong when you are transferring data from one hard drive to another or implementing an external hard drive into your network.  Having a protective software like iCare Data Recovery Pro removes the potential for lost data, formats, partitions, and much more.   Download the software for free and take your time to compare iCare to other data retrieval software.  There is no comparison.  Many users have quickly realized the value of iCare that has always accomplished what competing software could not.
It is our ability to deliver where the competition fails that is making iCare Data Recovery Pro highly preferred among consumers.  At an unbelievably low rate of only $69.95, the cost of protecting your most valued virtual file folders is quite affordable.  If you need to learn more out about how to recover photos off external hard drive, download the free iCare Data Recovery for free.  Once you download the software, and you find it can certainly help; you will be able to get more assistance from technical support if you are unable to complete your task with the easy to use features.
---
Last updated on Aug 30, 2021
Related Articles