Recover Photos after Partial Transferring Process
Have you ever lost precious photos due to sudden interruption of transferring process? Many people like to transfer data from a removable storage media to their computer hard disk using "cut" and "paste". When the data transferring is completed, all data will be moved to the hard disk and the previous storage media will contain nothing. Many people find it convenient and easy to do so, but the data loss problem occurs when the transferring process is interrupted due to a sudden power off of your computer, system crash or other similar reasons. You may find that some data is neither stored on the previous storage media nor hard disk when you reboot your computer. How do you recover lost photos or other data after partial transferring process due to a sudden interruption?

Retrieve Pictures from Backup after Partial Transferring Process
Simply say, backup drive refers to the drive on which you have stored some backup data from hard disk drive, external hard drive, memory card, pen drive, etc. When any file got lost, you can easily restore the lost files from backup drive.
1. Restore data from cloud storage application
Today, many people like to share their data through cloud computing. You can store data with cloud storage application as long as there is network. If you have shared the hard disk data with cloud storage application, you can easily restore data from the backup data when photos got lost after cutting it from the disk and failed to be transferred to another media.
2. Retrieve images from backup drive
Without cloud computing, you can also backup data from on storage media to another media by copying. If you have stored the data to more than two storage devices, you can recover lost files from backup drive when they were lost due to partial transferring process.
Recover Photos after Cutting from Hard Drive
Sometimes, the data loss problem occurs when you cut it from computer internal hard disk drive to another partition or external drive. If you need to recover data from hard disk drive without any backup after cutting, you can use hard disk drive data recovery software. If you use photo recovery software free to retrieve photos after cutting from hard disk, you should remember not to install the software to the partition where data got lost. The most important point for data recovery with data recovery software is to avoid overwriting the lost files.
Data Recovery after Cutting from Memory Card USB
If you lose files after cutting from memory card, USB thumb drive, pen stick or any other external storage media, you should remove the card out of the camera or smartphone at once. Please remember to turn off the digital camera or smartphone before removing the memory card. Then, you can connect the memory card or flash drive to a Windows computer and install the data recovery software on this computer to start data recovery.

Best Photo Recovery Freeware
iCare Data Recovery Free – It is read-only data recovery software which causes no hurt to previous data during data recovery.
Guide to use data recovery software for photo recovery:
Step1. Free download and install the software on a computer. Launch the software and choose a scan mode.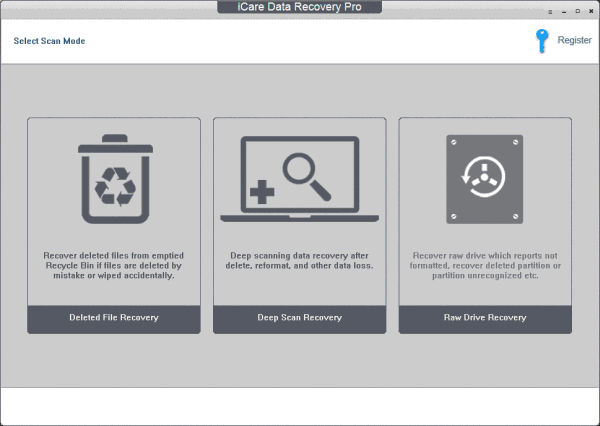 Step2. Select the partition to scan.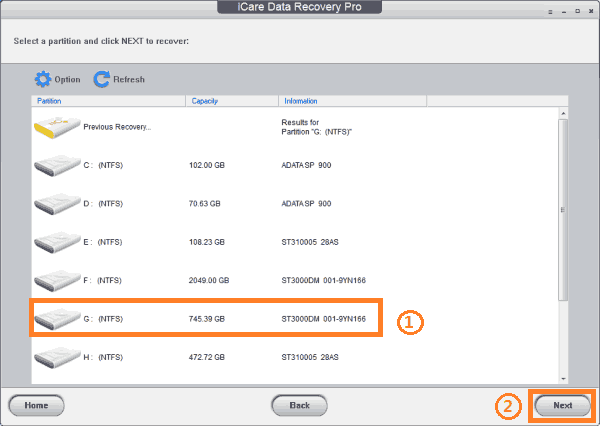 Step3. Preview and recover lost files.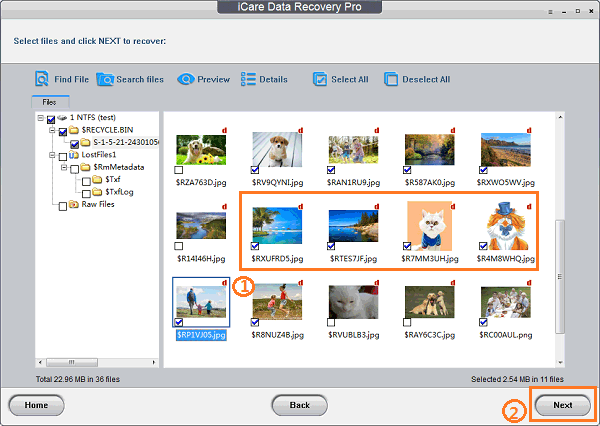 How to Avoid Data Loss due to Failure of Transferring?
If you want to transfer photos from one storage media to another, you had better copy them instead of cutting. You can find the lost files from the original storage media by copying even if the data transferring process is interrupted due to any reason.

---
Data Recovery Software > Howto > Recover Photos after Partial Transferring Process