Deleted Files Folders Emptied from Recycle Bin by Mistake
"After uploading some pictures to my Facebook from D drive on my PC, I deleted those pictures and emptied the Recycle Bin. However, when I logged in my Facebook, I found some pictures were not uploaded successfully. Those pictures are quite important to me, but I don't have any backup. Can you tell me if it is possible to undelete Recycle Bin for deleted photos recovery?"
"Well, I accidentally deleted a folder from my computer and even worse I permanently delete the folder from Recycle Bin. It contains some photos and videos inside the folder. Now, I want to recover the deleted folder. Please tell me the way to restore deleted videos photos deleted permanently from Recycle Bin in PC."
Can You Recover Files Deleted from Recycle Bin
Windows system provides Recycle Bin for its users so that they can recover files mistakenly deleted from hard disk partition on the PC. With Recycle Bin on the computer, whenever you delete files from hard disk, you can restore them easily from the Recycle Bin. However, if you emptied the recycle bin which means you delete files from the Recycle Bin, files will be permanently deleted from your sight. In this situation, you need to use read-only data recovery software - iCare Data Recovery Pro to undelete the files that have been permanently deleted from your Recycle Bin. The data recovery software can work on Windows XP / 7 / 8/ Vista to help recover deleted files like photos, videos, music, office files, emails, etc.
Steps to Recover Deleted Data off Recycle Bin

Step1. Download and install the data recovery software on your computer. Run the software and select a recovery module.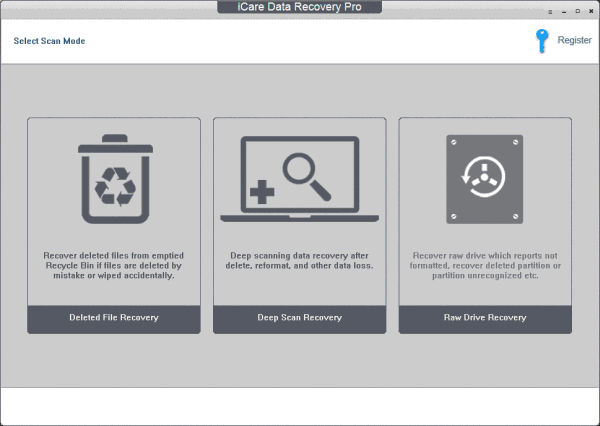 Step2. Choose the partition where data got deleted and then the software will scan it for lost files. You only need to wait when the software is scanning.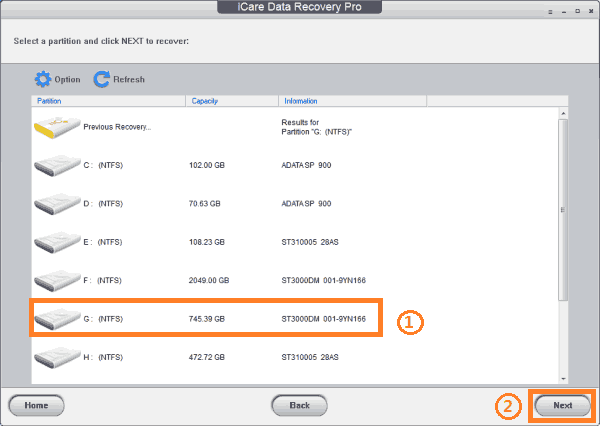 Step3. You can preview the found pictures or some other files like word, excel, etc. Then, you can select all files you need and save them.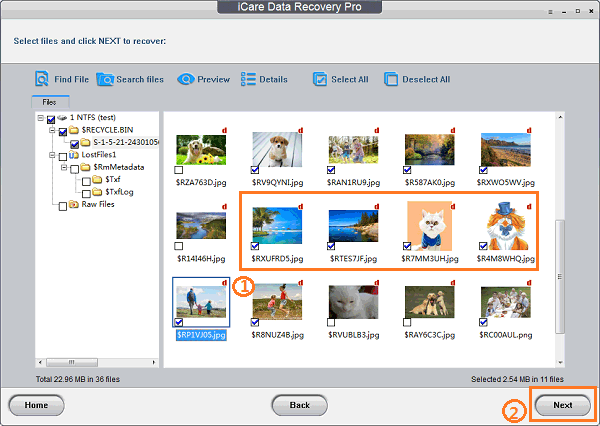 Download free to start scanning your drive, card with iCare.
Pay Attention
You should stop using the disk partition where data got deleted mistakenly; especially you had better not write any new data to the partition.
When you download and install the read-only data recovery software, you should not save it to the partition from which you mistakenly delete important data
Protect your PC from being infected with virus before data recovery, because any virus may make the data corrupted.
You can preview found photos and office files before recovering them.
When you want to save the found files after scanning by the data recovery software, you should not save them to the original partition.
Photo Video Recovery after from Recycle Bin Mistakenly Deleting from Hard Disk Windows 7
Since Microsoft has stopped providing support and security updates for Windows XP, Some PC users choose to use Windows 7 operating system. When you delete photos or vides from a hard disk partition on Windows 7 PC, the data will be moved to a place called Recycle Bin. As long as you do not empty the Recycle Bin or delete the files in Recycle Bin, you can undelete any data from the Recycle Bin easily. Therefore, when you delete photos videos from hard disk partition on Windows 7, the data is not permanently deleted. Because of this, you can always recover mistakenly deleted files from Recycle Bin on your computer without relying on any other tool.
You can also recover deleted files from removable hard disk such as pen drive data recovery, external hard drive file recovery, USB flash drive deleted file recovery, etc.
File Recovery When Permanently Deleted from Recycle Bin Windows Vista / XP / 7 / 8 / 10
You can permanently delete files from Windows by emptying recycle bin or shift deleting. How to recover shift deleted files without software? In fact, some people still does not quit Windows XP though the support and security updates for Windows XP are no longer available. It does not matter your PC is running Windows XP, Windows Vista, Windows 7, Windows 8 or Windows 10, files can always be restored until they are deleted from Recycle Bin. Before you emptying Recycle Bin, the deleted files still occupy the disk space on original partition. Therefore, you may open Recycle Bin to delete files inside or empty the Recycle Bin in order to free up disk space. If so, it will be impossible to recover deleted data from Recycle Bin. Only when files have been deleted from Recycle Bin can they be permanently deleted. However, even if you have emptied the Recycle Bin, it does not erase all data completely. In this situation, you just need to use a read-only data recovery software so that you can retrieve files after deleting from Recycle Bin.
How Files are Deleted on PC
1. Deleting files by select "Delete" option
It is the most common situation that you delete one or more files by select the "Delete" option after right clicking the files. In this situation, Windows will pop up a warning message to ask if you are sure want to send the file to Recycle Bin. Once you click "Yes" to confirm the deletion, the selected file (s) will be moved to Recycle Bin.
2. Deleting files by pressing "Delete" button
There is a "Delete" button on keyboard of PC. You may select al files you want to delete and press "Delete" button and then all selected files will be moved to Recycle Bin too.
3. Deleting data by pressing "Shift + Delete" keys
You can select the files and press "Shift + Delete" keys to permanently delete data from hard disk partition. Files deleted by pressing "Shift + Delete" keys will not be moved to Recycle Bin.
You might accidentally delete files from an SD card, XD card, or CF card. If you also have doubt whether it is possible to recover deleted photo off memory card / stick, you can use iCare Data Recovery software too. This software also helps recover data after mistakenly format CF card, XD card, SD card and more.

---
Related Articles