How to recover lost photos after computer profile deleted
Deleted file recovery with iCare Data Recovery Pro
Deleted computer profile and then lost files photos...?
Files were deleted after format and need undelete files?
Deleted files by mistake?
....
Recovering files with iCare Data Recovery Pro, the powerful undelete, unformat tool that is able to restore images or other data when your laptop, desktops, servers that encountered errors and you lost your files when you deleted computer profiles.
iCare Data Recovery Pro is free to download for deleted files recovery free:

Steps to Recover Photos after Deleting

Step1. Download and install the data recovery software on your computer. Then, you can run the software and choose a recovery module.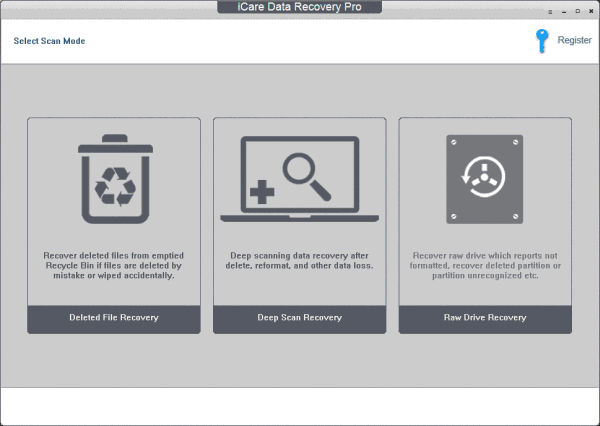 Step2. Choose the drive and let the software scan it for lost files.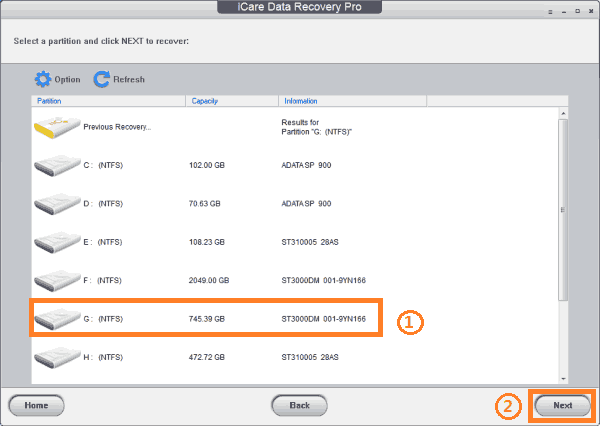 Step3. You can preview the found files after scanning. Then, you can select the files you need and save them.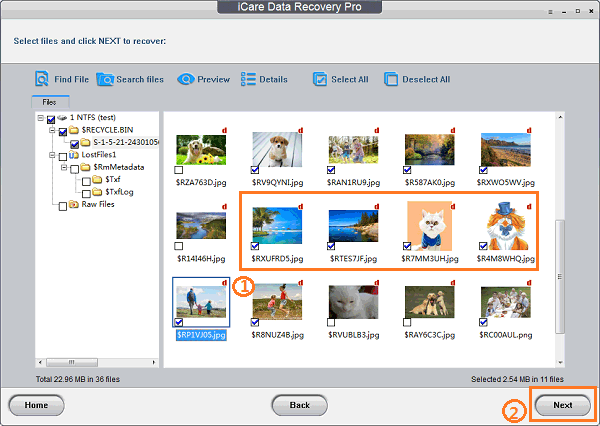 ---
Deleted computer profile file retrieve
Is the Scan Disk on your computer profile corrupted and you are powerless to way in to the stored photos the device contained? You must be wondering, whether it is possible to recuperate the lost photos from a degraded card or a computer profile? Regardless of the brand of your computer, the computer profiles do not remove photos absolutely from the memory in any case. They are still obtainable with the iCare Data Recovery Pro! It is really wonderful as you can get your unforgettable and priceless photos recovered using the iCare Data Recovery Pro in all cases of digital photo loss from profile deletion.
In the corruption of the scan disk has occurred from a virus and this has led to a profile deletion, then you cannot access the hard drive using any method. At the same time, this may make you may come across a variety of error messages, comparable to the following ones:
"Windows was unable to complete the format" while trying to format a hard drives that have lost the computer profile.
"This device cannot start" you get this message after inserting any external storage device.
"I/O device error" is encountered while interpretation data or writing data to the drive because the profile is already deleted nothing can be written.
"Drive error" while accessing the drive, you might get this message on clicking on the drive in order to open it.
What causes computer profile deletion?
When you face any of the above problems then there is a possibility that your computer profile might be deleted accidentally and when this happens the drive becomes inaccessible and unusable. On the other hand, the photos are still there on the hard drive but only the fact it that it cannot be accessed due to corruption. In such situation, you can easily pick up the missing, absent, and inaccessible photos using the iCare Data Recovery.
The powerful utilities in the software are built in with competent scanning algorithms to recover the lost digital photos even after computer profile deletion. The iCare Data Recovery Pro enables you to perform photo recovery in a self descriptive graphical user interface without the need for a technician. The iCare Data Recovery Pro safely recovers all type of lost multimedia files like photos, mp3 songs and mp4 videos.
Photos Loss from Memory Card / Stick
Another situation you might encounter is that losing photos from memory card. Usually, you may mistakenly delete pictures off a memory card, format memory card and lose all precious pictures or memory card is corrupted and unreadable, etc. If you lose important photos from a memory card, iCare Data Recovery software is available for memory card photo recovery. This data recovery software enables you to recover files when micro SD card has RAW file system, CF card is unreadable or XD card is not accessible.
---
Related Articles