Recover Lost Files from Inaccessible WD USB HDD with Not Formatted Error
WD My Passport 1TB USB HDD Is Not Formatted. Do You Want to Format It Now?
"Hello, I do have used a 1TB WD My Passport USB HDD to store all my important data of the past years. It always works well on my Windows PC and causes no trouble. However, recently, one day, when I plugged it to my PC and tried to browse it there, before it displayed everything inside completely, I just double clicked the computer Recycle Bin icon and then, everything inside just disappeared suddenly. Though I did have tried it there again, I also got no luck, but, an error message saying that the disk was not formatted, did I want to format it now? And all of my external hard drive partitions also became inaccessible. And up to now, I also still have not recovered anything original back from this not formatted external hard disk? Is it necessary for me now to format this WD USB hard drive? How to retreive files from Western Digital that needs to be formatted? Thank you for any idea here!"
Hello! Are you sure that you have only double clicked the PC Recycle Bin icon when your attached WD USB HDD is not displayed well there? According to your description, your drive seems to be logically damaged somehow due to your improper operations there. You'd better act carefully next time and do not do everything in a hurry again. However, as with your data still left on this not formatted WD external drive, external drive data recovery software is what you need.
Always Use Your External Hard Disk after It Is Recognized and Displayed Well on Your PC
External hard drives, like your mentioned 1TB WD My Passport USB HDD are really convenient storage devices for people to store or transfer diversified computer data. However, that doesn't mean they will be used forever and gets no problems. Oppositely, they do get damaged or corrupted due to long time use, virus attacking and human improper operations. And in your case, you do have rushed to access this drive and double click the computer Recycle Bin icon before it is displayed well there. That absolutely could be why you get a not formatted external drive problem finally. Of course, you drive also could be inaccessible due to other reasons, like improper drive extracting when you use it on your PC last time, virus infection, RAW file system drive and computer issues, etc. However, no matter why your reasons behind this not formatted external drive issue, you'd better learn an impressive lesson to use your USB hard disk rightly and never try to use it before it is recognized and displayed well on your PC.
Also Do Not Format Removable Hard Disk with Not Formatted Error before Successful Data Recovery
Of course, in case that any formatting process or other farther device operations can increase the difficulty of recovering everything original back from this removable drive smoothly, you are also supposed not to formatted this drive with not formatted error or any other drive rewriting operations there to avoid worse data loss troubles.
Go Recover Not Formatted USB HDD Files with External Drive Not Formatted Error Recovery Software
Up to now, how many data recovery modes have you tried to rescue your desired files back from this USB hard drive that asks you to format? How about the data recovery results? If you really get not satisfying data recovery results, like the recovered photos and files cannot be previewed on any PC or device, not all desired drive data has been retrieved or data recovery software seems to last forever to scan your selected drive, etc, you can take chances with external drive not formatted error recovery software which is especially designed for users to perform a thorough scanning process on the drive with inaccessible data and take all possible original drive photos, videos, documents, mails, games and the like stuffs back with simple clicks. Hence, do not panic and only open your computer to search one according to your own conditions.
Here are simple steps that can help you recover data from external hard drive:

Step1: Download and run selected data recovery software on your computer. And pick out a fixable data recovery mode.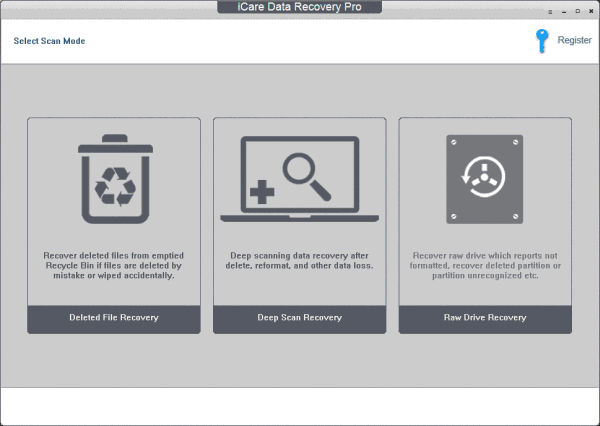 Step2. Point your WD external drive out and let this data recovery software scan it deeply.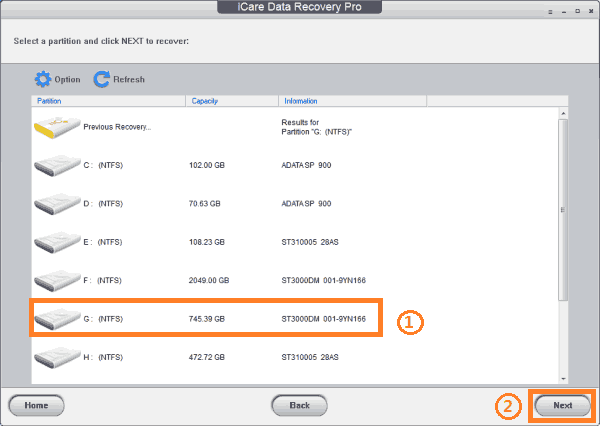 Step3. Preview the scanned data and recover them to another computer drive, partition or flash drive in case of data recovery failures.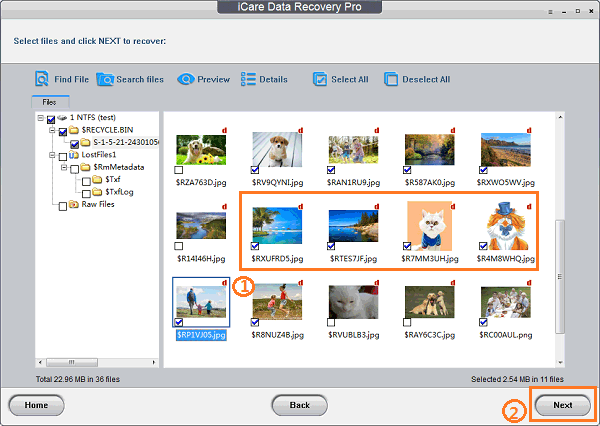 Please Note:
*If you are not satisfied with the data recovery results of some free data recovery tools, before you purchase a paid one, remember to check the software scanning results and preview found files to check whether it is worth the price.
*If you do not want to encounter such drive data loss troubles, always create several drive data backups well on different storage devices from now on.
Does Your WD External Hard Drive show as RAW File System on Your PC?
When computer external hard disk is asking you to format, open the PC Disk Management or hard drive Properties interface to check whether your drive is displayed as RAW file system? Or you just perform CHKDSK to test this drive and get an error message saying:"The type of file system us RAW. CHKDSK is not available"? OK! No panic! Such RAW WD external drive error problem is really common. Before formatting this drive from RAW to NTFS, also perform data recovery software to scan this drive and rescue all desired drive data back.
Fix Not Formatted Error on WD External Hard Drive
A WD external hard drive usually should be formatted to NTFS file system in order to use it in Windows computer.
==>> Learn how to convert WD external HDD to NTFS, please go to this page - Convert RAW drive to NTFS without data loss>>

---
Related Articles