Recover Lost Data from Disk Partition on RAID 5 Windows 8
Although RAID 5 array provides a safe method to save data, it does not mean that it is 100% safe to save all data on RAID 5 volume. In other words, you may still run into data loss problem on disk partition on RAID 5 array. Data is recoverable when it got lost from common hard disk drive, so you can also use the same method to recover lost data from RAID 5 volume. Today, we will share how to recover files when they get lost from disk partition on RAID 5 on Windows 8 operating system.
Data Recovery from Disk Partition on RAID 5 Windows 8
First important thing: No matter how files got lost from disk partition on RAID 5 on Windows 8, you should avoid overwriting the partition or let the hard drive suffer any physical damage
Then, you can use iCare Data Recovery Pro . iCare Data Recovery is a data recovery tool, which works on all RAID arrays including RAID 5 array for data recovery when it is lost due to deleting, formatting, RAW file system, virus infection and more other reasons. This data recovery software supports Windows OS, so you can install it to Windows 8 computer and recover any lost file from RAID 5 disk partition.
Steps to Restore Files off RAID 5 Volume in Windows 8

Preparation: Free download and install iCare Data Recovery on your computer. Please remember that you should not install the software on the partition where data got lost. Then, you can follow the steps below to recover data from RAID 5 volume in Windows 8:
Step1. Select a proper scan mode after running the software.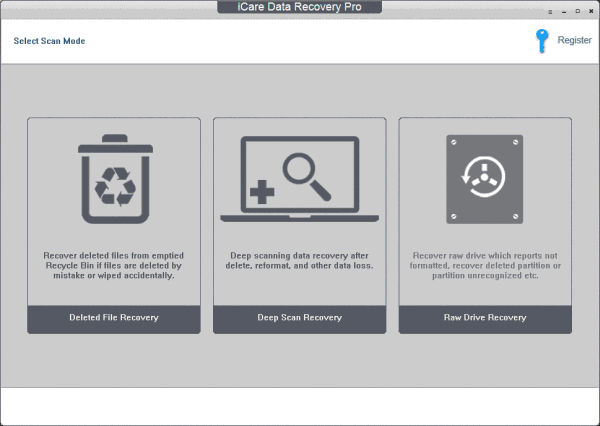 Step2. Choose the disk partition where data got lost and then you only need to wait patiently when the software is scanning to search lost files.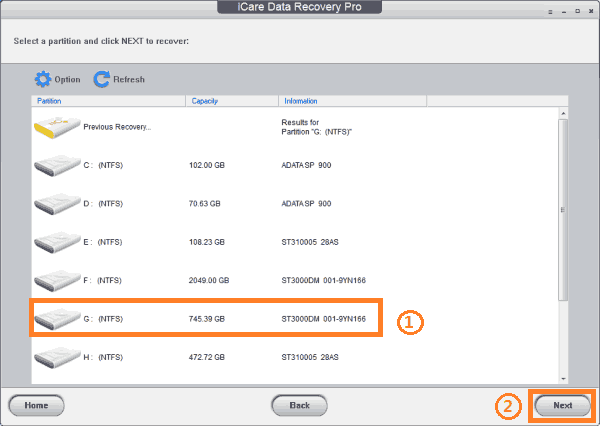 Step3. Preview files after scanning and then save the lost files to another drive.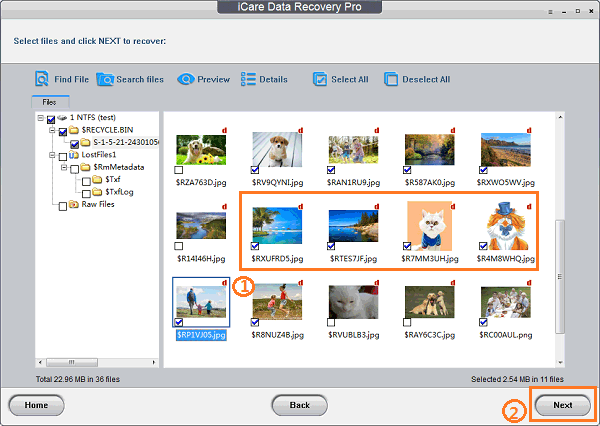 Recover Deleted Files from RAID 5 Drive on Windows 8
Will the lost data be moved to recycle bin when you delete one or more files from a disk partition in RAID 5 array on Windows 8? What will you do if you are unable to restore data from recycle bin after deleting it from RAID 5 volume on Windows 8? Well, it is a common mistake to delete files from disk partition on RAID 5. And it is also a normal situation that deleted files were not moved to recycle bin. In this situation, you can get back deleted files from Windows 8 RAID 5 drive by using iCare Data Recovery. This software enables you to recover any file when you delete it by mistakenly pressing Delete button on your computer or even after emptying recycle bin.
File Recovery from Formatted RAID 5 Volume on Windows 8
Files will be lost from the disk partition in RAID 5 array whether you quick format or complete format the drive on Windows 8, but iCare Data Recovery works as a RAID 5 format recovery program to help get back all lost files after formatting. Usually, the software helps restore all lost files as long as the previous data is not overwritten or the hard drive is not physically damaged, so it is very important to avoid writing new files to the formatted RAID 5 drive in order to recover all lost data.
Windows 8 Reports RAW File System on RAID 5 Drive
In addition to human mistake, you may find that you will lose data from RAID 5 hard drive even you have not deleted any file or formatted the disk drive. Sometimes, you may lose the chance to read any data from RAID 5 hard drive because you receive not formatted error message on it. Then, you might find that the RAID 5 volume turns to RAW file system. You cannot read data from a RAW drive in RAID 5 array because Windows 8 system does not recognize RAW file system. In this situation, you need to rely on iCare Data Recovery to extract all inaccessible data from the RAW hard disk drive in RAID 5 on Windows 8.
Other Causes for RAID 5 Disk Data Loss on Windows 8
iCare Data Recovery allows you to restore data when you encounter data loss in following situations:
RAID 5 hard drive is not showing up on computer
RAID 5 disk drive needs to be formatted
More other situations
Generally speaking, iCare Data Recovery enables you to recover data no matter how data gets lost from RAID 5 array. You can use this software to perform file recovery without rebuilding the array. This data recovery software is easy to use, so anybody can handle it simply. You do not worry that it will cause any hurt to the RAID 5 array by using this software because it is a read-only data recovery tool.

---
Related Articles