Recover Files from Deleted Laptop Hard Disk Partitions
Laptop Was Dropped Suddenly and Thumb Drive Connected Became Malfunctioned?
"Hello, my brother has set up four partitions on my Windows 7 laptop hard disk and I select the last one as the F drive to hold many uncommonly-used photos, movies, songs, documents, games and applications there. However, recently, this laptop hard disk partition F has been deleted accidentally and many of my precious partition contents cannot be found back. The Recycle Bin is also empty. What can I do now to perform Windows 7 deleted partition recovery to take everything deleted back? Honestly, I do have downloaded several Windows 7 undelete software found online, but, many of them need to be paid for farther data recovery after partition scanning. Do I really have to purchase for a data recovery code? Which one do you recommend? Thank you for any advice here!"
Hello, friends! When computer hard drive partitions are deleted without backups, your mentioned partition recovery software really is useful to help people get the deleted computer documents, videos and files back. Of course, if you do have enough money, purchasing a code for data recovery also gives you higher chances to safely and successfully recover desired partition contents.
Your Deleted Laptop Hard Drive Partition Is Not Gone Permanently
After you do have deleted your hard drive partition F, even though you cannot find it in My Computer interface, that doesn't mean that this deleted partition with your precious data is already erased and gone permanently. Oppositely, you are still able to find it in your computer Disk Management interface and your left computer photos, videos, songs, documents and more original files are still stored there. And before this deleted partition F is completely formatted or rewritten by new data, you often are able to recover your partition information with the help of deleted partition recovery software. Hence, no matter whether this deleted partition is displayed as F, not formatted, not initialized or RAW file system in your Disk Management window, do not format or overwritten it in case of worse data loss troubles before you get all wanted partition contents back with data recovery software.
Go Recover Data from Deleted Hard Drive Partitions Step by Step

No matter whether you can find this deleted F partition on your computer or not, your partition data may not be erased completely off from the hard drive where this deleted partition locates. Merely stop adding new information to this computer internal hard drive and go perform deleted partition recovery there to recover lost PC information.
Here are simple steps for you to follow:
Step1. Download and install partition recovery software on a different internal/external hard drive.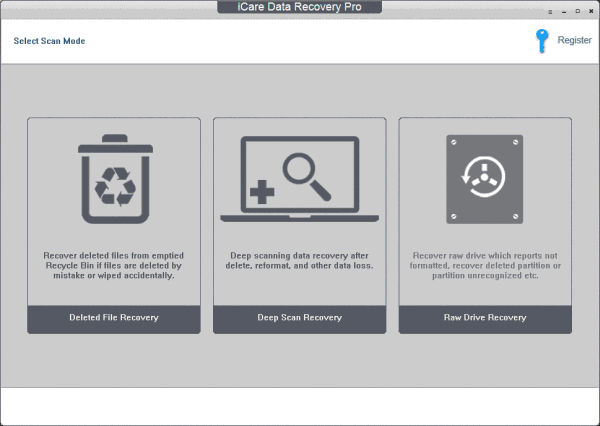 Step2. Run this software to scan your hard drive with deleted partition issues thoroughly and preview find photos and files.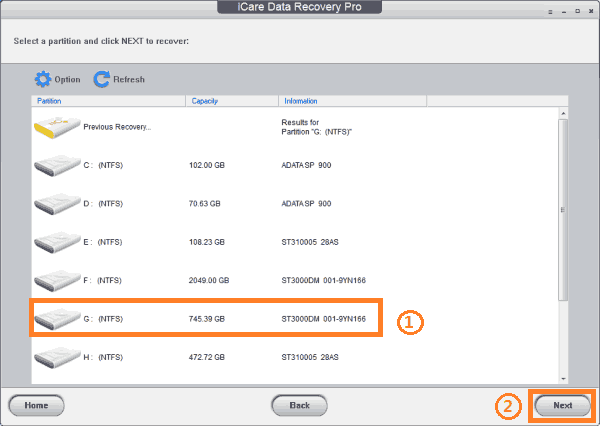 Step3. Recover deleted partition files to another hard drive or storage device in case of data recovery failures.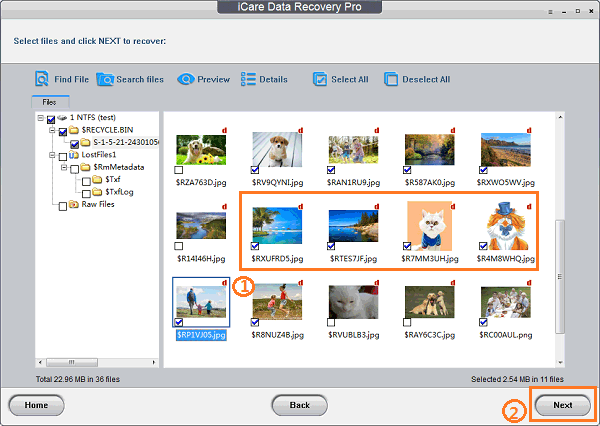 Please Note:
*In case that your deleted partition data is lost forever, do not write new data there before data recovery and also run data recovery software on a different storage device.
*Pay for a code if you really need recover very, very important data. And always purchase the code when you do have checked its data recovery scanning results carefully.
*Merely recreate this deleted partition for future use after you do have prepared partition data backups well elsewhere, if it is necessary.
Partition Recovery Software Helps Recover Data in Most Partition Data Loss Cases
When you do have accidentally formatted a computer hard disk partition with much important data, when you do have formatted a drive partition with RAW file system, when you do have formatted a drive partition that is asking you to format, without partition data backups, the related partition recovery software also helps you recover data from formatted partition. When you do have to convert a partition from RAW to NTFS, the above mentioned partition recovery software also helps you take inaccessible drive data back from that RAW format partition before any format. And when your partition is virus-infected, corrupted, not initialized, not formatted and crashed, such partition recovery software also helps scan your selected partition and get your desired images, games, files and folders back with ease. Overall, always go firstly apply the data recovery software to scan your partition and see whether it works for you in different partition data loss cases.
Do Not Deleted Partitions without Data Backups before Extending Partition Space
Hello, how do you delete your laptop hard disk partition F with precious information? Do you have any plan while trying to delete this drive partition without data backups? Honestly, in daily use, it is also really possible for people to delete a partition accidentally while they are trying to extend a partition space. Generally, when one attempts to add the free space of a partition to another, without special partition resizing software, he is often suggested to delete one partition with enough free space and right click the destination partition to "extend" its space in Disk Management. However, during the process, once he chooses the wrong partition mistakenly or he has forgotten to extract everything important out from the partition that is going to be deleted, he is also possible to accidentally delete a partition with much important data instead. Hence, in the future, no matter whether you do have plans before you start to delete a partition, always save everything important on different storage devices to avoid such accidental deleted partition data loss troubles.
The data recovery software is helpful with permanently deleted files recovery when you delete hard disk partition on your laptop. It also enables you to recover shift deleted files from any Windows.

---
Related Articles