Recover Deleted Videos from SD Card for Canon PowerShot Camera
"Uh oh! May I ask if it is possible to recover deleted SD card photos for Canon PowerShot digital camera? I took many family photos on my holiday, but I mistakenly deleted about 100 pictures without any backup. Those deleted pictures are in JPEG format. Please tell me how to recover JPEG images after deleting from SD card in Canon digital camera."
More Other Situations about SD Card Data Loss:
Data can be deleted from an SD card in different situations. Here are some related cases about Canon digital camera SD card data loss:
"Can you recommend any SD card recovery freeware which can help recover videos from SD card after formatting in Canon PowerShot digital camera? I was taking pictures with my Canon camera, but I wrongly press the format button and formatted SD card by mistake. So I need a free SD card data recovery program that helps recover deleted data after formatting SD card."
"My Canon PowerShot A75 says a message that memory card is corrupted when I use the camera to take pictures. Windows XP system says SD card is blank and has unsupported file system when I connected the card to my PC. How can I recover lost data?"
Solution: For all problems above, you are able to recover deleted video files from SD card for Canon PowerShot with a memory card file recovery program.
Recover Deleted Files off Canon PowerShot SD Card
If you realize that you lose important data from your SD card for Canon PowerShot digital camera due to formatting, deleting or any other reasons, the first thing you should make sure is not write new data to the SD card. You had better remove the SD card out from your camera and connect it to a computer. Then, you can free download iCare Data Recovery software to recover deleted files from SD card. This software is available for format recovery, deleted file recovery, RAW SD card data recovery, etc. You can follow the steps below to recover data from SD card for Canon digital camera:

Step1. Run the data recovery software and choose a proper recovery option.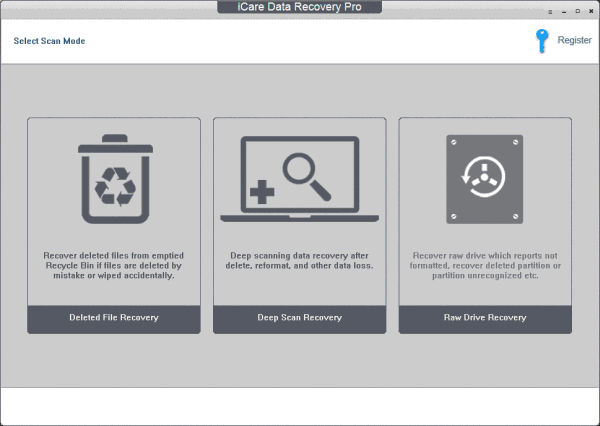 Step2. Choose the SD card as aim disk and let the software scan it for lost data.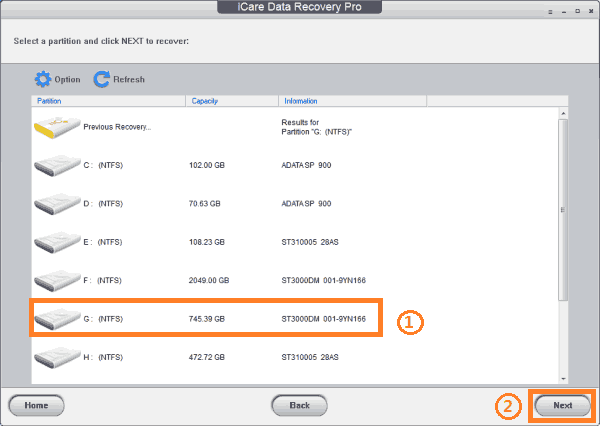 Step3. You can preview the found files after scanning and then select the files you need to recover.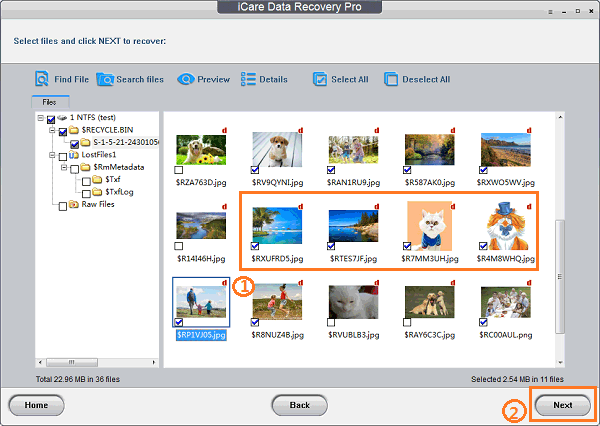 Mistakenly Deleted Photo Recovery off Canon PowerShot Camera SD Card
Canon PowerShot is a good digital camera that appeals to many camera users. Various kinds of SD memory card is compatible with Canon Powershot for data storage. You need photo recovery program for mistakenly deleted picture recovery off SD card for Canon Powershot camera.
Virus Delete SDHC Card Data for Canon PowerShot Digital Camera
SDHC is a type of SD card. Virus infection would delete files from your SDHC card in Canon Powershot digital camera. The best way to avoid such kind of problem is to avoid saving stranger's file on your SDHC card. You can use iCare Data Recoveryto recover deleted files from SDHC card after virus erasing.
About Canon PowerShot
Canon PowerShot always has a good reputation since it was released in 1995. Canon PowerShot digital camera includes Canon PowerShot A (PowerShot A75, A310, A85, A95, A400, etc), Canon PowerShot G, Canon PowerShot S, Canon PowerShot Pro, etc.

---
Related Articles
Hot Articles
Hot Tags