3 Ways to Recover Deleted Files from Usb Flash Drive
Last updated on July 13, 2020

Hot -> 6 free flash drive recovery software download to recover files from flash drive
You may know the fact that the if files were deleted on flash drive, they won't go to the computer Recycle Bin.
Common flash drive data loss
Mistakenly deleted files or removed files from USB flash drive
Cannot restore deleted data from Recycle Bin because the USB drive deleted files did not go to the recycle bin
Retrieve files from USB drive in Windows 7/8/10/XP
USB flash stick reports i/o device error, usb shows blank/raw/0 bytes asks formatting,
Usb not recognized or not detected, access to usb was denied, files not accessible
Do not panic! When you encounter the USB drive file loss problem or usb digital device became corrupted, damaged, flash drive won't show up or cannot be recognized or even when the pendrive wont format and asks formatting... due to any reason, you may use tools to get data back.
1 - How to Recover Deleted Files from Flash Drive Using CMD
How to recover deleted files from usb without software? CMD is command prompt on Windows, which enables users to execute some tasks from Command Line. You can run CMD to delete files from disk drive on Windows with the following steps.
Step 1 - connect your flash drive to a computer, please open your computer and remember the drive letter of your pen drive;
Step 2 - run cmd by pressing Windows icon + R to get it run, and then type cmd
Step 3 - Type your flash drive letter, for example F: (you need to replace F with your own usb flash drive letter)
Type attrib -h -r -s /s /d *.*, press Enter.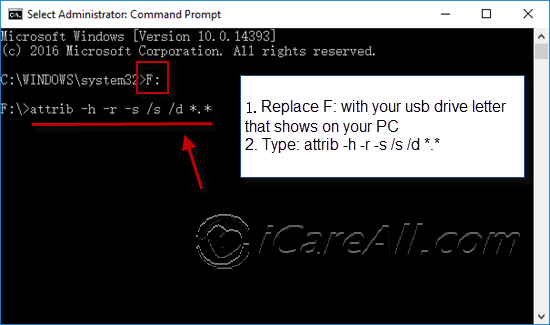 Recover files from flash drive using cmd in Windows 10
Video - Recovering deleted files from flash drive using attrib
Also read: How to recover files from flash drive using cmd
Not working? Try the following free recovery software to bring data back from flash drive for free.
Recommend: 12 free flash drive recovery software for all your flash drive recovery
2 - Previous Version to Recover Deleted Files from USB
Recovering deleted files from usb drive without software is possible if you use previous version, a function built in Windows most recent operating systems, Windows 10, 8.1, 7... You may go check it in your computer to see whether it provides a previous version for you.
Here are the steps to restore files from usb drive with previous version
Step 1 - Connect the USB flash drive to your computer.
Step 2 - Open your computer 'This PC', finds your flash drive
Step 3 - Right-click on your USB flash drive and select "Properties".
Step 4 - Go to the "Previous Versions" tab and look at the list of available recovery options.
Step 5 - Select a previous version and click "Restore"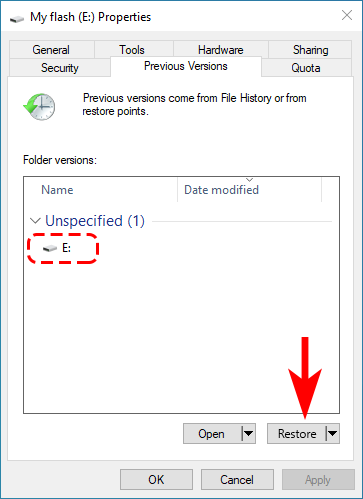 Recover files from flash drive using previous versions in Windows 10
If this previous versions is not available in your computer for your flash drive, you may use the third method to get data restored.
3- Flash drive professional recovery software
Here we would recommend professional flash drive recovery tool iCare Recovery Pro to you since it is read-only flash drive data recovery software, which allows you to recover deleted files from USB memory stick like SanDisk, Kingston, HP usb drive, Samsung, Toshiba, PNY...
>>Free USB Flash Drive Deleted File Recovery

Download iCare Data Recovery Free Edition to recover files from USB flash/disk/stick/card drive including SanDisk, Toshiba, PNY, Transcend, Kingston, Samsung... It is 100% free for deleted file recovery on flash drive.
Video Tutorial: how to use iCare Data Recovery for file rescue
Professional USB Flash Drive Recovery Guide
This steps is with a free software iCare Data Recovery Pro, a best professional usb drive recovery software that can do more than deleted file recovery by the Free edition.
Step1. Insert the usb flash drive to Windows desktop or laptop. Select a scan mode after launching the software.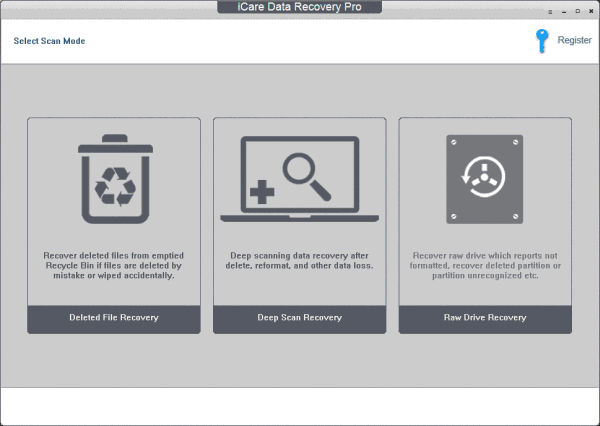 Step2. Choose the usb flash drive and wait the software to scan it.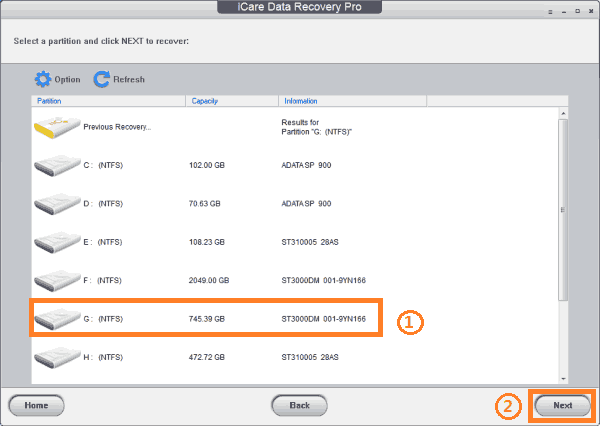 Step3. Preview and restore all files you need.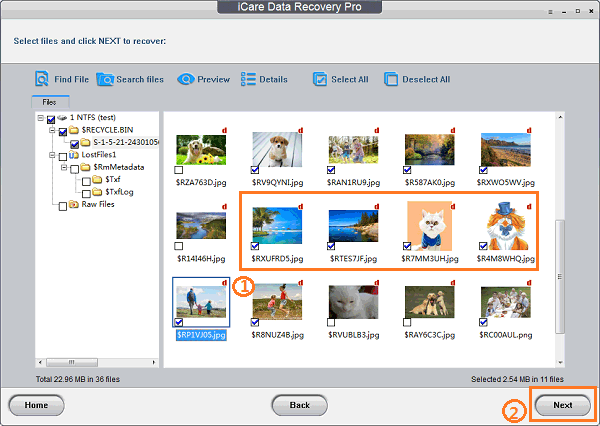 After deleting files from USB flash drive, the data only becomes invisible on the flash drive but the true data is still on your usb drive. As long as you do not write new data to overwrite the deleted files, you can use iCare Data Recovery Pro to restore all deleted files.
Download the software now to recover files after deleting from USB flash drive due to mistake or other reasons.
User's Feedback for USB Hard Drive Recovery
Has the data really been wiped out from USB stick after you clicked delete?
Of course not! After you delete your files, Windows will list the space as avaible room. Your data haven't lost, it's just because Windows can no longer recognize it. Not untill you write in your new files, you can still recover your data.
There are two options you can take for flash drive recovery
1. Recover Deleted Files from USB Drive without Software
If you want to recover deleted data from USB flash drive without any software, you can take it to a recovery service center, but it's always very expensive, few people can afford it.
2. Recover Deleted Files from Flash Drive with a tool
You can use iCare Data Recovery Pro to recover deleted files off flash drive without asking anybody for help.
Repairing damaged flash drive
If your flash drive is damaged, check out these 8 free tools that could help you repair damaged flash drive.

Link -> 8 free usb drive repair tools download
How to Recover Deleted Files from USB Because of Virus?
Virus sometimes would erase data on your USB drive or even corrupt your USB. iCare Data Recovery Pro is able to search all lost files on your USB stick including the virus infected files. Here what you should know is that iCare is a tool that is only recovers files with its original state and quality, but it does not modify any content or repair corrupted files. Therefore, you had better not recover data that has been attacked by virus because it might be unreadable or even worse, causing your USB to be corrupted again.
Related Articles
Hot Articles