Free Software to Recover deleted files from usb flash drive
Last updated on 15/10/2018
Mistakenly deleted/wiped/removed/erased files from USB flash/thumb drive/stick/memory? How to recover deleted files after format usb drive/disk/card?
Cannot restore deleted data from Recycle Bin because the USB deleted files were not moved to it?
Is it possible to rescue all kinds of deleted files like photos, audio files, video files from USB thumb drive, sandisk usb file recovery?
USB flash stick reports I/O device error, usb shows blank/raw/0 bytes asks formatting, usb not recognized/show/detected, access to usb was denied, files not accessible
how to open/repair/recover usb flash/disk/stick/card without formatting
Do not panic! When you encounter the USB drive file loss problem or usb digital device became corrupted/damaged/wont show/recognize/wont format/blank asks formatting... due to any reason, you may use iCare Data Recovery Pro Free Edition to start free usb recovery. It is read-only flash drive data recovery software, which allows you to recover deleted files from USB memory stick like SanDisk, Kingston, Samsung, Toshiba, PNY from 1GB to 512GB.
>>Free USB Flash Drive Deleted File Recovery

Download iCare Data Recovery Free Edition to recover files from USB flash/disk/stick/card drive including SanDisk, Toshiba, PNY, Transcend, Kingston, Samsung... It is 100% free for deleted file recovery on flash drive.
User's Feedback for USB Hard Drive Recovery

More feedback from real users...
Video Tutorial: how to use iCare Data Recovery for file rescue
Professional USB Flash Drive Recovery - Format/RAW recovery and more
This steps is with a paid software iCare Data Recovery Pro, a best professional usb drive recovery software that can do more than deleted file recovery by the Free edition.
Step1. Insert the usb flash drive to Windows desktop or laptop. Select a scan mode after launching the software.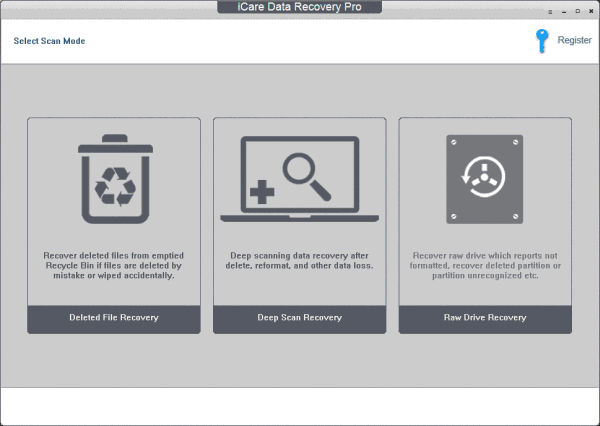 Step2. Choose the usb flash drive and wait the software to scan it.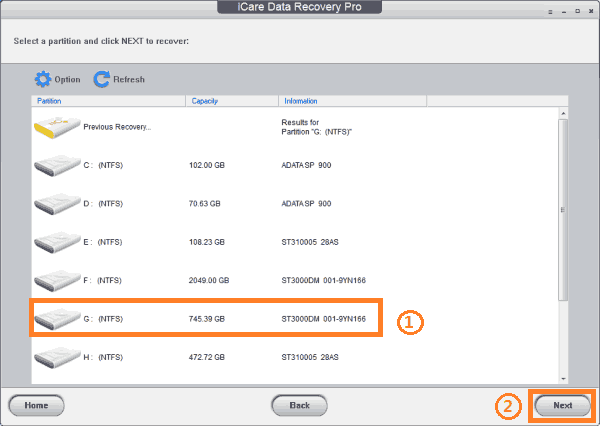 Step3. Preview and restore all files you need.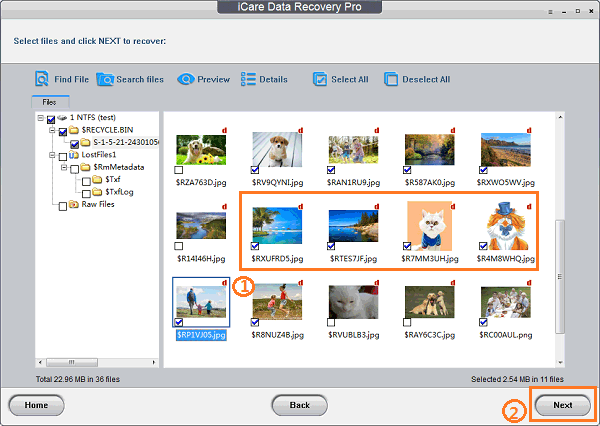 After deleting files from USB flash drive, the data only becomes invisible on the flash drive but the true data is still on your uSB drive. As long as you do not write new data to overwrite the deleted files, you can use iCare Data Recovery Pro to restore all deleted files.
Download the software now to recover files after deleting from USB flash drive due to mistake or other reasons.
What is "recovery deleted files usb flash"?
What is "recovery deleted usb flash". This is a easy question to answer. USB flash is a kind of storage, sometimes you may want to empty some room for new information, so you delete your files, but you may not find anything in recycle bin deleted from your usb flash drive. You may be regretted about this stupid action. You may want to find a way to recover your data.
Has the data really lost from USB stick after you click delete?
Of course not! After you delete your files, Windows will list the space as avaible room. Your data haven't lost, it's just because Windows can no longer recognize it. Not untill you write in your new files, you can still recover your data.
There are two options you can take for flash drive recovery
1. Recover Deleted Files from USB Drive without Software
If you want to recover deleted data from USB flash drive without any software, you can take it to a recovery service center, but it's always very expensive, few people can afford it.
2. Recover Deleted Files from Flash Drive with a tool
You can use iCare Data Recovery Pro to recover deleted files off flash drive without asking anybody for help.
How to Recover Deleted Files from Flash Drive Using CMD
CMD is command prompt on Windows, which enables users to execute some tasks from Command Line. You can run CMD to delete files from disk drive on Windows, but the unfortunate thing is that it is not able to recover deleted files from thumb drive with CMD.
User's experience:
Wow…if you didn't use iCare Data Recovery Pro, you really can't know how well it works, when I was regretted with my stupid action, I felt very sad, because I stored a lot of files and pictures on my usb flash drive, but at that time I really don't know what to do, I intended to take it to data recovery company, but it's too expensive, I can't afford it.
Until my friend told me that I can try to use iCare Data Recovery Pro, I felt excited, I just wanted to have a try, but to my surprise, it worked very well, so I stored it for future use.
Do you have the same problem? Just try to use iCare Data Recovery Pro.
How to Recover Deleted Files from USB Because of Virus?
Virus sometimes would erase data on your USB drive or even corrupt your USB. iCare Data Recovery Pro is able to search all lost files on your USB stick including the virus infected files. Here what you should know is that iCare is a tool that is only recovers files with its original state and quality, but it does not modify any content or repair corrupted files. Therefore, you had better not recover data that has been attacked by virus because it might be unreadable or even worse, causing your USB to be corrupted again.

---
Related Articles
Hot Articles