Recover Mistakenly Deleted Files off USB Thumb Drive
"I bought a 32GB USB thumb drive several years ago. I like this USB thumb drive very much because it has a small size with large capacity. Because of this, I often like to save all my important data to this USB thumb drive. I have never thought that I would make such a mistake but it happened without any warning: I mistakenly delete more than 2GB important files from my USB thumb drive just now. I deleted files from my USB thumb drive when I was transferring some data from my laptop to the USB drive. I thought I was deleting files from the hard disk, but in fact I mistakenly delete files from the USB thumb drive. When I realized the mistake, the files have been erased permanently. Do I still have chance to restore the deleted files off USB flash drive?"
USB Flash Drive Data Recovery after Deleting

USB thumb drive is also known as USB flash drive, USB drive or flash drive. Lots of people have made mistake to delete important files from a USB flash drive. If you are still wondering whether it is possible for deleted file recovery from a USB flash drive, you can use the read-only data recovery software - iCare Data Recovery Pro. This data recovery software is able to scan your USB flash drive to search for deleted files and then list all found files so that you can recover them. Generally speaking, you can use this data recovery software to restore all types of files from any brand of USB thumb drive such as SanDisk, Kingston, Sony, Toshiba, LG, Silicom, PNY, etc.
Steps to Restore Data Deleted off USB Drive / USB External
Free download the data recovery software to undelete USB flash drive now:

Step1. Insert the USB flash drive to your computer. Download and install the data recovery software to the computer. Launch the software and select a recovery module.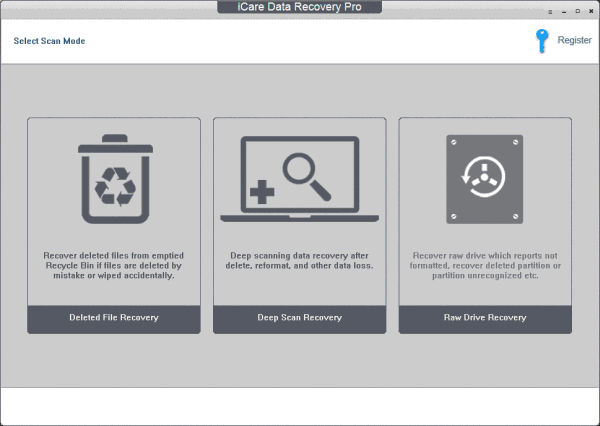 Step2. Choose the USB drive for scanning, and then you only need to wait before the scanning is completed.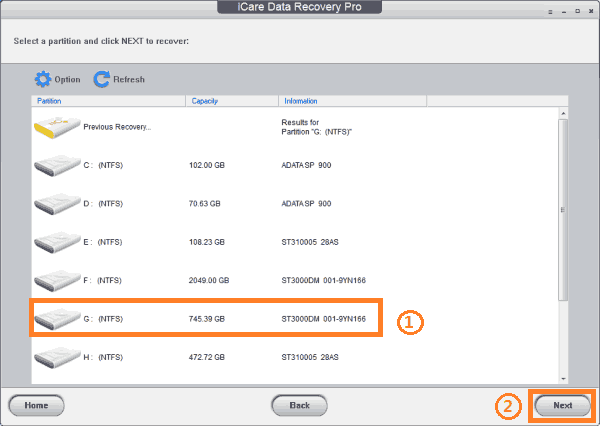 Step3. It allows you to preview some found files such as images and office files. Then, you can select the files lost from your USB drive and save them.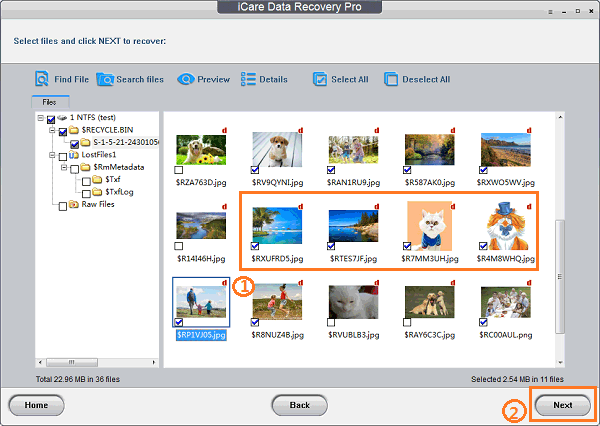 Download free to start scanning your drive, card with iCare.
Take care Once Data Deleted
1. Only files that has not been overwritten can be restored
Overwriting means the space on the USB drive which was used for deleted data storage is occupied by new data. If you don't want to lose any data due to overwriting, you had better not add even a single file to the flash drive after deleting files.
2. Data recovery software is not available for flash drive data recovery when it is physically damaged
Usually, Windows system recognizes a USB flash drive as removable disk when you connect it to your computer. Data recovery software can help recover deleted files from flash drive free as long as it can still work normally. However, a flash drive will stop work if it is physically damaged. Therefore, you should prevent your USB thumb drive from suffering any possible physical damage.
Mistakenly Deleted Data Recovery off Various Brands of USB Thumb Drive
Compared with external hard drive, USB thumb drive usually has less capacity. However, many people still like to save different kinds of data in a USB flash drive because it has small size. With small size, people can take a USB flash drive anywhere they like so that they can read or transfer data from the drive whenever they need. Since USB flash drive is popular among lots of people, you can find various brands of USB flash drive in market:
1. SanDisk USB Flash Drive
SanDisk USB flash drive is one of the most popular brands, so it is well-known by many people. SanDisk flash drive is commonly used by lost of people for data storage and transferring.
2. Kingston USB Flash Drive
Kingston USB flash drive is another popular brand. Kingston was founded in 1987, which released not only flash drive but also memory card, external hard drive, etc.
3. Toshiba USB thumb drive
Toshiba Corporation was founded in 1875 in Japan, which has a long history.
4. Other brands of USB drive
There are many brands of USB flash drives. The read-only data recovery software allows you to recover data no matter you delete files from any of them.
USB Thumb Drive Capacities
A USB flash drive is usually cheap and durable. This is a reason that many people like to use a USB flash drive. Another possible reason why lots of people like to use a USB flash drive to store data is that it has small size and large capacity. You can use a USB flash drive to store a large amount of data and transfer data from one computer to another. USB flash drive capacities include: 1GB, 2GB, 4GB, 8GB, 16GB, 32GB, 64GB, 128GB, etc. You can buy different capacities of USB flash drive based on your need.
More Than USB Flash Drive Recovery
This data recovery software also allows you to recover photos from memory card used by smart phone when you mistakenly deleted files or recover data from memory card that asks to be reformatted or SD card is reformatted by error or CF card files are deleted by accident.

---
Related Articles