Recover Deleted Files off All USB Memory Card SD
Last updated on 06/02/2018
"How to recover deleted photos from memory card for my digital camera? I accidentally delete all pictures from the SD card in my camera when I intended to transfer those pictures to another folder. My memory card is a 4GB SanDisk SD and the digital camera is Canon EOS. What can I do for SanDisk SD card recovery?"
"Is it possible to recover files which were permanently deleted from a SanDisk SD card? I mistakenly selected Format button after connecting the SD card to my computer. When I realized the mistake, I can find nothing in the SD card. How do we get memory back from format memory card? The files are some videos and photos."
SanDisk USB Memory Card File Recovery after Delete
USB and memory card are widely used because they have small size. People can take a USB flash drive wherever they go. A memory card is quite necessary in some device like mobile phone and digital camera for data storage. If you mistakenly delete any file off your SanDisk USB or memory card, you should employ the read-only data recovery software - iCare Data Recovery Pro to undelete the files you need, it even works for corrupted sd card. The data recovery software enables you to recover data off SanDisk USB flash drive or memory card and other brands of device with capacity of 1GB, 2GB, 4GB, 8GB, 16GB, 32GB, etc. You can undelete audio file, video clips, images and other types of files after deleting.
Steps to Restore Mistakenly Deleted Data off USB Drive Memory Card
Free download the data recovery software now for deleted files recovery from SD memory card, USB drive, etc.

Step1. Connect the USB or memory card to your computer. Download and install the data recovery software on the computer. Run the software and choose a recovery module.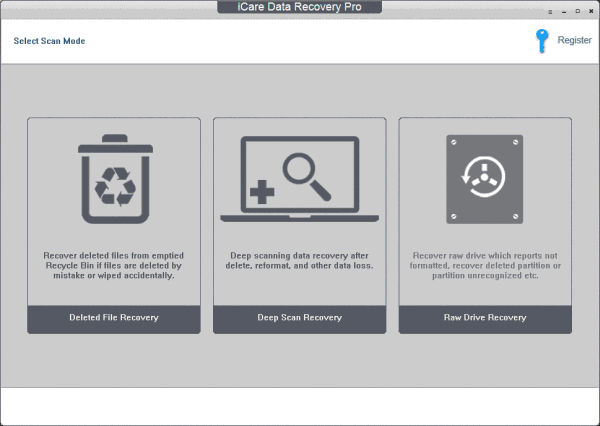 Step2.  Choose the USB or card so that the software can scan. You just need to wait patiently before scanning is finished.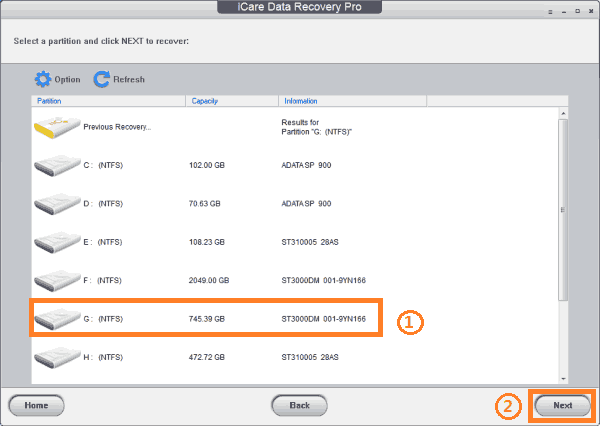 Step3. You can preview files like images and office files. Then, you can select the files you need and restore them.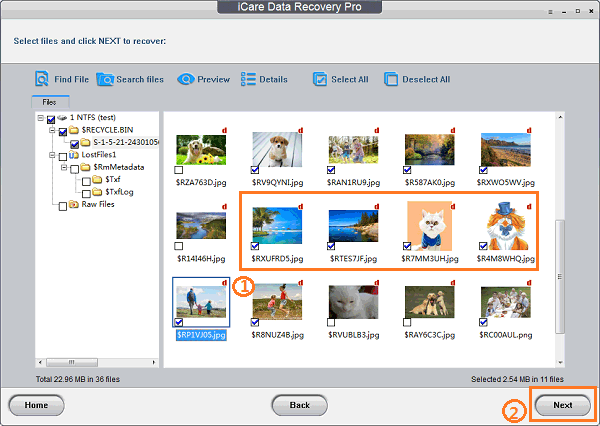 Accidentally Delete Files off USB / Memory Card / SD Card
SanDisk USB flash drive is popular and widely used by many people. People often like to use a USB flash drive to save and transfer data. A USB flash drive cannot be used in electronic device like digital camera or mobile phone. No matter you want to save data to a USB or transfer data from USB to another device, you need to insert the USB drive to your computer. You cannot read or write any data if the USB is not inserted to a PC. System will recognize a USB flash drive as removable disk when you plug it to your computer. You can copy, cut, rename and delete files on a USB flash drive easily. What if you accidentally delete some important files off your SanDisk USB flash drive? Can you restore deleted data from your USB thumb drive?
SanDisk SD Card Deleted Photo Recovery
SanDisk SD card is also widely used by many people. Different from USB thumb drive, SD memory card is often used in digital camera, PDA, MP3 player, etc. You can also connect an SD card to computer through USB cable or card reader. You can perform data deletion on all those devices. No matter you delete photos or other data off your SanDisk SD memory card on electronic device like digital camera or computer, the data will be deleted immediately. What can you do if you want to restore mistakenly deleted photos videos off SanDisk SD card? You can perform deleted SD card photo retrieval with iCare Data Recovery before writing new data to it.
What to Do after Deleting Files off USB Flash Memory or Memory Card
Both flash drive and memory card are popular among many people because they make data storage and transferring quite convenient, but data stored on a USB or memory card is not safe sometimes because you may mistakenly delete it. You should remember not to write new files to a memory SD card or USB drive if you don't want to lose the chance for data recovery. This is very important, because once the original data is overwritten, it cannot be restored. As long as the original data is not overwritten, the data recovery software enables you to restore any type of file such as images, videos, audio files and more after deleting from CF card, XD card, SD card or USB drive.
Unformatted Memory Card Solution
Memory card RAW unformatted error is a common reason for memory card data loss. If you lose important data from an unformatted memory card, you can also use iCare Data Recovery software to recover data from memory card that needs to be formatted. If you accidentally reformatted memory card when it requires formatting, you can also use the data recovery software to retrieve files from formatted SD card, XD card, CF card as long as you have not written new data to the card.
About SanDisk SD Card
SanDisk was founded in 1988 in California, which mainly manufactured different kinds of memory card and USB flash drive. SD card is one of the most popular types of memory card of SanDisk. SanDisk SD card include SD card, SDHC and SDXC.
SD card capacities include: 8MB, 16MB, 32MB, 64MB, 128MB, 256MB, 512MB, 1GB, and 2GB. SD card often has FAT12 or FAT16 file system.
SDHC capacities include: 2GB, 4GB, 8GB, 16GB and 32GB. SDHC often has FAT32 file system.
SDXC capacities include: 32GB, 64GB, 128GB, 256GB, 512GB, 1TB and 2TB. SDXC often has exFAT file system.

---
Related Articles