Seagate External Drive Deleted Data Recovery
"I need help to undelete some data from my Seagate external hard drive. I bought this Seagate external hard drive several months ago because I want to use it to backup data stored on my computer's hard disk. Actually, I sold my old computer and bought a new one yesterday. Today, I connected my Seagate external hard drive to my new computer and wanted to transfer the backup data to the hard disk. However, I mistakenly deleted several folders which contain pictures, videos, and documents. I do not have any other backup, so I need to get back those mistakenly deleted folders. Can I recover permanently deleted files from external drive?"
"How to rescue deleted documents from external drive? I delete some photos and videos from my Seagate 500GB external, can you tell me any useful solution?"
Deleted Photo Video Recovery off Seagate Portable Hard Disk
Nowadays, people like to use an external drive to store and transfer data. Among various external hard drives, Seagate external hard drive is mostly widely used by PC users. During data writing and transferring, have you ever mistakenly deleted any important data on your external drive? don't worry if you accidentally delete important files off your Seagate external hard drive, because only a read-only software - iCare Data Recovery can help undelete files. After deleting files, you just need to stop writing new data to the Seagate external drive and run the data recovery software, which can help restore any type of photos, videos and other data after deleting.
Steps to Recover Deleted Data off Seagate External

Step1. Plug the external drive to your computer. Download data recovery software and select a module.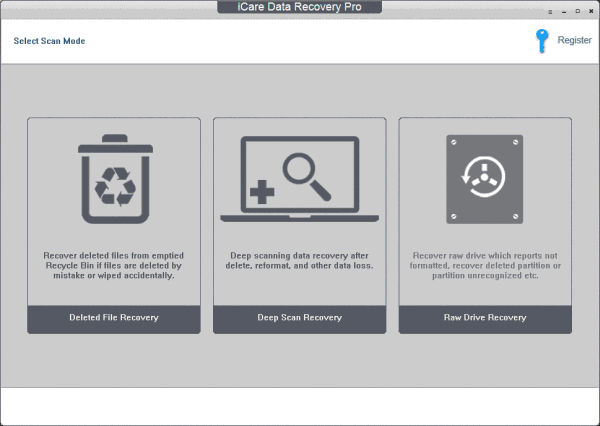 Step2. Choose the Seagate external disk to scan.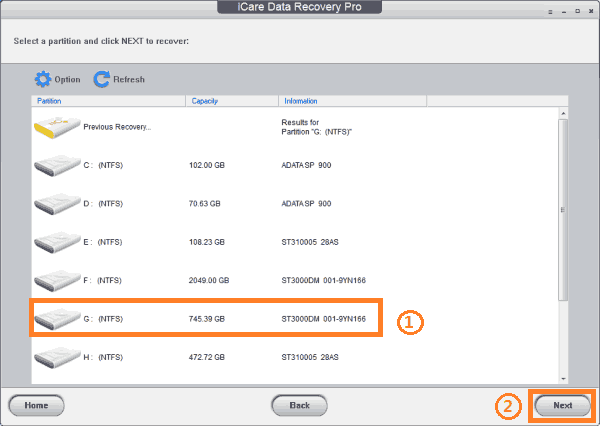 Step3. preview found files . And select all needed files to recover them in batch.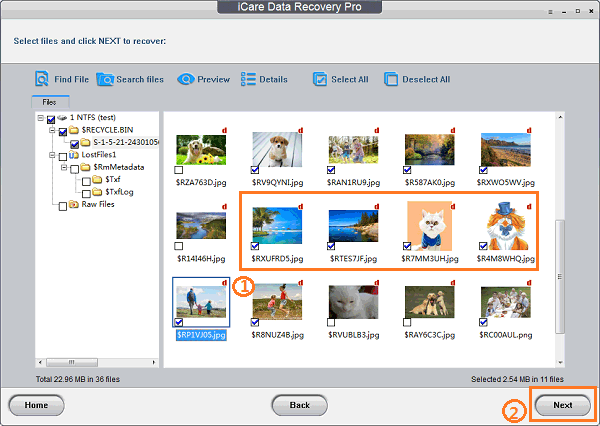 Think Carefully before Deleting Files to Avoid Data Loss
You may delete data from a external disk by accident. In order to prevent important data from being deleted due to mistake, you should be careful when writing or transferring data on your external hard disk. Besides, you may intentionally delete some files from your Seagate external hard drive because you regard them as unnecessary data. However, you may find that you still need them after deleting. Therefore, you had better think it carefully before deleting any file from your portable hard disk. If files have been deleted permanently from your external hard drive, you can only try data recovery tool to perform Seagate external hard disk deleted data recovery unless you have backup.
Seagate Hard Drive Data Recovery after Deleting
Apart from Seagate external drive, it is also widely used by many PC users. Although files deleted from a hard disk will be moved to Recycle Bin before permanently deleting them, you may get into data loss trouble on a Seagate hard disk drive after deleting files off Recycle Bin. Whether you delete files from your Seagate hard drive due to mistake or other reasons, you can use the read-only undelete software to restore deleted data. When save and install the external hard drive recovery software, you should be careful to avoid installing it to the partition from which important data was deleted.
Backup Data after Data Recovery
If you have ever lost any important data due to mistaken deletion, you will know that it is not an easy task to get back all deleted files. To avoid running into data loss problem again, the best way is to backup important data. You can copy all important files to another device such as another external hard drive, hard drive or USB flash drive. Thus, when you delete data from the Seagate external, you can easily restore the lost data from backup.
About Seagate
Seagate Technology Corporation was founded in 1976, which is the world's largest hard disk and external hard disk manufacturers. The head office of Seagate Technology Corporation is located in California of USA. Seagate hard disk drive and external hard drive are widely used in desktop and some other device.
Restore Deleted Files off Other External Hard Drive & Devices
You can find different bands of external hard drives such as Western Digital, Samsung, Maxtor, Toshiba, Hitachi, Sony and more. If you accidentally delete any file from any of those external hard drives, the read-only data restoration program is useful for deleted file recovery. The data recovery software can be compatible with all brands of external hard drives to restore data after deleting. The data recovery software also supports to recover data lost due to some other reasons such as mistakenly formatting; external drive formatted error, RAW file system, and more. The software also supports to:
>> Recover deleted files after formatting memory stick / memory card
>> Recover deleted pictures off formatted digital camera
>> Recover deleted videos on formatted hard disk partition
>> Retrieve images from SD card which were wrongly deleted by computer virus

---
Related Articles