Recover Deleted Files off Samsung External
"I want to recover some deleted files off Samsung external hard drive, but I don't know how to do it. Several days ago, I mistakenly deleted some data from my Samsung external hard drive. I though they have been permanently deleted, but somebody say the files were not deleted permanently and I still have chance to recover them. Can you tell me how to recover deleted files off portable hard drive free?"
"I deleted thousands of photos, videos and documents from Samsung M3 external hard disk by accident. I was transferring some data to the Samsung external, but accidentally I deleted files off it. Can I restore permanently deleted files from Samsung external HDD?"
Samsung Portable Hard Drive Data Recovery after Deleting
It happens to almost everybody, so it is not strange to mistakenly delete files off a Samsung external hard drive. The important thing is that you should stop writing even a single file to the Samsung external because deleted data can be restored with a read-only data recovery software - iCare Data Recovery, as long as the original data is not overwritten. You can rely on the data recovery software recover any deleted file such as images, movies, music, office files, emails, etc. The data recovery software supports almost all brands of external hard drives, so it can work on Samsung external HDD to undelete files. This data recovery software is compatible with all Windows OS, so you can use it to undelete Windows 10 / 8 / 7 / Vista / XP for any deleted file recovery from Samsung portable hard drive.
Steps to Undelete Data from Samsung External HDD
Download the data recovery tool and follow the guide below for free external hard drive data recovery:

Step1. Plug the Samsung external hard drive to your computer. Download and install the data recovery software on the computer. Launch the software and choose a recovery module.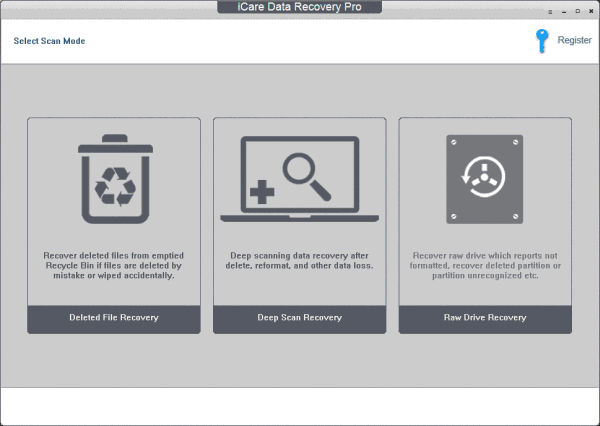 Step2.  Select the Samsung external as aim disk and then the software will scan it for lost files. You just need to wait when the software is scanning.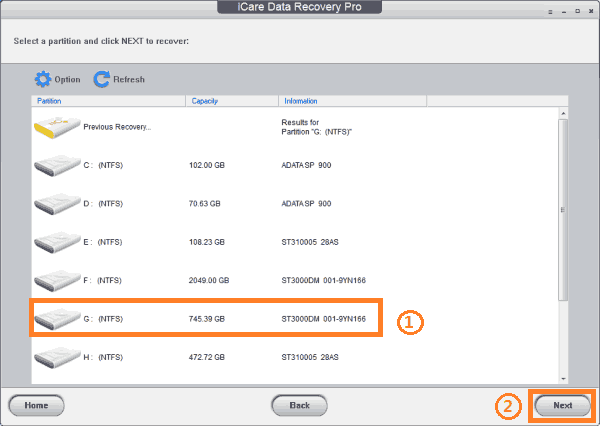 Step3. You can preview the found files after scanning. Then, you can select files you need and save them.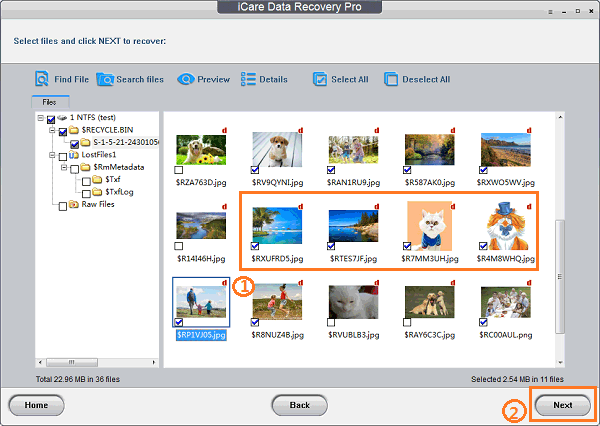 Download free to start scanning your drive, card with iCare.
Why Cannot You Write New Data to Samsung External
After deleting files off Samsung portable hard disk drive, the first thing you should do is to stop writing new data to the external. The reason why you need to do this is that new added data will occupy some space on the Samsung external hard drive. If the new add data is right stored to the space which was used to save deleted data, the original data will be overwritten. Therefore, you need to avoid writing any data to the Samsung external hard disk after deleting in order to recover the lost files.
Data Recovery Software Is Available When Data Is Lost due to Following Reasons
Mistaken deletion is the most common reason for data loss from storage media, but it is not the only reason for data loss. In fact, data stored on an external hard drive can be lost due to many reasons. Here are some possible situations for Samsung external hard disk data loss, in which you can use the read-only data recovery software:
1. Format Samsung external hard drive by accident
Have you ever accidentally formatted your Samsung external hard drive? It will erase everything stored on the external after formatting. However, the real data is not erased completely whether you perform a quick format or full format. You can use the data recovery software to restore lost files as long as you do not add new data to the formatted external HDD.
2. Samsung portable hard drive is not formatted and turns to RAW
Receiving unformatted error message on your Samsung portable hard disk drive when you are attempting accessing files inside the drive? Samsung external hard drive turns to RAW file system from FAT32 or NTFS? In this situation, the first thing you can do is also to run the data recovery software and recover those inaccessible files. Then, you can format the Samsung external from RAW to NTFS or FAT32.
3. Cannot access Samsung external HDD due to other reasons
You may receive other error message when you are unable read any data on your Samsung external hard drive. For example, you may receive message like:
External hard disk is not accessible
Read / write error on external hard disk
The external hard disk is corrupted
More other messages
If you get the similar error message on your Samsung portable hard drive, you still can use the data recovery software to restore files before performing any operation to the external.
Apart from Samsung external, you are able to recover photos from Samsung memory card and other devices. It is possible to recover deleted files from SD card, XD card, or recover data after format CF card and more.
About Samsung
Samsung Electronics was founded in 1969 in Korea. In addition to external hard disk drive, Samsung Electronics also manufactures other products like hard disk drive, television, mobile phone and more. Although Samsung external hard drive is not as popular as Seagate, it is still used by many people. You can different types of Samsung external hard drives online.

---
Related Articles