Recover Deleted Files off CF Card
"Is it possible to recover files that have been deleted permanently from a compact flash memory card? I deleted some pictures from the CF card on my digital camera. I am not sure if I have written any new data to the CF card after deleting. My CF card is a 4GB compact flash memory card from SanDisk Ultra. Did anybody encounter the similar problem? Can you tell me how to recover deleted files from Compact Flash card?"
"I want to undelete some data from my CF card which was mistakenly deleted when I connected the card to my computer. I mistakenly click the Delete option on my computer and deleted those pictures. I cannot find the deleted files from Recycle Bin on my computer, but somebody told me that the files are not deleted permanently and I can use a data recovery program to restore the delete files. Can anybody recommend a data recovery tool which can help me recover permanently deleted files off CF card?"
"My memory card photos were deleted, how can I get them back? Does anybody have any solution?"
Freeware for CF Card Picture Recovery
It is true that you cannot find the files from a Recycle Bin when you delete them from your CF memory card, because Windows Recycle Bin only stores files deleted from PC's internal hard disk partition. If you want to undelete files off CF card, you can use a read-only data recovery program - iCare Data Recovery Pro. The data recovery software helps restore files deleted from any brand of compact flash card before the original data is overwritten by new added data. In order to avoid overwriting the original data, it is strongly recommended you to stop using the CF card after accidentally deleting files from the card. The data recovery software allows you to recover files such as pictures, music, videos, office files, emails, and more.
Steps to Undelete Compact Flash Card Pictures

You can follow the steps below to perform Compact Flash card recovery:
Step1.Connect the CF card to your computer. Download and install the data recovery software to your computer. Run the data recovery software and choose a recovery module.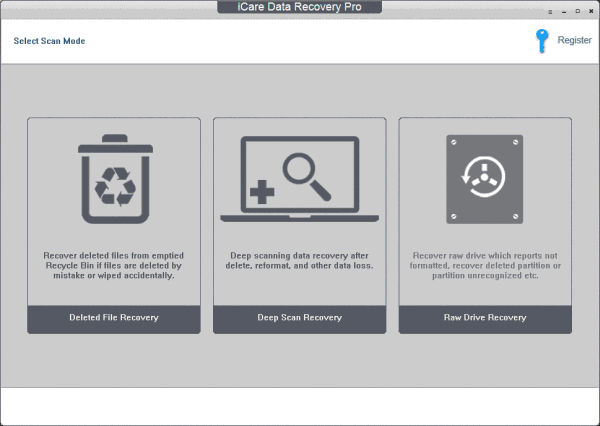 Step2. Choose the CF card and then the software will scan the selected drive for lost files. You just need to wait when the software is scanning.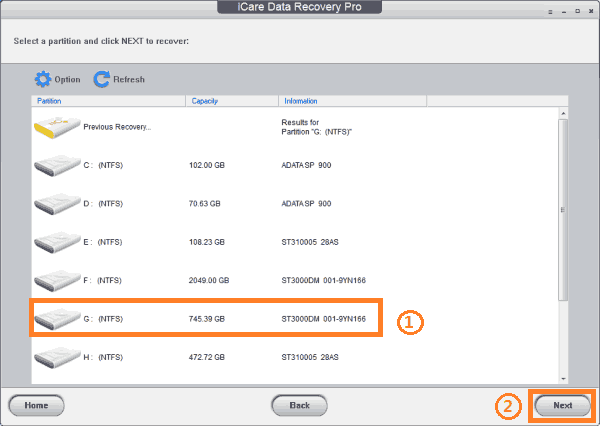 Step3. You can preview the found files after scanning. Then, you can choose the files deleted from the CF card and save them to a different storage media.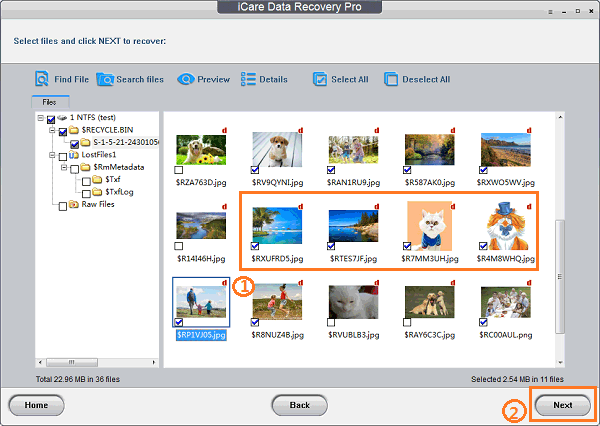 Download free to start scanning your drive, card with iCare. This software also allows you to recover files from USB flash drive, external HDD, hard disk drive, SD, XD, etc.
How to Recover Deleted Files from Compact Flash Card?
Although there is no trash box to save files which were deleted from your Compact Flash card, you can rely on iCare Data Recovery to recover deleted files. The only thing you need to pay attention is that you had better not write new file to the Compact Flash card before getting the mistakenly deleted files. The data recovery software is available for deleted data recovery from CF card whether you delete them on your camera or computer.
Recover Pictures Deleted by Accident from Compact Flash Card
CF card is widely used in different brands of digital cameras such as Canon, Nikon, Kodak, etc to stored pictures. You may accidentally delete some important and unique pictures from your CF card in the digital camera. When you delete pictures from CF card in digital camera, the data will be deleted permanently. Even if you delete pictures from the CF card when the card is connected with your computer, the data will be erased immediately without going to Recycle Bin. Therefore, you need to use the read-only data recovery software to undelete the mistakenly deleted pictures from your CF card. The software allows you to preview different kinds of pictures before recovering them. You can preview different types of pictures like JPEG, GIF, BMP, PNG, etc.
Is Data Permanently Deleted after Deleting from CF Card?
Since files deleted from any removable disk will not be moved to Recycle Bin, many people believe that files have been permanently deleted when they delete them on the CF card. Is it true? As a matter of fact, when you delete a file from your CF card, you only delete the file name and entries to the file from your card. In this situation, system will regard the CF card space as empty so that it can be used for new data storage. Although the space on the CF card is marked as empty, the original data is still stored there but become invisible. Therefore, no matter how much data you delete from your CF card, it is not permanently deleted as long as you don't write any new data to the card.
Different Brands of CF Card
CF card, namely Compact Flash card, was released by SanDisk Corporation in 1994. Compared with SD card and micro SD card, CF card has a larger size. So CF card is often used in digital cameras, PDA and laptops. Nowadays, popular brands of CF card include SanDisk, Toshiba, Kingston, Samsung, Lexar, etc.
Although CF card is widely used in digital camera, it can not only be used to store pictures, but also it can be used to save different kinds of files. The data recovery software is compatible with all those brands of Compact Flash memory card when you delete photos, videos or other data from the card.
Data Loss from CF Card due to Other Reasons
The read-only data recovery software is not only available for recovering data mistakenly deleted from a CF card, but also can recover data when got deleted or erased due to other reasons. With this software, you can:
>> Recover deleted data after formatting memory card
>> Restore files from not formatted memory card CF card
>> Recover data when CF card is inaccessible or unreadable
>> Retrieve files from Compact Flash card that cannot be recognized or detected in digital camera or PC
iCare Data Recovery software is a memory card restore photos application for all kinds of memory card users. With this software, you can restore pictures after reformat SD card, XD card, CF card and so on.

---
Related Articles