Recover Deleted Files from Transcend External Hard Drive
"I need to recover deleted files from Transcend external hard drive on my computer. Can somebody show me step-by-step guide on how to recover files after deleting from my Transcend external hard drive?"
"I have a 1TB Transcend portable hard drive which contains some videos, photos and office files. Today, I connected my Transcend portable hard drive to my computer and attempted to transfer some data. However, I mistakenly deleted files from the portable hard drive. How can I get back all deleted data from my Transcend portable hard drive?"
"I want to recover deleted videos from my Transcend removable hard drive after quick format. I formatted my Transcend portable HDD because I thought that I have moved all important data to another storage media, but the fact is that I lost some important data after formatting. So I need to recover those deleted files from Transcend portable HDD after formatting."
"Is there any external hard drive data recovery software that can help rescue deleted files after formatting external hard drive? My Transcend USB hard drive was infected with virus, so I formatted it to erase virus. However, all data was deleted due to formatting. Can you tell me how to get back lost files from my Transcend USB hard drive?"
Recover Deleted Files off Transcend Portable Hard Drive
You can recover deleted files from Transcend portable hard drive as long as the original data is not overwritten and the disk is not physically damaged. In order to get back deleted files, you only need to rely on iCare Data Recovery. It is a read-only data recovery utility which enables you to recover all types of files after deleting from your Transcend portable hard drive. iCare Data Recovery is undelete software for Windows platform, so you need to install this software to a Windows PC in order to use it for Transcend external hard drive data recovery.

Steps to Restore Deleted Data from Transcend External HDD
Preparation: Download and install iCare Data Recovery on your computer. Plug the Transcend external HDD to the computer and run the software.
Step1. Select a proper scan mode after running the software.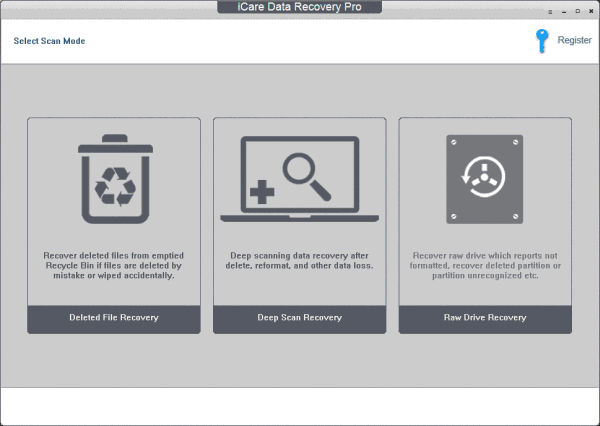 Step2. Choose the Transcend external HDD as aim disk and wait the software to scan it.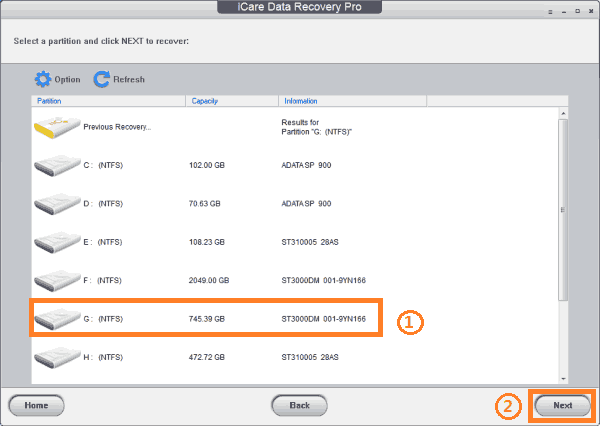 Step3. Preview found files after scanning and then recover the files you need.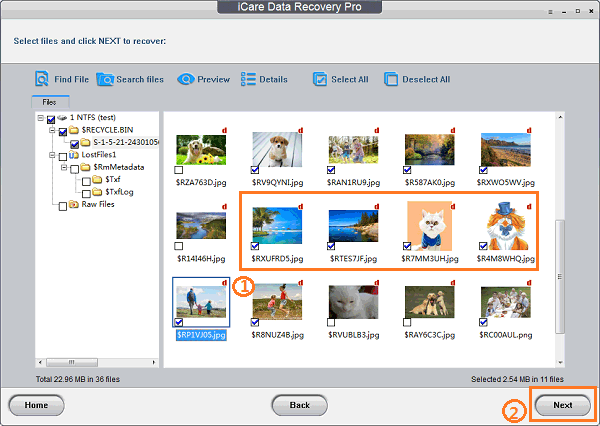 What Happened When Deleting Files from Transcend USB Hard Drive?
When you delete files on your Transcend USB hard drive, system will erase the data immediately without moving it to recycle bin. However, system does not delete the data permanently. It just erases the file name and entries to the data. System will mark the disk space as empty for new data storage. As long as you do not write new data to the Transcend USB hard drive, you can use iCare Data Recovery for recovery of external hard drive easily.
The Bottom Line for Transcend Removable Hard Drive Data Recovery
How to recover files after delete from Transcend removable hard drive? If you are still upset about such kind of problem, you can free download iCare Data Recovery now and follow the guide above to get back lost files after deleting. This data recovery software scans your Transcend removable hard drive and retrieve lost data easily. By using iCare Data Recovery, you can preview found files after scanning so that you can check if they are the files deleted from your Transcend External.

---
Related Articles