How to Recover Deleted Files from Portable Hard Drive
Posted by Jane under Digital Device Recovery

Can you recover deleted files from removable USB hard drive when data were deleted by mistake? Accidentally deleted files folder and then only to find out they don't have a backup? Don't worry, if you just happed to delete files/folders on hard drive, it can be undo with a little skill.
You are not alone in this case since we received an email from a user telling us her story:
"Can anybody help me out since I am desperate after deleting a folder on my removable disk? The folder contains very important photos and videos which recorded my grandson's childhood from 3 years old to 15 years old. Every birthday photo and video that recorded the moments he spent with me. I really cannot afford the loss of these photos and hope you can teach me how to recover the deleted photo folder from my portable Seagate backup plus hard drive. Please help since it is making me anxious…"
This article contains 3 parts
Best condition for recovering deleted files from removable hard drive
How to recover deleted data from portable digital device with tutorial
Corrupted portable USB that is beyond recovery
Do and Don'ts if Folder Files Were Deleted
The best chance for a recovery is to keep your hard drive untouched from further operations like saving new data? No! Disk defrags? Never! Repair bad sectors? NO NO NO!
You should avoid making any change on the drive if you found data were deleted or lost. This could make the most chance of recovery.
How to recover deleted files from portable hard drive using CMD Command Prompt
Files deleted on removable hard drive is not like the files stored on internal hard drive whose deleted files would go to the Recycle Bin while the portable hard drive files wont. Advanced users know Windows provides CMD for a lot of skills eg. recovering deleted files with command prompt. How to use? Follow up here,
Press cmd:  enable to the Command Line at start up of Windows
Type: chkdsk *: /f and hit Enter; (* is the drive shown on your PC that you need to fill in to replace *)
Type: Y and hit Enter;
Type: * and hit Enter again; (Replace * )
Type: * :\>attrib -h -r -s /s /d *.* and hit Enter;
Note: you need to replace * with the drive that lost data shown on your PC. Porbably it looks like E, F or others.
The above may help you locate the place where deleted data locates, however it needs some skills to manage and if you are not the ones who are professional, then just go ahead to recover deleted files with the following program that tech-naive can handle.
How to recover deleted data from portable digital device with iCare
Preparation: download portable hard drive recovery software – iCare Recovery Pro which is fast in recovering deleted files. Install the removable drive recovery software – iCare Recovery Pro on a Windows OS and then connect your portable device on your PC.

Step One: Run iCare and then select a recovery mode – Deleted File Recovery at first for scanning deleted files off portable drive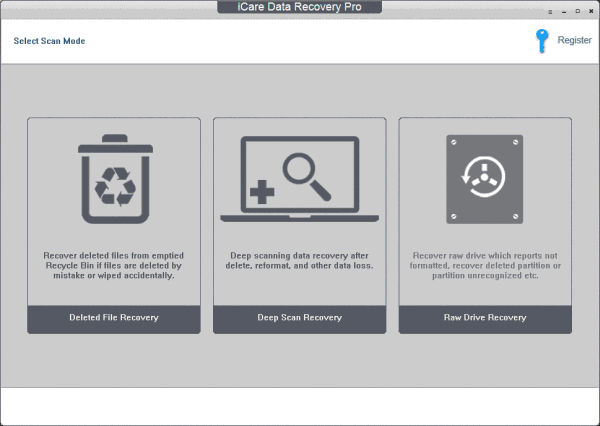 Step Two: Select portable drive for deleted file recovery and then wait for scanning to be finished.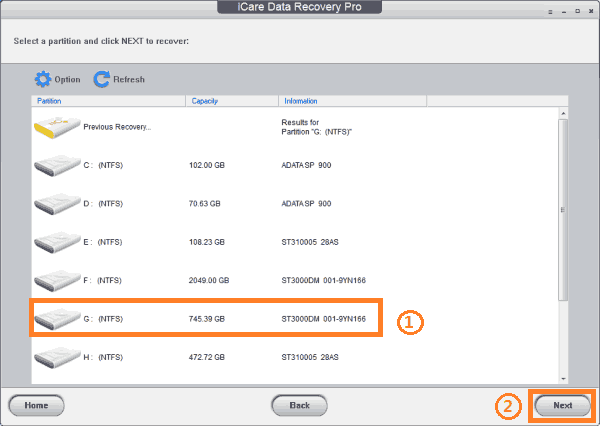 Step Three: Evaluate the found data to see whether they are the ones that you deleted by right clicking the photo/office file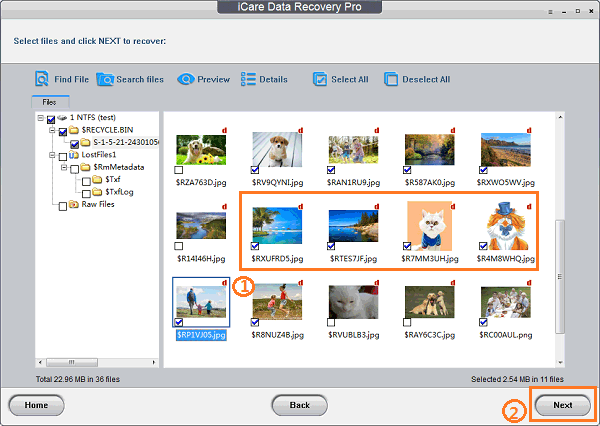 Possibility of Deleted File Folder Recovery from Removable Hard Drive
There are cases when no chance is available for a hard drive recovery that you need to pay attention to. When data were overwritten by thousands of times of new data saving that took the old places of the lost data, and then deleted files were almost totally overwritten by new data. Usually it is of 90% of recovery if you don't use the digital device a lot or just have saved some files onto the same drive; there is still chance of recovery.
To make it clear of data recovery, there is almost no chance of recovery with a program that can do recovery when your removable drive is physically corrupted or damaged. The best solution for a physically damage is turning to a local data recovery service center near you. If you cannot find a close center, then keep the digital device untouched and bring it to a service center when you have a chance to visit a large city where mostly you may find a service center.
The Bottom line
No matter what brand of USB hard drive you are using, Seagate, Samsung, Toshiba, SanDisk SSD, WD disk... How to make the best chance of deleted file recovery? Keep the storage device from further use and keep it untouched but just use read-only data recovery software like iCare Recovery Pro for the best chance for recovery.

---
Related Articles
< Previous article: convert raw fat32 | Next Article: