Recover Deleted Files from Crucial External Hard Drive
"I want to recover deleted files from Crucial external hard drive, but my friend told me that I cannot get back all deleted data because I wrote some new data to this crucial external hard drive after deleting data. Is it true? I really need to get back the deleted files because they are very important to me."
"I think it was anti-virus software that deleted some files on my crucial portable hard drive. When I plugged my crucial 500GB portable HDD to computer, antivirus software detected virus on the external. So I run the anti-virus software so as to erase all viruses. However, after running the antivirus software, some files were deleted from my crucial portable HDD. Can anyone tell me whether it is possible for data recovery from external hard drive after deleting?"
"I deleted some files from my crucial external HDD several days ago. Today, I realized that the external hard drive is corrupted when I attempted to connect it to my computer for data recovery. Can you tell me if there is any solution for deleted file recovery on crucial external when it stops working?"
"Can I recover data after format? All data was deleted after formatting my crucial removable hard drive on my PC, so I want to use some data recovery software to restore deleted files on the formatted crucial removable HDD."
Crucial External Hard Drive Data Recovery
Deleting files by mistake is an annoying problem which may drive you crazy. If you're like the users above who need to recover deleted files from crucial external hard drive, you can free download iCare Data Recovery Pro . It is a read-only data recovery program which enables you to restore all kinds of files when you deleted data on crucial external HDD by mistake or due to other reasons.

Steps to Recover Deleted Files from Crucial Portable Hard Drive
Preparation: Download and install iCare Data Recovery on computer. Connect the crucial portable hard drive to computer and run the software.
Step1. Select proper scan mode after running the software.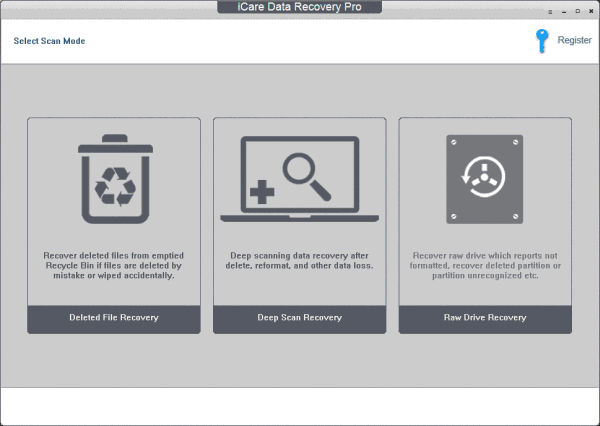 Step2. Choose the crucial portable hard drive and let the software scan.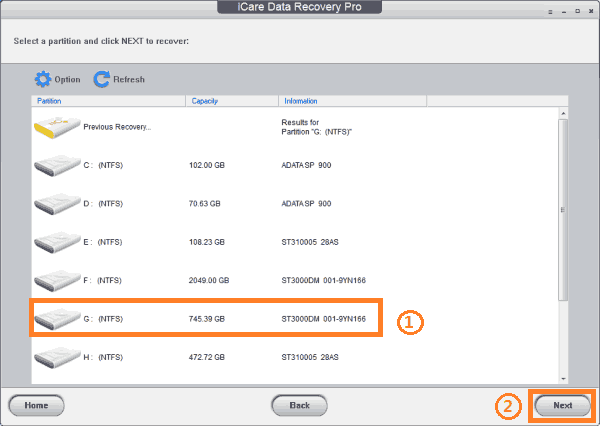 Step3. Preview and store the lost files.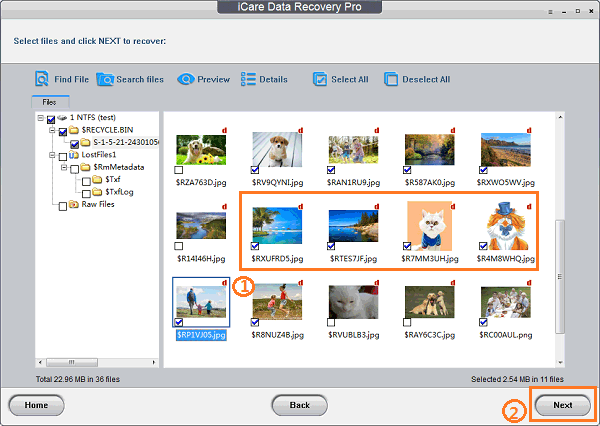 Related Deleting Problem on Crucial Removable Hard Drive
Different people may run into different situations of deleting data from removable hard drive. Some people may mistakenly deleted files from crucial removable hard drive by press "Delete" key. Some people may delete data from crucial removable HDD by accident after clicking "Delete" option. Some people might delete videos off crucial portable hard drive by pressing Shift + Delete keys. It does not matter the reason why you delete files from your crucial external hard drive, the good news is deleted data is recoverable as long as the lost data is not overwritten.
Crucial External HDD Deleted Files Recovery on Windows
If you want to recover deleted files from external HDD Crucial, you need to connect it to a Windows computer so that you can run iCare Data Recovery for deleted files restore.
The Bottom Line for Recovery Deleted Files from Crucial USB Hard Drive
You should avoid overwriting original data if you want to recover deleted files from crucial USB hard drive. iCare Data Recovery has the function of recovering deleted files on Windows 7 / 8 / 10 / XP including images, videos, music, emails, etc from crucial USB HDD on Windows Operating System. Therefore, if you come across the similar data loss problem, you can free download the software on a Windows PC to perform data recovery.

---
Related Articles