Recover deleted email .pst file
If you have accidentally deleted email and need email recovery, don't be worried, here, we'll introduce you an efficient method which is to be a good assistant for you.
iCare Data Recovery Pro can restore your deleted email messages from your Microsoft Outlook PST file and your Microsoft Outlook Express DBX files.
Features:
Read corrupt emails files.
Save opened messages and deleted messages to a new file.
Browse and storage all your mail messages and attachments.
As professional data recovery software, iCare Data Recovery also enables you to recover files from other storage media. You can use this software to recover data from pen drive, memory card, , unformat external hard drive and restore deleted files in other data loss situations.

Steps to Recover Deleted Email PST
Download the data recovery software for free now and follow the steps below to perform deleted files recovery on Windows:

Step1. Download and install the data recovery software. Run the software and choose a recovery option.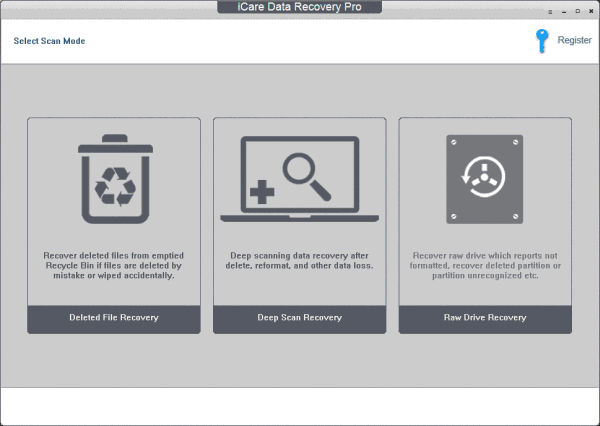 Step2. Choose the devcie where data was deleted and then the software will scan the selected device for lost files.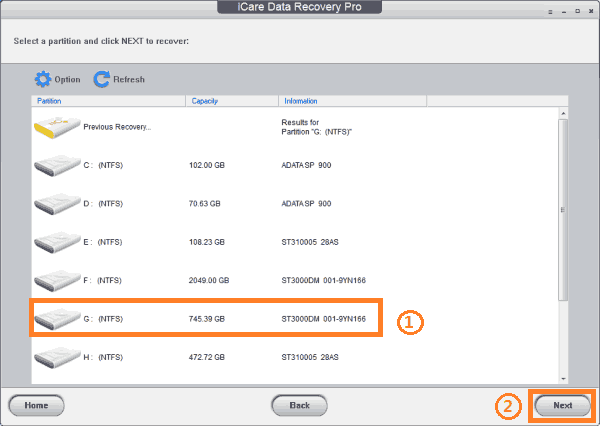 Step3. You are able to preview some files after scanning. Then, you can select all needed files and recover them.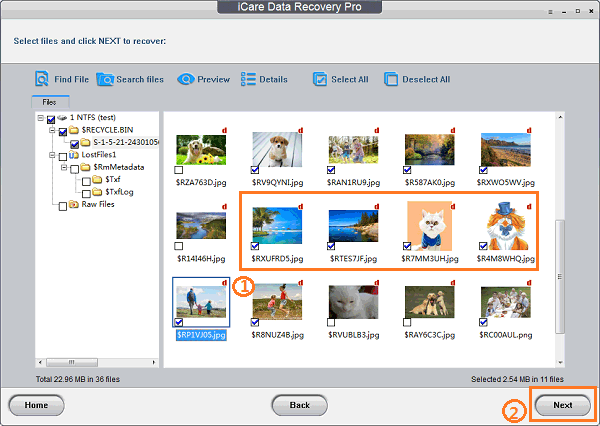 What's the PST file?
When the Outlook received emails, each email is to generate a unique document named The PST document, it is an Outlook individual folder document which the other software can not open.
Why should we recover the delete or damaged PST file?
First of all, the email you've received might contained a lot of important message, of course you won't be happy when you lost them. You can use iCare Data Recovery software to restore files from damaged pen drive, external hard drive, etc.
The possible reasons of how did the data get lost
the user's computer may come across some problems, for instance , he formatted computer's district by mistake, this led to problems as unable to open the district.
 the PSTS are designed for local message store, what's more, the methods which used by the network links are contrary to that of the PST, this can lead a problem that when the network traffic is too busy to keep the normal work, chances are that the file may catch errors, an archive PST can get corrupt if saved on a network drive.
The unsuccessful operation of other software may cause system collapse, leading to hard disk error.
The PST file memory medium, such as hard disk , came across some problems, this will bring about data lost.
Solutions must be paid more attention when the accident happened
Usually, the problems you have met indicated that Outlook is unable to read the archive PST file because it is corrupt. The file doesn't have valid personal storage folder structure . so there is a chance for you to recover your mistakes.
As far as I am concerned, if you are quite a professional person, ok, all the problems are not a problem, if not so, the recovery company will be a choice, but it takes cash and your valuable time. Here, we are not to tell you much more details about the professional principles and solutions, just an ordinary method which everyone can understand easily.
Don't be hesitated, download and try iCare Data Recovery Pro now, and give PST a good nursing, now ,if you done above and use PST Recovery, you can:
Open and read corrupt Outlook PST files and recover email and attachments.
Recover deleted email messages and attachments from PST.
Save mail recovery results
iCare Data Recovery is helpful with flash drive deleted files recovery, pen drive deleted data recovery, memory card deleted data recovery, etc.

---
User's experience
Ok, it is my honor to introduce this perfect software to you. First of all, if you are not a professional person, iCare Data Recovery Pro is really a good helper for you. I can't promise it will solve all kind of problems, but as a none-professional person, the common problems you met are in the software's reach, very easy and quick, this is why I love it. More details are not necessary, just download it and have a try, I believe you'll have fond of it.
---
Related Articles