Recover Data from Formatted Toshiba USB Flash Drive
Almost everybody knows that it will erase everything after formatting, but do you know how to recover files from a Toshiba USB flash drive? Toshiba USB drive is one of the most famous storage media which appeals to many users. Among differnet kinds of users, some of them may format a Toshiba USB flash drive by acccidet, while some might format their Tosbhia flash drive on purpose. Or some people may feel helpless because they do not whether they should format their Toshiba USB flash drive since it shows error message. It does not matter why you format your Toshiba flash drive, becaues you always have chance to recover data after formatting free.

Formatted Toshiba USB Drive by Accident or on Purpose
Whether you want to read or write data from Toshiba USB flash drive, you have to insert it to a computer. Sometimes, you may format the Toshiba USB flash drive by mistake after connecting to your comptuer. Or sometimes, you may format it on purpose because you want to erase all data that you consider as unimportant data.
Format Toshiba USB Flash Drive When It Asks
You may also meet another problem that your Toshiba USB flash drive reuiqres formatting. Many people have no choice when receiving the error message, so they just format it. Then, what should you do when getting the disk drive not formatted alert message without formatting?
Tips for Formatted Toshiba Flash Drive Recovery
Mistakenly foramtted Toshiba USB flash drive recovery – You should avoid writing new data to the formatted media. Then, you had better remove the Toshiba flash drive safely from your computer and prevent physicla damage to it. It is able to recover data after full / quick format USB drive.
Toshiba USB drive recovery when it requies formatting – If your Toshiba flash drive shows RAW file system and asks to reformat, the best way is to avoid the error message before extracting all files you need.
Recover Toshiba USB Drive after Format for Free
Before writing new files to the formatted USB flash drive, you can free recover all lost dat with help of format recovery software. iCare Data Recovery Free is a free tool that enables you to restore mistakenly formatted Toshiba flash drive or when it needs to be reformatted.

Steps to Recover Data on Toshiba Flash Drive after Formatting
Step1. Free download and install the data recovery software on your computer. Run the software and select a scan mode.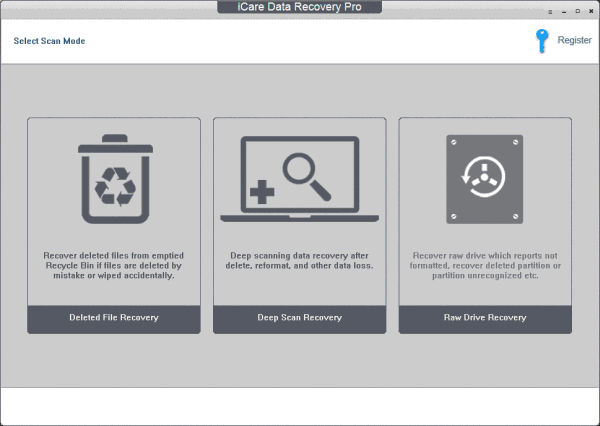 Step2. Chooes the formatted Toshiba USB drive and wait the software to search lost files.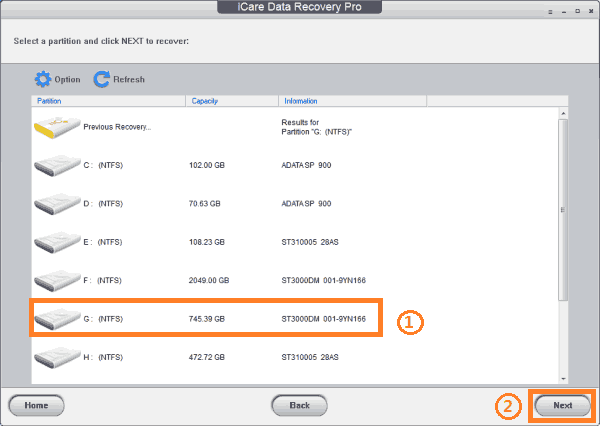 Step3. Preview files after scanning and restore the lost files you need.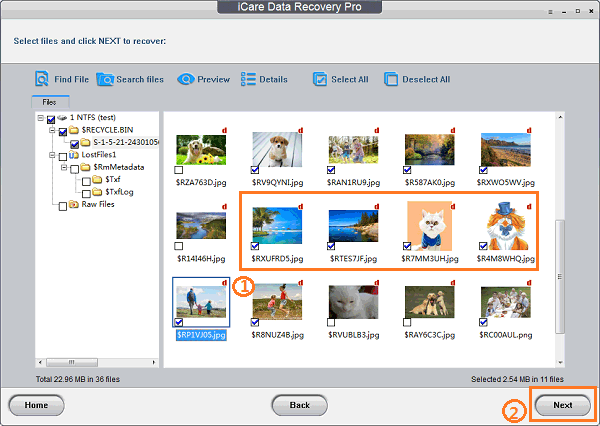 Other Situations to Format Toshiba Flash Drive
The format recovery software is available for USB drive file recovery when you format your Toshiba flash drive in any situaiton in addition to what mentioned above. For example,
Toshiba USB flash drive is infected with virus
Toshiba flash drive has I/O device error
Toshiba USB flash drive is inaccessible or corrupted
As long the Toshiba USB flash dirve is still recognized by Windows computer, many people would like to format it to fix different problems though it does no help in most cases.
Backup Toshiba USB Flash Drive
Do you feel it a headahce when losing data from Toshiba USB flash drive? In fact, formatting is just one of common reason for data loss. You may meet more other data loss problems on your Toshiba USB flash drive. If you do not want to lose your data again, the best way is to make backup of your Toshiba USB flash drive regularly. You can copy files from the Toshiba USB flash drive to another storage media or you can also share files from Toshiba USB drive to newtwork location.
---
Related Articles