Recovering files from formatted drive - iCare Data Recovery Pro
iCare Data Recovery Pro: Recover files fast and easy
Question: Can I recover data from a formatted drive?
Solution: Yes, you can unformat drive to recover lost files by using iCare Data Recovery Pro.
iCare Data Recovery Pro, thanks to its wizard "Format Recovery" can recover data from any formatted drive, formatted SD card, formatted memory card or any other type of virtual storage.

Steps to Recover Files from formatted disk drive

Step1. Download and install the data recovery software on your computer. Then, you can run the software and choose a recovery option.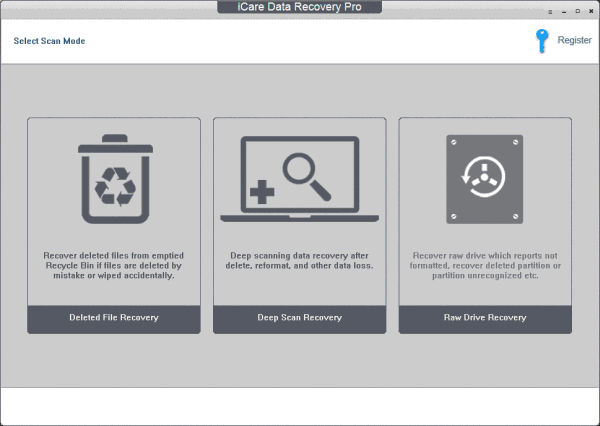 Step2. You need to select the formatted partition as aim disk and then let the software scan it for lost files. You just need to wait when the software is scanning.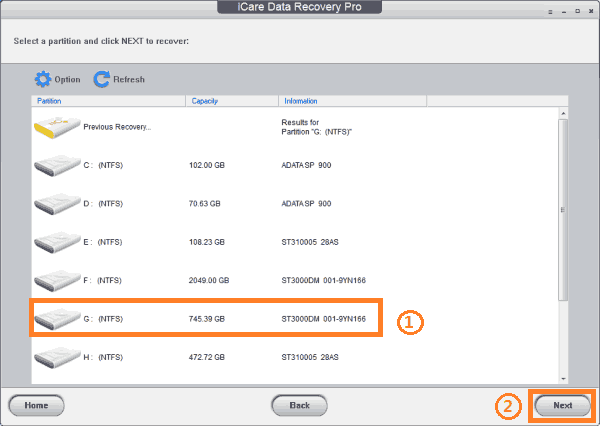 Step3. You are allowed to preview the found files after scanning. Then, you can choose the files you need and save them. Please do not save the recovered files to original drive.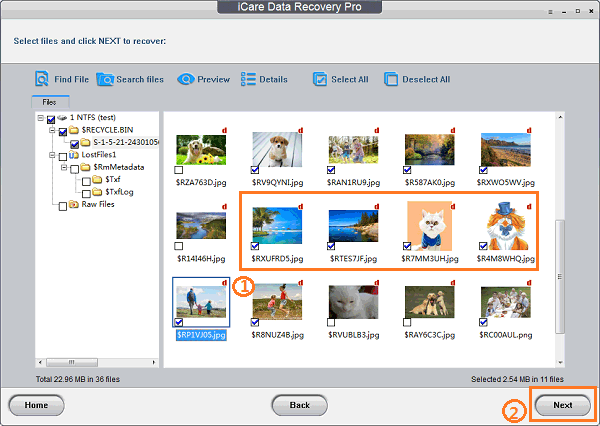 ---
Data Restore from drives that were formatted
Hard drives, being the dynamic storage devices that they are, are extremely easy to erase in any number of amusing and simple to achieve ways, same as flash memory card or USB sticks are. But when this is happening, there's no reason to despair because, this being a common problem, specialists have found already the solution. Deleted data from a hard disk, even if it seems unrecoverable, is still there, hidden on the driver's bits. Specialized software on data recovery from formatted hard drives can do this easy.
This is a FAQ about Can I recover data from a formatted drive.
Question by kenyoroj bumburiao in March 20, 2010
Question: Hi. Somebody formatted yesterday my external hard disk and installed win XP after. Through installation process he lost all my data files that I had on the hard disk. Is there a simple way to recover the lost data since I have there a lot of old pictures that I don't want to loose definitively?

Solution: Thanks to iCare Data Recovery Pro you can recover all your data from a formatted drive with a simple click of your mouse and with a minimum amount of waiting. This software is available for free quick format recovery or full format recovery.
Even if, with a simple search on the internet, you will find hundreds of programs which are guarantying you a fast and good percent of recovery for your deleted files, most of them are not that good and, besides that, they will cost a lot of money. The free versions of these programs will be worthless mostly. This is why, the programmers from the iCare Data Recovery team, designed a useful and simple tool, which can be provided for customers to a cheap price.
iCare Data Recovery Pro can help you retrieve any type of data, starting with mp3, mp4, bmp, doc and up to some hardly to find extensions like xslx and others. This program can be used on flash memory cards, camera cards, USB, external hard drives. Also you can recover entire partitions, no matter what is the reason why you need to do this. It is able to recover files deleted from RAW file systems, bad MBR, RAID array damages, system crashes, SHIFT+DELETE command keys.
iCare Data Recovery enables you to recover files from formatted pen drive, external hard drive, memory card, USB flash drive and more other storage media.
Other features of iCare Data Recovery
Photo & office files preview before purchase
Free to recover files of 32kb
Can be installed on USB drive
Recover files from formatted SD card, hard drive, deleted partition, unreadable partition, USB, pen drive, memory stick etc.
Many other features...
---
Related Articles