RAW Memorex External Hard Drive Not Formatted
"My Memorex external drive is not formatted and turns to RAW file system. Now, I could not read or write any data on the disk. This Memorex external hard drive was in NTFS format before, but I have no idea why it became RAW file system. I tried to reformat teh external HDD back to NTFS, but Windows was unable to complete the format on external HDD."
"Please tell me how to recover files when Memorex portable HDD has RAW file system. I do not know how to open the portable HDD so that I can extract all files to another storage media. Windows system asks me to format the portable hard disk to fix the RAW error, but I am afraid that I will lose everything forever after formatting. Can you tell me what I should do?"
"Can I convert RAW to NTFS on my Memorex USB hard drive which says needs to be formatted? Can I open the Memorex USB HDD normally as long as I can format it? Will it erase all data permanently after formatting?"
"I need external hard drive data recovery software to retrieve files off my Memorex external disk because it is not accessible due to not formatted error. System detects the removable disk as RAW drive and disables me to read or write any data, so I want to use external hard drive recovery software to extract files off the RAW drive."
RAW Memorex Portable Hard Drive Recovery
Please do not worry, data is recoverable from RAW Memorex portable hard drive as long as the original data is not overwritten. For RAW Memorex portable HDD data recovery, you should rely on iCare Data Recovery. It is a read-only data recovery program that helps recover files off RAW Memorex portable hard drive and other brands of portable HD. This software provides a safe way to deep scan your RAW Memorex portable hard drive, which does not have any influence on your disk or original data.

Steps for Memorex External HD Recovery When Needs Formatting
Preparation: Download and install iCare Data Recovery. Connect the Memorex external hard drive to the computer and run the software.
Step1. Choose proper scan mode after running the software.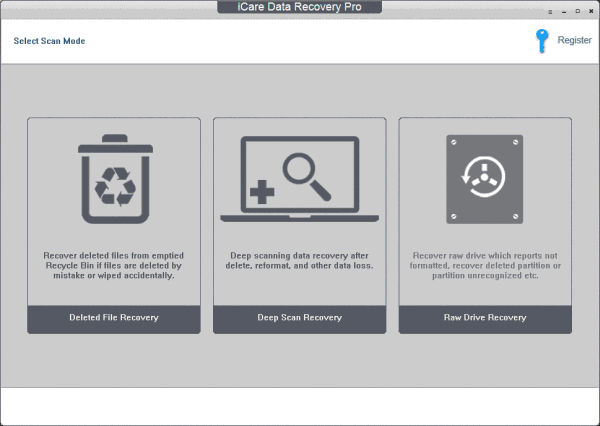 Step2. Select the Memorex external HDD as aim disk and let the software scan it.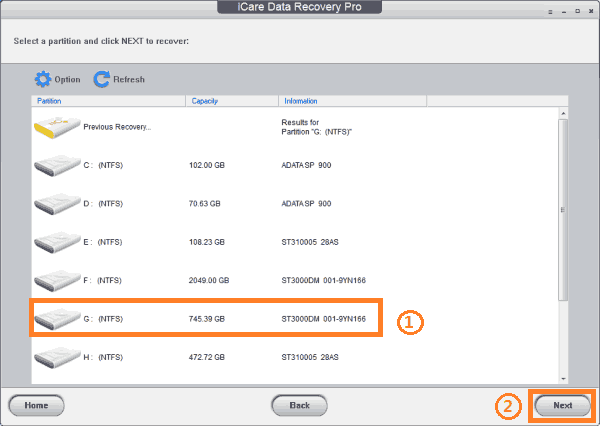 Step3. You can preview files when scanning is completed and then save the files you need.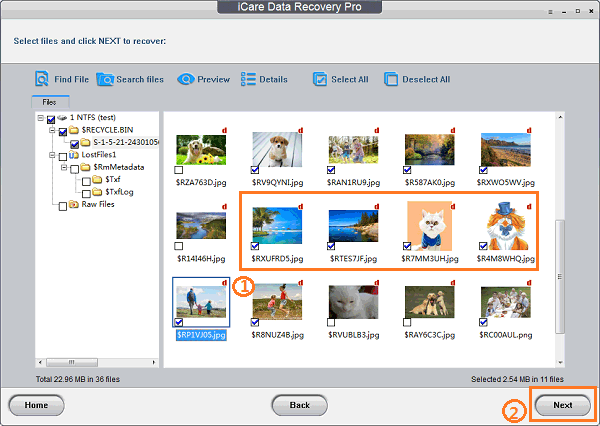 RAW Memorex USB Hard Drive Shows 0 Byte
Do you find that your Memorex USB hard drive has 0 byte space when it changes to RAW file system? DO you think that all files have been erased permanently since it only has 0 byte space? In fact, all data is still stored on your Memorex USB hard drive but it became invisible because Windows system cannot recognize the device when its file system is RAW.
What to Do Memorex Removable Disk Wants to Be Reformatted?
Your Memorex removable hard disk wants to be reformatted when it is in RAW format? You can format the removable disk to NTFS if you do not care about the data stored on your disk. You can quick format on Windows or full format the RAW drive. On the contrary, if you need to recover data, you had better not reformat it.
The Bottom Line for RAW Memorex External Hard Drive Not Formatted Recovery
If you want to look for solution for RAW Memorex external hard drive recovery when it asks to be reformatted, you should always remember not to overwrite the original data before data recovery. iCare Data Recovery enables you to recover photos, videos, music, etc off RAW Memorex external hard disk without hurting any information on your disk. Download the software now!

---
Hot Articles
Related Articles