RAW LaCie External Hard Drive Not Formatted
"Hi there! Please tell me how to recover files off RAW LaCie external hard drive when it says disk drive is not formatted. I have some important data on my LaCie external hard drive, but I was unable to open the disk due to not formatted error. What will happen if I format the external hard drive to fix the RAW drive error? Can I get back files after formatting?"
"Can I format my LaCie portable hard drive when it turns to RAW file system and asks to be reformatted? Should I perform quick format or complete format to fix the problem? Is it possible to restore lost data after formatting the RAW portable hard drive?"
"I meet some problem with my LaCie removable hard disk because system detects the disk as RAW drive and the removable disk shows 0 byte space. I have many files on this disk, but why it shows 0 byte? Where is my data?"
"I got CHKDSK is not available for raw drives error when attempting to fix the RAW file system on my LaCie portable HDD by running CHKDSK command. Can anybody tell me how to fix the error and recover files?"
RAW LaCie External HDD Recovery When Has Not Formatted Error
The first step is to stop using the external HDD rather than formatting it. Then, you can free download iCare Data Recovery to restore files off the RAW external HD. This data recovery software is read-only recovery tool, which helps deep scan the RAW external hard disk drive in order to search for all types of lost files. By using this software, you can restore photos, music, videos, documents, etc from RAW LaCie external hard disk easily.

Steps for RAW Not Formatted LaCie Portable Hard Drive Recovery
Preparation: Download and install iCare Data Recovery on PC. Connect the LaCie portable HDD to the PC and run the data recovery software.
Step1. Select a proper scan mode after running the software.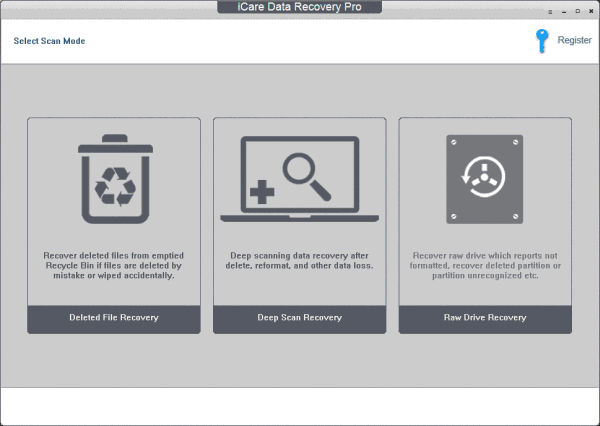 Step2. Choose the RAW LaCie portable hard drive and wait the scanning to be completed.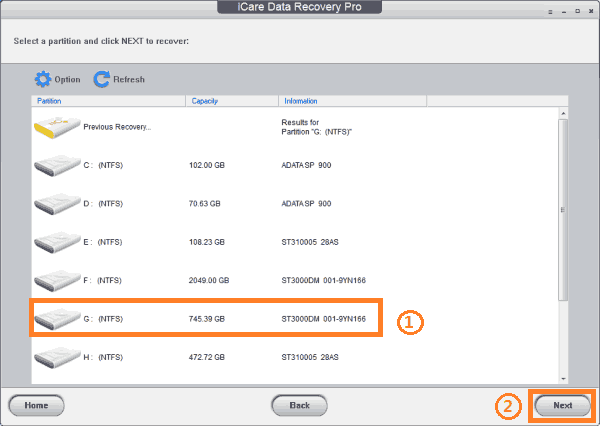 Step3. Preview the found files after scanning and save the files you need to another storage media.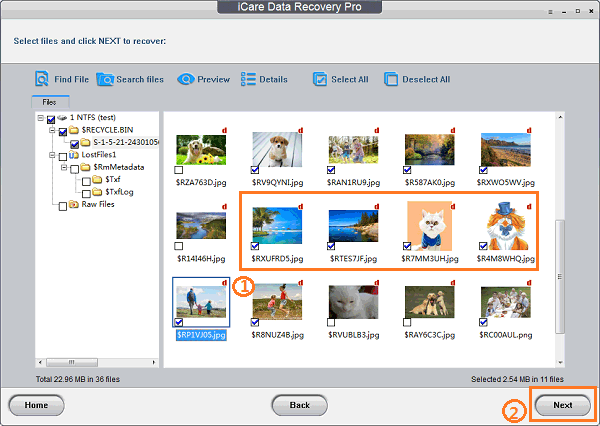 How to Convert RAW Filesystem to NTFS on LaCie External?
You can rely on iCare Data Recovery to recover data from RAW LaCie USB hard drive without formatting it. However, if you want to fix the not formatted error and convert your LaCie external disk from RAW to NTFS by formatting or convert RAW to NTFS with CMD, you need to format the external hard drive after data recovery. Usually, you can perform quick format or full format on your LaCie external to fix the error. If Windows reports message that you are unable to complete the format, you can try to run Windows built-in error-checking tool to repair bad sectors. Or you can rely on professional format tool to format the RAW LaCie USB HDD.
If you need to change external hard drive LaCie from RAW to FAT32, you can use drive converter (fat32).
The Bottom Line for RAW LaCie Portable HD Recovery
LaCie external hard drive turns to RAW file system and needs to be formatted with unknown reasons? Usually, many reasons can cause such kind of problem on your LaCie USB HDD, but the good news is that you can use iCare Data Recovery to restore lost data as long as the disk is not overwritten or physically damaged. This software enables you to perform portable hard drive data recovery without hurting your disk. Download the iCare Data Recovery now!

---
Related Articles