RAID 6 Data Recovery
Nowadays, human beings highly depend on information technology, which leads them to look for a reliable and secure solution for data storage. RAID array becomes a good choice for many computer uses because it provides a good solution for data storage. Take RAID 6 array for example, it improves fault tolerance so that it is able to protect data from being lost when hard disk drive fails. However, RAID 6 is only able to handle the failure of two hard disk drives most. When more than two hard drives get failed, data stored in the array will still get lost. Then, is there anything you can do to get back lost files from RAID 6 array? Do not panic! This article will share the solution for RAID 6 data recovery when hard drives fails or data get lost due to other reasons.
RAID 6 Data Recovery Software
For RAID 6 data recovery, you need to rely on a data recovery program which is able to work on RAID 6 array. iCare Data Recovery Pro is a data recovery tool, which is able to resolve various kinds of data loss problems for all RAID arrays. Therefore, you can use this data recovery software to perform data recovery when files get lost from RAID 6 disk due to any reasons such as mistaken deleting, formatting or hard disk drive fails, etc. With this data recovery software, you are able to restore different types of files from RAID 6 hard drive. iCare Data Recovery is compatible with Windows XP, Vista, 7, 8, 10 and Windows Server 2003, 2008, etc.
Steps to Restore Files from RAID 6 Array

Preparation: Free download and install iCare Data Recovery on your computer. You should remember not to install the software on the drive where data got lost. Then, you can launch the data recovery software and follow the guide below to recover files from RAID array:
Step1. Select a proper scan mode after running the software.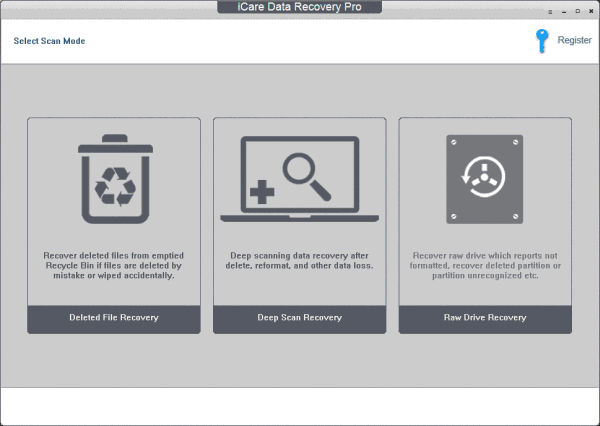 Step2. Choose the drive in RAID 6 array where data got lost and then the software will scan it to search lost files. You only need to wait patiently when the software is scanning.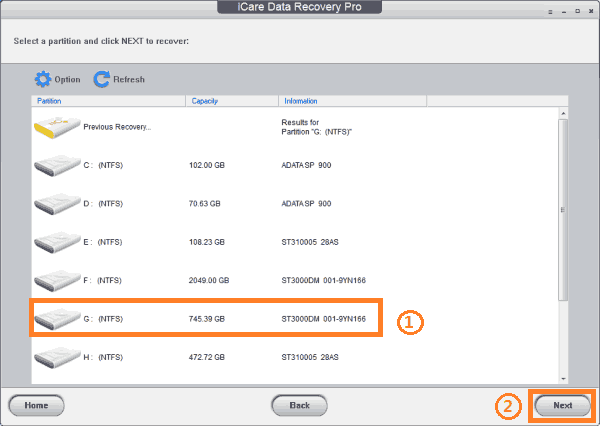 Step3. You are allowed to preview files after scanning and then save the lost files to another drive.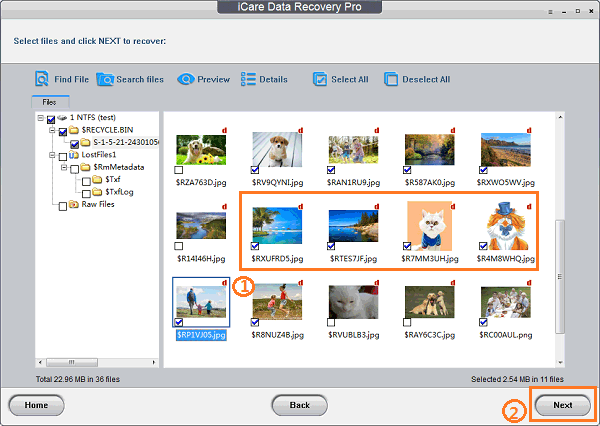 RAID 6 File Recovery in Various Situations
Similar to basic hard disk drive, you might mistakenly delete files from RAID 6 volume or accidentally format hard drive in RAID 6 array. iCare Data Recovery is available for deleted file recovery when data gets lost due to reasons like deletion or formatting. However, in more situations, you might run into data loss problem on RAID 6 array due to array disk failure. RAID 6 is a type of array which is created by 4 hard disks at least. When only two or less hard drives get failed, you can restore lost files from the array without using any software. However, you need to rely on data recovery software in order to get back lost files when more than two hard drives fail.
Symptoms of RAID 6 Failure
When RAID array fail, you might get some alert message when booting your computer. Here are some symptoms of RAID 6 array failure:
1. Cannot enter operating system
It will check the hardware when booting the system. If the operating system is installed in the RAID 6 array, but the array is not recognized normally, you might receive error message like "Operating System not found" or "Disk Boot Failure Insert System and Press Enter".
2. Cannot mount the file system
This kind of problem mainly occurs in Windows operating system. You might meet this problem when running mount command.
3. Partition is lost
When RAID 6 array fails, you might encounter the problem that partition is lost. When partition gets lost, files stored on the partition will be lost, too.
4. RAID 6 array disk is not accessible
When you face RAID 6 array disk failure, you might find it difficult to access disk drive sometimes. When you attempt to open the disk to read or write data, you might receive message like:
Hard disk is corrupted cannot access the drive
Receiving I / O Device error on the disk
RAID 6 volume shows RAW file system
…
Common Reasons for RAID 6 Disk Failure
1. Hard disk in RAID 6 array is corrupted
If hard disk in RAID 6 has bad sectors, it will cause hard disk offline. Files are recoverable from RAID array corrupted hard drive, but you had better backup important data and change a new hard drive to replace the hard drive which contains bad sectors when you realize that there are bad sectors on hard disk in RAID 6 array. RAID 6 array might stop working normally if more than 2 hard drives contain bad sectors.
2. Sudden power off of computer
RAID array is a logical hard disk which is created by combination of several hard disks. All hard disks in a RAID array are controlled by RAID card. A large amount of information will be stored on the caches of RAID card or mainframe when running RAID array. Sudden power off might lead data to not be able to written to the ROM of RAID card, in which situation data is easily lost from RAID or even cause RAID array failure.
3. Fail to extend disk space
Along with the development of technology, many RAID arrays enable users to extend disk space without hurting any previous data. However, as a matter of fact, data is easily lost in the expanding process due to sudden power off or bad sectors, etc.
4. Windows runs check disk tool
Windows operating system usually has built-in disk check tool. If disk partitions or files in RAID 6 array become unreadable, system will automatically run check disk tool when you reboot your computer. It might corrupt the data in RAID volume if system runs check disk tool when the RAID 6 disk becomes unreadable due to array check failure.
5. More other reasons
RAID 6 disk failure is a common problem for RAID array data loss, which might be caused by many other reasons.
About RAID 6 Array
RAID 6 array is developed on the basis of RAID 5 array, but it improved its performance for data protection. Generally speaking, RAID 6 works similarly to RAID 6, but they have some differences:
RAID 5 array is created by at least 3 hard disk drives, while RAID 6 array is created by 4 hard disk drives at least.
RAID 5 stripes data at block with distributed parity, while RAID 6 stripes data with two independent distributed parity schemes
RAID 6 has a better data redundancy than RAID 5 because it has two parity blocks.
RAID 5 is able to handle failure of one hard drive in the array, while RAID 6 is able to handle 2 hard drives failure.
The write rate of RAID 6 is slower than RAID 5 because RAID 6 has two parity blocks, while RAID 5 array only has one.

---
Related Articles