RAID 4 Data Recovery
RAID 4 is Redundant Array of Independent Disks which consists of several hard drives. Although RAID 4 consists of a few hard drives, it works as an independent large storage media on your computer. RAID 4 array improved its performance of reading and writing speed, but it is difficult to get back lost files when RAID 4 array fails or you lose files from the array due to other reasons. Since RAID 4 array works as an independent storage device under Windows system, you might lose data from the array due to similar reasons like when you use basic hard disk on your computer. Therefore, this article will share solution to tell how to recover data from RAID 4 array when you run into different data loss situations.
Please remember: Do not rebuild or overwrite RAID 4 in order to recover files from the RAID array.
RAID 4 Data Recovery Software Download
When you are unable to read data from RAID 4 array due to RAID disk failure or other reasons, you can rely on data recovery software to retrieve lost data. iCare Data Recovery Pro is a data recovery program, which is able to work for RAID array data recovery. Therefore, you can free download this software and install it on your computer when data gets lost from RAID 4 array due to deleting, formatting hard drive or RAID array fails, etc. This data recovery software enables you to retrieve any type of files including videos, music, photos, documents, etc from RAID 4 array under Windows computer.
Steps to Restore Data from RAID 4 Array

Preparation: Free download and install iCare Data Recovery on the computer. Please do not install the software on the drive where data got lost. Then, you can follow the steps below to recover data from RAID 4 array:
Step1. Select a proper scan mode after running the software.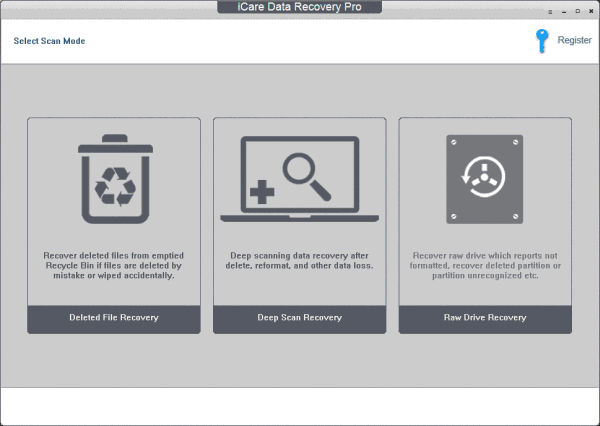 Step2. Choose the drive where data was lost and then you only need to wait patiently when the software is scanning to search lost files.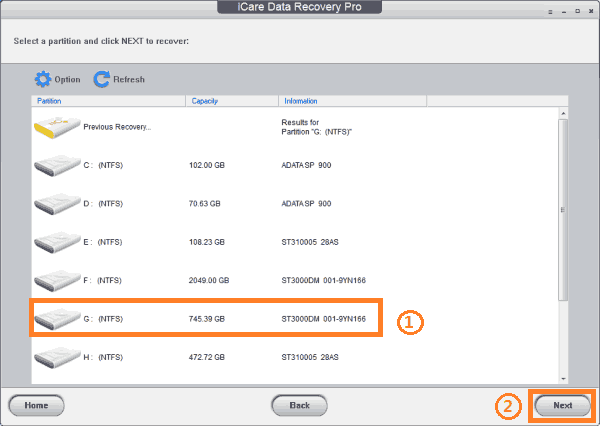 Step3. You can preview some files when scanning is completed and then save the lost files to a different drive.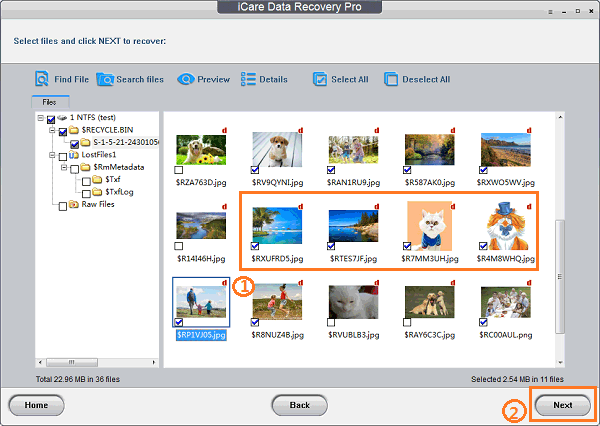 Data Recovery from RAID 4 after Array Failure
RAID 4 array might fail due to various reasons, which may lead data stored on the array to be inaccessible or unusable. Data is stripped to each hard disk when you store it to RAID 4 array, so it is a complex task to recover lost data from the RAID 4. When you run into RAID 4 disk failure problem, please remember not experiment on your own effort to rebuild the array or perform any operation to fix the problem. Improper operation might further damage the array or cause data to be lost forever. It is able to recover files from RAID 4 array even when the RAID hard disk is corrupted, but it is quite important to use a reliable data recovery tool that is compatible with the configuration of RAID array to recover data. Wrong data recovery option might lead to further RAID array failure and data corruption. iCare Data Recovery is a data recovery tool which is compatible with all RAID arrays, which enables you to restore different types of files without rebuilding the array or causing any damage to the array.
RAID 4 Array Failure due to Hardware Failure
Well, RAID array hard disk failure problem might occur due to different reasons. Generally speaking, the reasons for RAID 4 hard disk failure might be hardware failure and software failure.
Simply say, hardware failure which cause RAID 4 hard disk failure includes:
1. Hard drive is corrupted
Since RAID 4 array is created by several hard drives. Hard drive might be corrupted due to bad sectors or improper operation or other reasons. If one or more hard drives get corrupted, it might lead RAID 4 array failure which results in data to be inaccessible.
2. Controller failure
Another common reason why RAID 4 fails is controller failure. Some people mightreplace the controller and hope that the configuration will reload from the drives and the RAID 4 work normally again.
3. Abrupt power failure
Abrupt power failure in data transferring or writing process will also causes RAID 4 disk failure, because it might corrupt the logical volumes and destroy the RAID file structure. In this situation, data might become not accessible on the volume.
4. Network malfunction
RAID array might fail due to network malfunction, which might corrupt the data stored on the volume and make it unreadable.
RAID 4 Failure due to Software Failure
Software failure is another possible reason for RAID 4 array failure. Different from hardware failure, software failure refers to the situation that the file system of RAID is corrupted but there is no problem with the hard disk drives. Here are some possible software failures that may lead RAID 4 array to fail:
1. Virus infection
Virus infection could corrupt the file system of hard drive, in which situation RAID array might become not accessible or readable. Usually, disk drive has NTFS or FAT32 file system, but you may find that hard drive shows RAW file system when it is corrupted due to virus attack. Virus is able to spread through Internet, different storage media and more, so you should protect your PC from being infected with virus. Usually, you had better install antivirus software on your computer and remember to update the software regularly.
2. Operating system malfunction
Operating system plays an important role in Windows computer to provide services for all programs on the computer. RAID 4 array might stop working and disable you to access any data due to operating system malfunction.
How to Fix a Failed RAID 4 Array?
When you are not able to read or write data normally on RAID 4 array due to this or that kind of reason, you might quite hope that there is an easy method to resolve the problem without losing any data. However, any method that you want to repair a failed RAID array might cause more harm than good because it might cause further data loss. Therefore, it is always recommended to restore data first of all before fixing the problem. After data recovery, you can try following method to fix a failed RAID 4 array:
If hard drive is damaged or corrupted, you can add a new hard drive to rebuild the array. You can also rebuild the array even that the hard drive is not damaged, but the RAID 4 array stops working due to unknown reasons. You should add a same brand hard drive as the other hard drives in the array.
Reformat hard drive in RAID array
If disk drive shows RAW file system and asks to be reformatted in RAID 4 array, you can reformat the drive to fix the problem.
Reload the operating system
You can also reload the operating system in order to fix the failed RAID 4 array. It would restore RAID array from virus infection or other similar problem.
You can run CHKDSK to check the drive so as to fix logical file system error and bad sectors.
About RAID 4 Array
Similar to RAID 3, but RAID 4 array stripes data at block level instead of byte level. RAID 4 array has a good performance of reading speed. However, you always need to update parity data when you want to write files to the array.

---
Related Articles