RAID 3 Data Recovery
RAID 3 has some improvement at the level of RAID 2, but it provides similar solution for data storage. And you will meet data loss problem on RAID 3 array due to following possible reasons:
Deleting files from RAID 3 volume by mistake
Accidentally format hard drive in RAID 3 array
PC reports not formatted error and shows RAW file system on RAID 3 drive
RAID 3 volume is not accessible or readable in more other situations
…
Since RAID 3 array is created by several hard drives, you can restore data from other hard drive sometimes. However, in some situations, you are able to get back lost files when data got lost due to deletion, formatting and more. If you fail to restore important data from RAID 3 array, what can you do? Today, this article will tell how to recover lost files from RAID 3 drive by relying on data recovery software.
RAID 3 Data Recovery Software Download
You should use data recovery software that is able to work on RAID 3 array to recover files in different situations. iCare Data Recovery Pro is a data recovery tool that works on all RAID arrays no matter how data got lost. This data recovery software supports different brands of hard drives to search lost files in RAID 3. iCare Data Recovery is a Windows-based data recovery tool, so you can use it to recover data from RAID 3 array on almost all Windows computer. With help of this software, you are able to retrieve pictures, videos, music, emails, documents, etc in batch with no need to rebuild the array.
Steps to Restore Files from RAID 3 Array

Preparation: Free download and install iCare Data Recovery on Windows computer. You should remember not to install the software to the RAID 3 drive where data got lost. Then, you can launch the software and follow the steps below to recover data from RAID 3 drive:
Step1. Select a proper scan mode after entering the main interface of the software.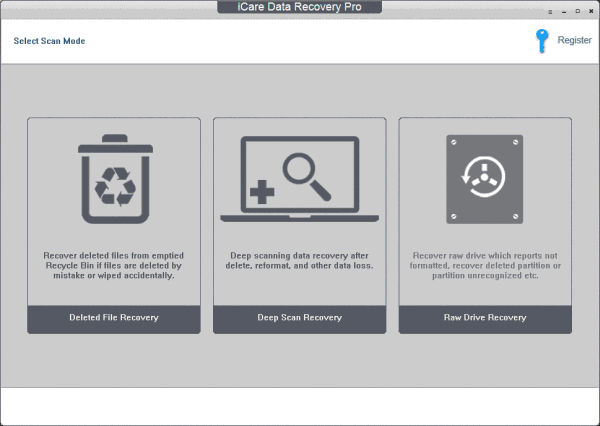 Step2. Choose the RAID 3 drive where data got lost and then wait the software to scan it to search lost files. You should wait patiently before the scanning is completed.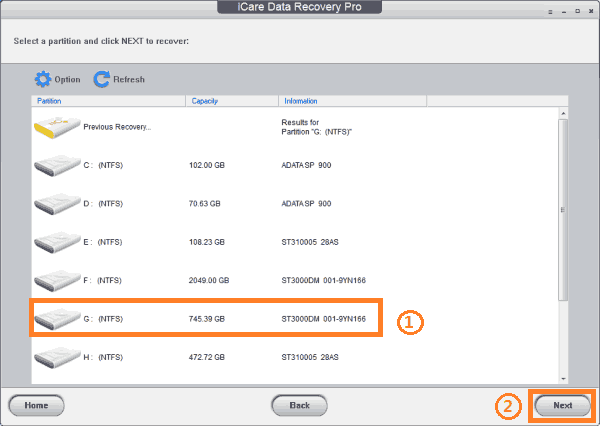 Step3. You are allowed to preview some files like images and documents after scanning. And then you can choose all lost files to recover.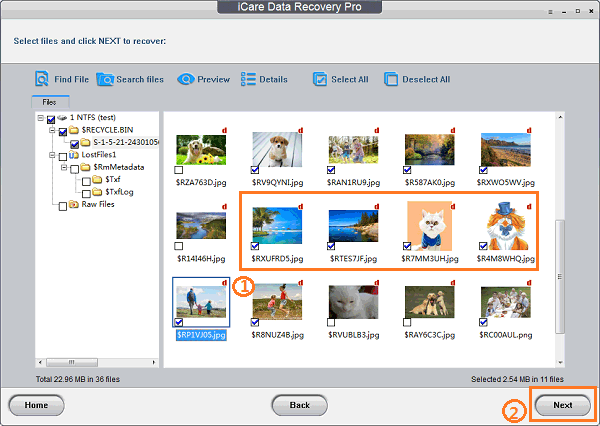 RAID 3 Fie Recovery on all Windows PC
RAID 3 is able to be created on many Windows OS including Windows 8, 8, 10 and Windows Server and more. iCare Data Recovery is also a data recovery program which is compatible with almost all Windows operating system. Therefore, when you lose important data on RAID 3 array, you can use iCare Data Recovery to restore data from RAID array on different Windows OS such as Windows XP, Windows Vista, Windows 7, Windows 8, Windows 10, Windows Server 2003, Windows Server 2008 and more.
RAID 3 Disk Failure
RAID 3 is created by 3 hard disk drives at least. Hard disk crash or corruption might lead RAID 3 array failure, in which situation you might lose all data stored on the array. Here are some possible situations that may cause RAID 3 disk failure:
1. Registry is lost
Registry is an important database in Microsoft Windows, which is used to store settings for operating system and applications. If registry configuration is lost, it might cause RAID array disk failure.
2. Multiple drive failure
The minimum number of hard drives should be 3 in order to create RAID 3 array. When one hard drive fails, it does not cause data loss. However, if two or more hard drives fail, data stored on RAID 3 array will get lost.
3. Replacement of media components
Accidental replacement of media components is another possible reason that would cause RAID array failure and lead to data lost forever.
In fact, although RAID 3 array provides a good solution for data storage, you might lose data due to RAID array failure in many situations. iCare Data Recovery is able to resolve data loss problem on RAID 3 array when the array is corrupted or failed due to various reasons.
What to Do When RAID 3 Array Fails?
What will you do instinctively when RAID 3 array fails? Probably, your instinct is to rebuild the array or reformat hard drive to fix the problem. Please do not do so because it might cause unexpected damage to the hard drives in RAID array which might result in data lost forever. You had better not perform any operation on the RAID 3 array before getting the files you need.
RAID 3 Data Recovery after Accidental Rebuilding the Array
Data might get lost due to accidental rebuilding or the RAID 3 array without backup. Probably, you want to rebuild RAID 3 array due to some reasons, but you forgot backup data or it cause RAID array corruption due to improperly rebuilding the array. In addition to human mistake, you might want to rebuild RAID 3 array in following situations, but the problem is that data gets lost due to rebuilding:
Hard drives are corrupted which lead RAID 3 array to be corrupted
RAID 3 stops working due to virus infection, in which you had better run antivirus software
Hard drive contains bad sectors and becomes inaccessible in RAID 3 array
…
It does not matter why you rebuild the RAID 3 array, but the most important thing is to protect data stored on the array from being lost due to rebuilding. If you lose data without any backup, iCare Data Recovery is also available for data recovery when it got lost due to rebuilding of the RAID 3 array.
How to Prevent RAID 3 Data Loss?
Apart from human mistake like deletion or formatting, the most common reason for RAID array data loss is that RAID array disk failure. Therefore, it is important to prevent RAID 3 array failure in order to prevent data from being lost from the array. Here is something you can do to prevent RAID 3 disk failure:
You should use authenticity hard drives to crate RAID array
You should protect the hard drive from being physically damaged
You should install antivirus software on your computer and avoid visiting unsafe websites to protect the hard drive from being corrupted due to virus attack
Information about RAID 3 – Advantages and Disadvantages of RAID 3 Array
You need to add 3 hard drives at least in order to set up RAID 3 array, which stripes data in blocks and saves all striped data on individual hard disk in the array. You can set up RAID 3 array with hard drive from Seagate, Western Digital, Samsung and more, but you should remember that you had better add the same brand of hard drives to create an array. RAID 3 is not widely used in practical. Usually, RAID 3 is used in media applications such as image editing, living streaming, disk broadcast and large database and so on. RAID 3 array provides a safe and reliable solution for data storage, but it has slower reading and writing speed.

---
Related Articles