RAID 2 Data Recovery
RAID 2 is an improved version of RAID 0, which provides a different solution for data storage. RAID 2 provides a fast data transfer rate, but you might lose data from RAID 2 hard drive sometimes. You might mistakenly delete one or more files from hard drive in RAID 2, or you might format hard disk drive by accident when you are reading data on RAID 2 array. Generally speaking, you may run into data loss problem on RAID 2 due to different reasons. Do you want to get back lost files from RAID 2 array? Keep reading! This article will tell step-by-step for RAID 2 data recovery in various data loss situations.
RAID 2 Data Recovery with Software
To restore data from RAID 2 disk drive, you need to use data recovery software. iCare Data Recovery Pro is data recovery program that is compatible with all levels of RAID array for data recovery, so you can free download this data recovery software when you lose any data from RAID 2 array due to reasons like mistaken deletion, accidental formatting, virus infection, bad sectors, RAID 2 hard drive corruption and more. This data recovery software is able to work on Windows OS like Windows XP, Vista, 7, 8, 10, etc to restore any type of files such as photos, videos, music, documents, etc from RAID 2 without rebuilding the array.
Steps to Recover Files from RAID 2 Array

Preparation: Free download and install iCare Data Recover on a computer. Please do not install the software to RAID 2 disk where data was lost. Then, you can launch the software and follow the guide below to perform RAID 2 data recovery:
Step1. Select a proper scan mode after running the data recovery software.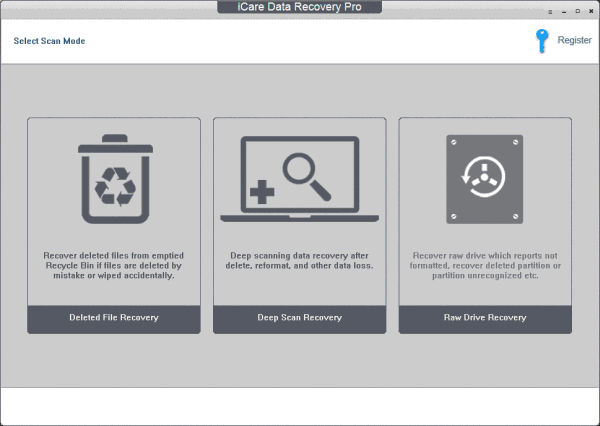 Step2. Choose the RAID 2 drive where you need to recover lost files and then wait patiently when the software is scanning to search lost files.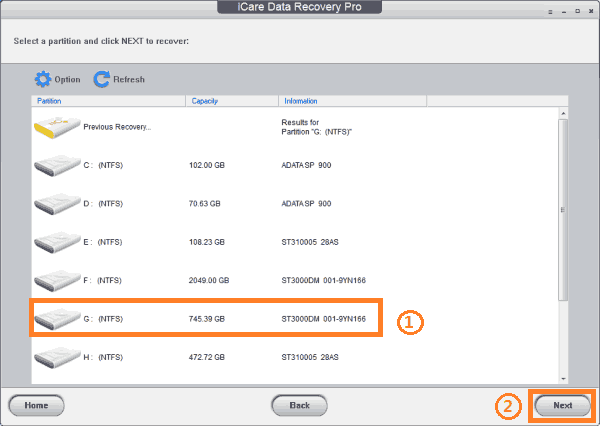 Step3. Preview files after scanning and then save the lost files to another drive.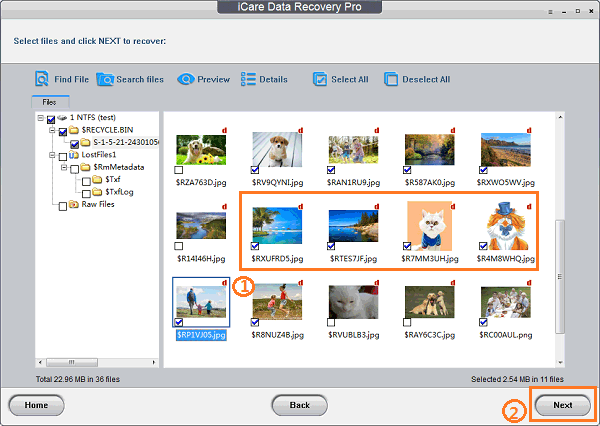 RAID 2 Deleted File Recovery
In order to restore files after deleting on PC, the first thing you should do is to check if the deleted data is able to be restored in Recycle Bin. If deleted data was not moved to Recycle Bin or you have deleted files from Recycle Bin, you have to rely on data recovery software in order to restore deleted files. If files were not moved to recycle bin or you have emptied recycle bin, you should remember not to write new data to the RAID 2 drive where data got deleted. iCare Data Recovery is a good data recovery tool for deleted file recovery from RAID 2 array, but this software only helps recover data before it gets overwritten by new files.
RAID 2 Recovery after Formatting by Mistake
It does not matter whether you have ever mistakenly formatted any device or not, but you must know what formatting means to a disk. When you format a disk drive, everything you stored on this drive will be erased in a few seconds. However, you might be unable to restore data after formatting even you spend several days without a good solution. Then, what is the good solution for RAID 2 data recovery after formatting? First of all, you should avoid overwriting the formatted drive by adding new data. Then, you can run iCare Data Recovery, which is able to deep scan the formatted disk so as to help get back all lost files due to formatting. This software supports all brands of hard disks such as Seagate, Samsung, Western Digital, Transcend, Maxtor, Hitachi and more.
RAID 2 Array Failure
When two or more hard disk are corrupted, it will result in data corruption on RAID 2 array. When RAID 2 array fails due to hard drive failure, you might lose all data stored on the array. Usually, you may run into RAID 2 drive failure due to many reasons. Here are some but not all common reasons that might cause RAID 2 array failure:
RAID 2 array is infected with virus because you visit some unsafe websites or open some unsafe links on your computer. Virus infection might cause hard drive corruption, in which situation you might find that RAID 2 array fails when you want to access data on the array. In order to protect hard drive from being attacked by virus, on the one hand, you should install and run antivirus software on your computer; and on the other hand, you should avoid visit unknown websites or unsafe links.
Hard drive is corrupted due to bad sectors. As you know, when you add a new hard drive to computer, you should format it and system will mark the hard drive as many sectors. Files written to hard drive will be stored on to each sector. However, hard drive might have bad sectors in some situations.
Hard drive which is used to create RAID 2 array is corrupted due to power surge. When hard drives get corrupted, the RAID 2 array might fail and do not allow you to read or write any data.
RAID 2 array will fail when hard drive is damaged due to other reasons like sudden power outage, improper operation and so on. You should use your computer carefully and avoid switching off the computer suddenly when you writing or transferring files to the RAID 2 volume.
Symptoms of RAID 2 Failure
Did you get any information when you are unable to access hard drive in RAID 2 array because it failed? Did you receive any error message when attempting to access a failed hard drive in RAID 2? Probably, you are familiar with following messages (possible symptoms of RAID 2 failure):
When RAID 2 array failed, it does not mean that all data stored on the array is corrupted. In this situation, iCare Data Recovery is able to deep scan the inaccessible hard disk drive so as to restore all inaccessible data without rebuilding RAID 2 array.
Please pay attention:
If hard drives are physically damaged, you had better change a new hard drive to set up the RAID 2 array. Before rebuilding RAID 2 array, you had better make sure that all important data has been restored successfully by using iCare Data Recovery. If you rebuild RAID 2 array before getting the lost files, this operation might lead previous data to be corrupted and becomes unrecoverable.
About RAID 2
RAID 2 is a type of RAID array, which is developed for super computer and mainframe with Hamming Code for error correction. RAID 2 stripes data on different hard disks. When 2 or more hard drives have any problem, it will result in data corruption on the RAID 2 array. RAID 2 is usually expensive and complex to use, so it rarely used in practical.

---
Related Articles