RAID 10 Data Recovery
RAID 10, also know as RAID (1 + 0), is a stripped array which usually consists of 4 hard disk drives at least. As the combination of RAID 1 and RAID 0, RAID 10 array enables you to stripe data across all mirrored sets when you write files to the array. RAID 10 provides a safe and fast solution for data reading and writing. In most cases, RAID 10 is able to handle failure of multiple hard drives. However, when one hard drive failure is detected by system, the RAID 10 system will show alert message and the array will run in a degraded mode. If more hard drives get failed, the data stored in the array might be lost. Today, this article will share possible causes for RAID 10 data loss and tell how to recover lost files from RAID array.
RAID 10 Data Recovery Software Download
During the usage of RAID 10 array, you might lose data from the array due to hundreds of reasons. However, the key point for data recovery from the array is to make sure not overwrite or rebuild the array. Then, you can use iCare Data Recovery , a read-only data recovery program, to perform lost file recovery from the RAID 10 volume. This data recovery software is capable of recovering different kinds of files including images, videos, music, etc from any RAID array when you meet data loss due to deleting, formatting, RAW file system, RAID disk failure, etc. This software works on all brands of hard drive such as Seagate, Western Digital, Hitachi, Maxtor, Samsung, Toshiba, etc to recover data in RAID array.
Steps to Restore Files off RAID 10 Array

Preparation: Free download and install iCare Data Recovery on computer. Never install the software to the RAID 10 drive where data got lost. Then, launch the software and follow the steps below to recover files from RAID 10 array:
Step1. Select a proper scan mode when you enter the main interface of the software.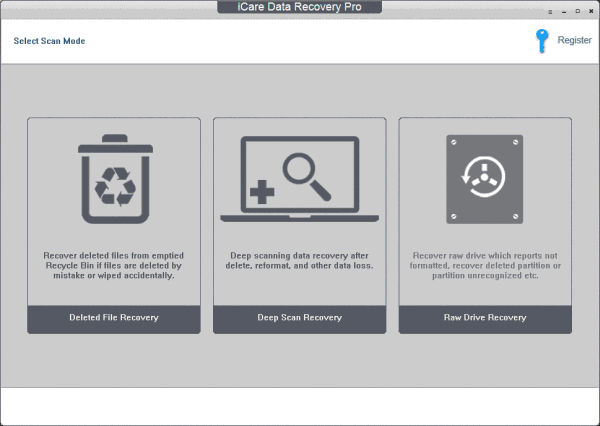 Step2. Choose the drive where data got lost and then wait patiently when the software is scanning to search lost files.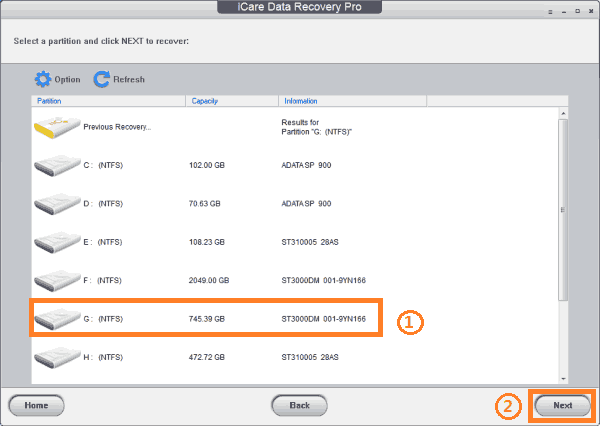 Step3. Preview files after scanning and then save the lost files to another drive.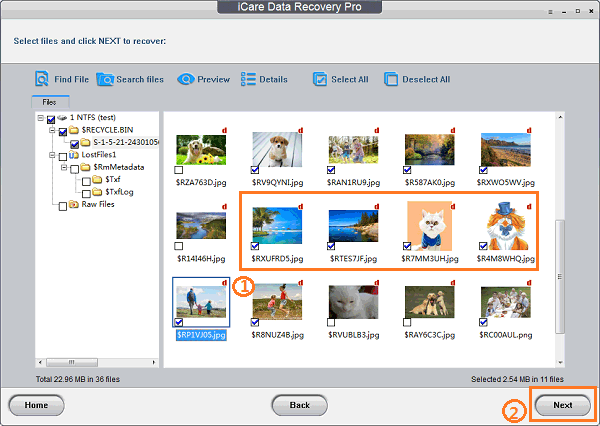 Important Points for RAID 10 Array Problems
Do not rebuild the RAID 10 array when you run into RAID failure problem, because it might cause data confusion and lead data to be inaccessible.
Do not initialize the RAID 10 volume. The harm to the RAID array after initializing the array is the same to the harm when you low-level format a hard drive.
You should be careful when reconfiguring RAID information. Improper operation might cause data to be lost permanently.
RAID 10 Data Loss Causes
You might delete files from RAID 10 volume or mistakenly format RAID 10 drive without any backup. In fact, things are not so terrible if files get lost from RAID 10 array due to deleting or formatting. At least, the RAID array still works normally. In this situation, you only need to remember not to write new data to the array to overwrite the lost files, and then you can use iCare Data Recovery to get back all lost files.
However, in more cases, data will be lost from RAID 10 volume due to other causes such as array disk failure, array rebuild failure, bad sectors on array disk, disk virus infection, sudden power outage, corrupted raid controller, data corrupted, etc. In most situations, you can rely on iCare Data Recovery to recover lost files when you meet the similar problem. However, in some situations, you might be unable to get back lost data. For example, if the RAID array is overwritten or physically damaged, you will be unable to recover data. Besides, if files stored on the array were corrupted by virus, you might fail to recover corrupted data.
Array 10 Rebuild Failure
You might rebuild RAID 10 array due to some reasons, but data might get lost from the array due to array rebuild failure. If you want to rebuild RAID 10 array when there is no problem with the array, you had better copy all important data to another storage device. If one or more hard drives fail due to bad sectors and you want to rebuild RAID 10 array by changing new hard drive, you should also backup important data. Besides, you should add new hard drives that are compatible with the RAID 10 array in order to rebuild the array successfully. What is more, you should also remember not to reboot or shut down your computer in rebuilding process in order to avoid rebuilding failure.
Array Disk Is Infected with Virus
Has your computer ever infected with any virus? You must know that virus infection is a terrible situation that might corrupt the file system of hard disk drive and even cause system crash. When a RAID 10 volume is attacked by virus, the file system of the volume might change to RAW format which usually disables you to access or write any data on the array. You might run antivirus software to scan the RAID 10 drive to check and remove possible virus. However, antivirus software might remove some folders from the volume if it considers the folders as virus. Therefore, you had better retrieve all inaccessible data before running an antivirus program to scan the RAID 10 volume. You can run antivirus software to erase virus when all data has been restored successfully.
Controller Failure in RAID 10
RAID controller is an important part RAID array, which equals to the brain in a man. RAID controller often implements data storage, transferring and the management of RAID array. Therefore, when RAID controller fails in RAID 10 array, it might cause the whole RAID failure. In this situation, it will become almost impossible to use the RAID array in its original configuration. Files stored on the RAID 10 volume will become inaccessible unless reloading configuration from the drives.
About RAID 10 Array
RAID 10 array is the combination of RAID 1 and RAID 0, so it has the features of both RAID 1 and RAID 0. You need to add 4 hard disk drives at least in order to set up a RAID 10 array. As a matter of fact, the structure of RAID 10 is quite simple. You only need to create two independent RAID 1 arrays at first, and then assemble the two RAID 1 arrays into a RAID 0 array. When you write files to the RAID 10 array, the data will be written to those two RIAD 1 arrays sequentially. Since RAID 10 is created by using the nested RAID algorithm, it usually provides a quite safe solution for data storage. RAID 10 provides high performance and reliability.
The disadvantages of RAID 10 array
RAID 10 array is also called stripe of mirrors. It provides 100% data redundancy and supports larger volume, but RAID 10 array is usually expensive. RAID 10 array is a good choice for people who need high fault tolerance and high performance but does not care about the cost. Therefore, RAID 10 arrays is usually available in database server applications.

---
Related Articles